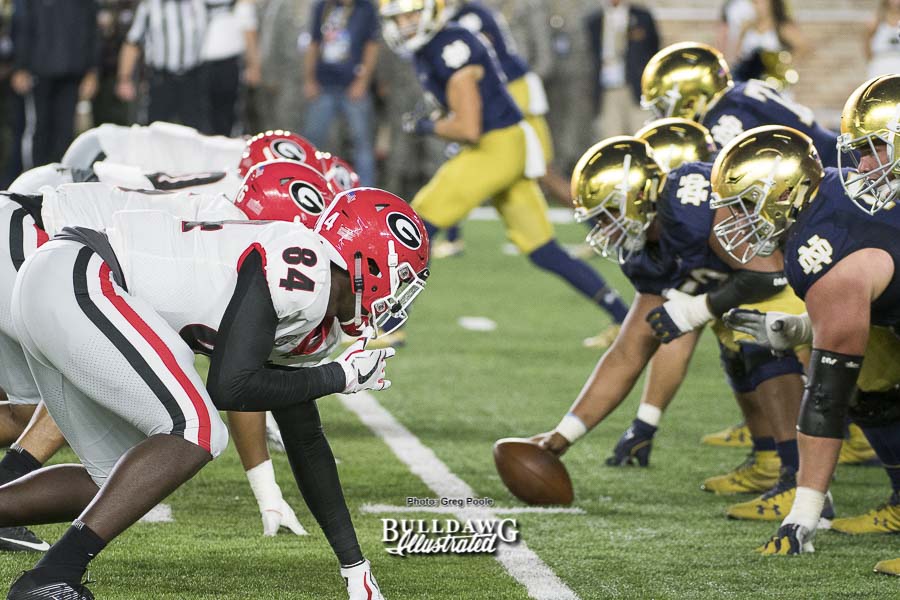 The regular Thursday post of BIG HAIRY BLAWG by Han Vance was delayed this week due to weather-related internet and power outages in Atlanta.
Our defense is suddenly faster than ever remembered and masking myriad weaknesses on offense, namely a lack of explosion plays that are reaching the end zone. Reminiscent of the many tight games we played in last year, we were forced into a slugfest Saturday night in Indiana. The football Gods smiled on us, 20-19.
At five, Georgia had the most wins of any team when tied or trailing in the 4th quarter last season, but we also lost five total football games. While Kirby Smart has finally run his career mark to 10-5, in big time college football 2-out-of-3 is bad. Our beloved Dawgs started last year 2-0 and have matched that spark of early optimism mark again this season, but a 1-of-5 stretch midseason is still stinking up the numbers. On the bright side of the record stats, we have won 6-of-7 now, there again though, the only loss a gut-wrenching home meltdown that cost us a state title.
Look what is out there in Georgia this year: the aforementioned Governor's Cup will be played in Midtown Atlanta, the SEC Championship further downtown in the new dome, where we could establish a new era of excellence. Then, after hugely consequential and historically significant for UGA contests played in either the sUGAr Bowl in NOLA or the beautiful Rose Bowl in charming Pasadena (just imagine Georgia-USC), the undisputed National Championship will be settled in the ATL. Right up the street from me, a short MARTA train hop away.
Athens is where those opportunities may arise, Between the Hedges and on the practice fields, in the classroom and weight room and yes, in the barrooms, bedrooms and living rooms of the number one party school in the world. Please be good people this year.
The road schedule is gross. It shows: 6-of-21 neutrality at the old Gator Bowl, at the Plains of Ol' AU-Barn who we've whipped 9-of-11 but won't own forever, on Rocky Top to a side that's taken us twice in a row and, as mentioned, on the Flats, to a Yellow Jackets program that has won 2-of-3. Marinate on all that for a minute.
None of our big rivalry games are played in the Classic City, a distinct disadvantage. We did a whole heck of a lot of accommodating to continue playing our oldest rival every year, with them giving up nothing. Auburn may no longer be our final league contest, disadvantage Georgia, not always getting them right before the Iron Bowl as they inevitably peek ahead some. We gave them an extra home game in the series, which they miraculously won on the way to blowing the long SEC streak in the national championship game; their only other win was by a quarterback who would be ineligible – nothing new for them about ineligibility – under new/current rules.
This could be easily rectified, as Richard Hilley pointed out to me Saturday, by simply moving Auburn to the SEC East and Mizzou to the SEC West, as they are both geographically there already. Auburn, located on the eastern edge of Alabama, would get Bama as their interdivisional rival. We'd resume our Ole Miss series, the best friendly tailgating party in historic college football's Deep South. With Mizzou-Arkansas in the divisional rotation, the Battle for the Boot game (LSU-Arkansas) could go back to the traditional Friday after Thanksgiving. We'd lose LSU-Aubie, but both would rather have wins over lesser current SEC East teams. Makes sense! I will get back to the present after asking: Why was I excited when my grandfather's school joined our conference? Texas A&M and Georgia last played in a bowl game.
After the game Saturday, Coach Smart said, "We need to find a way to get number 7 the ball." Interesting comment for a head coach to make about a true freshman, on such a deep-with-skill-set-guys and especially running backs offense – Swift may need the blocking less than our two key guys and more importantly may also be one of our best receivers in space. My 1-D this week had to be D'Andre Swift. Think of the supreme confidence of this kid from Philly – they are known for that up there, actually – not jumping ship after seniors Sony Michel (73 rushing yards, 1 TD Saturday) and Nick Chubb (63 yards) chose to return for a run at glory in 2017.
Those big plays in space I envisioned going to Sony, who suffered late a minor ankle injury, may have been destined for Swift, as Sony and Chubb appear more to me now to be interchangeable parts sharing the prime runner load. Neither is on-pace to be an all-SEC caliber player right now, honestly, though both will be fresher late in the season and able to go into the pros without taking the number of hits a feature back of their calibers must often endure. While in a limited window of time Chubb is clearly not putting up the type of eye popping stats he did in the back half of his freshman year and front half of his sophomore year, I do like the way he looks after he gets going more than I did last year. I'm still not all the way sold on the explosion he shows in his first few steps being where it was. Sony has so often been underused, and I still think his best moments at UGA are in front of him. They're both very good backs, and young Holyfield and Herrien can make key plays for this team, too. But, hey let's look for number 7.
My 2-D this week is junior D'Andre Walker. When I previewed our #SICEM17 defense in the preseason, there was no way of knowing how many Dawgs would crack the experienced lineup for such major minutes. We returned so much talent and have historically played our top upperclassmen starters so much, probably way too much for the benefit of the program. Don't recall Seymour and Stroud coming off the field, in the day. Now, we build depth via recruiting and early playing time.
I regret not projecting D'Andre Walker having the continued impact he's had. Our fastest true defensive lineman when aligning in a classic 4-3 formation, speed kills opponents. I see him as our most traditional (4-3 style) true defensive end and love him used when a wall of men is needed up front without too much shifting. Sure, senior stud outside 'backers Davin and LoCarter rule the edges coming up to the line from our more used base 3-4 package, but keep an eye out for #15 coming off the bench. He can fly.
If you want 3-D…that's the GEORGIA Defense, coming right into your living room! Boom! This unit has the talent to win it all this year.
Can the rest of the team ride along?