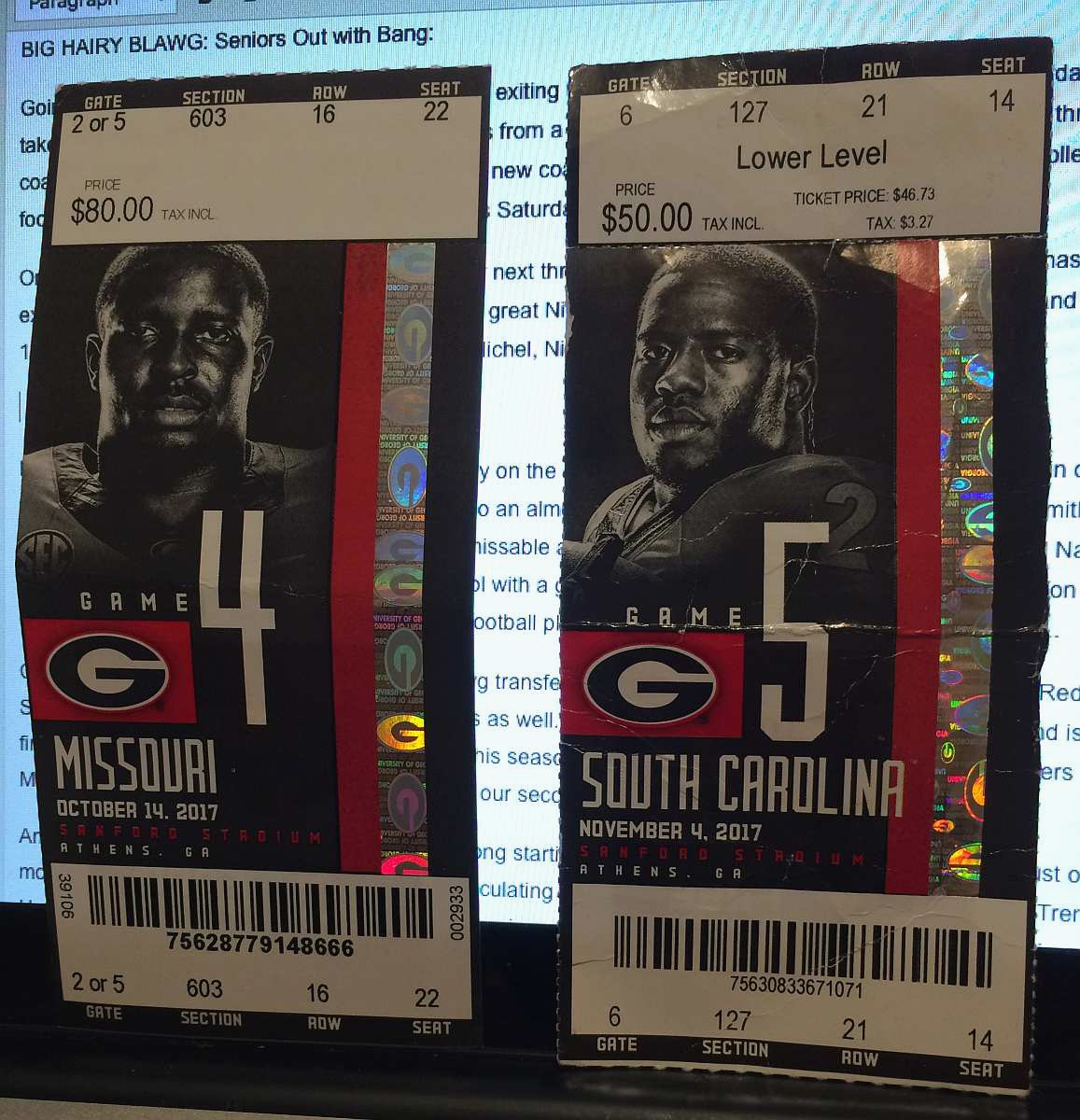 (Photo: Han Vance, Big Hairy Blawg / Bulldawg Illustrated)[/caption
Going out with a bang at Georgia, this senior class exiting their Sanford Stadium-playing careers on Saturday has taken Georgia through years of dejections from a suspension and injuries and losing big games, through a coaching change, through a rebuilding year with a new coach, to a number one national ranking for the college football playoff. They deserve to be celebrated this Saturday!


One bad road rivalry loss aside – and if we win our next three games we are in the CFP, folks – this team has been excellent this season and senior-led by the simply great Nick Chubb, plus the inimitable key contributor and former 1,000-yard rusher and team theme rapper Sony Michel, Nick's running mate.
Lorenzo Carter and redshirt senior Davin Bellamy on the outside on defense, the sparks in our biggest win of the season, 20-19 at (current) #8 Notre Dame. It's also an almost certainty that the Human Missile, Roquan Smith is playing for a final time 'Tween the Hedges. He's missable and has been far and away my team MVP. Natrez Patrick should clearly come back. Trent Thompson may go pro early.
Our top receiver this year has been two-year Dawg transfer aerial artist Javon Wims, a guy Kirby got. Big redshirt senior John Atkins is done in the middle in Athens as well. Reggie Carter had a solid UGA career at LB and is finishing. The O-line loses perhaps its top player this season in Isaiah Wynn. Aaron Davis, Dominick Sanders and Malkom Parrish have been the key contributors in our secondary for years.
Amazing UGA ambassador Jeb Blazevich and strong starting fullback Christian Payne are lacing 'em up just one more time in the Classic City. Dyson Sims is matriculating from the line corps, as is long snapper transfer Trent Nix. Unfortunately, the Ivy League stud Nizialek, our amazing punter (and holder on kicks) I finally raved about in my last article, is a one-year deal. He was simply furthering his education at UGA and was a great get by Kirby.
Versatile team guy Brice Ramsey is finally done at Georgia. I will never forget his perfectly-executed fake field goal to win the Liberty Bowl. What an awesome bowl trip I had with my Dawgs running dude Richard Hilley.
Georgia's Offense Fixable:
Where did Nauta go? Nauta was a 5-star tight end and one of our best players last year. Get him the ball. He had a key drop (and a late touchdown), but our sometime only other spark last year was Riley Ridley. Please get Ridley the ball on a regular basis in the middle of the football field. Nauta and Ridley were our only guys showing out for long stretches of the year last year. We have barely implemented them this season, foolishly.
Everybody with any football knowhow knows when they load the box like that, you repeatedly dump the ball over the box with short passes you or I could make. Way back when I played wideout, those types of jump ball and sideline plays for Wims were part of my game, and it is hard to defend when a guy has timing with the quarterback and can leap like that. He too had a key drop (and good game overall), but do continue to get the ball to Wims as he likes it. Not the type of plays you force, take that when it is there, as a changeup. We absolutely have to work the middle of the football field or we will be losing more games, without fully trying.
Hard to execute any plays, I know, when the blocking is so pathetic and nobody is breaking tackles. Get somebody open, though. I thought D'Andre and Sony were going to be running real receiver routes from the slot, as advertised by the coaching staff in the offseason. We aren't seeing it.
Chaney's way is Kirby's way, and they won ten games in a row running the rock with Chubb and Sony. Sometimes you have to soften up the box, Jim. It's a harsh reality of life Notre Dame just experienced. When you do, simple pass plays that are easy to complete are best. Think Hunter Renfrow at Clemson. What he did to Bama, taking their rings from them, their trophy, with simple well-thought out routes. That's coaching and execution. That's your job.
Our wideout roster must have guys that can catch down-and-outs, down-and-ins, roam the middle of the field and get open. Considered by some tops in the nation back in the preseason, I promise you our tight ends could have made plays Saturday. The game may have turned, because that's how momentum in the Georgia-Auburn series works, it always shifts from team-to-team.
Not Saturday on the plains. Luckily, redemption is possible. Win the SEC and this game all but goes away.
One last thing: When you have 3rd and one. Under no condition do you go in shotgun then run it up the middle. Hammer it! From scrimmage. Twice if necessary. At the very least, if you really can't trust any of your guys to get any push at all, try two dive quarterback sneaks. Don't back up. You won't let your guys get a yard there?
---
Recent Articles by Han Vance
[pt_view id="9a9402f8n5″]