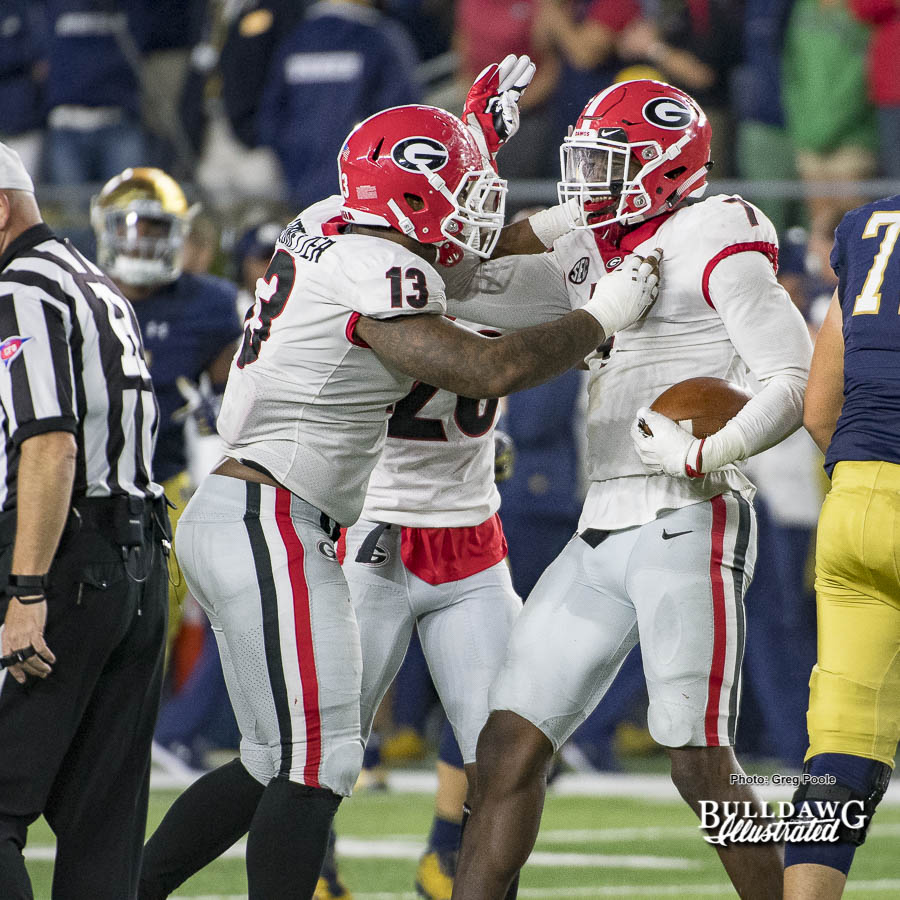 The regular Tuesday post of BIG HAIRY BLAWG by Han Vance was delayed this week due to weather-related internet and power outages in Atlanta.


Dawgs win 20-19 behind a total team effort in South Bend, Indiana Saturday night and will give the Fighting Irish a rematch in 2019 in the Classic City. Never recall a fanbase quite that present at any away game of another major program, as the red was spread throughout the recently refurbished stadium, under the watchful gaze of Touchdown Jesus.


Discipline was not fully displayed as a disparity in penalties in the too tightly officiated game saw Georgia flagged 12 times for over 120 yards. Unacceptable would have been more the mantra had Georgia been beaten by Notre Dame, but our superior athletes and will proved the difference in the end. Starting a true freshman in his first career start, Jake Fromm showed the type of green play that keeps a clear door back to the field open, for now, for injured starter Jacob Eason. Fromm actually tried to advance a fumble when he should have fallen on it, telegraphed numerous passes and missed open targets. His interception was egregious, but he maintained composure and bounced back.


The Chubb-o-meter didn't run like it can as Nick Chubb was mostly held in check, while UGA came out passing under a nicely-designed Jim Chaney game plan. Senior running mate Sony Michel slightly outpaced Chubb and scored a touchdown, and while their combined yardage and rushing average were sufficient to win the tight contest, nothing spectacular was displayed in the running game.


The offensive plays of the game were two tough catches: Javon Wims riding the elevator to the sky for a big grab on the game-winning field goal drive and The Catch by Godwin on the side of the end zone. It was the biggest play of his career to-date and one of the top moments in UGA history.


The defense held Notre Dame to 55 yards rushing, a week after three of their guys had gone for over a hundred in a game against the defending American Conference champion. Lorenzo Carter earned league Player of the Week honors, while Davin Bellamy also looked much faster than last year on the other side, getting the clinching sack-strip. Roquan Smith is a human missile, and sophomore Tulsa transfer J.R. Reed led the team in tackles. It was an awesome effort by a defense playing lots of guys lots of snaps, which is building depth for next year and beyond.


Rodrigo Blankenship was 2-of-3 but earned a scholarship (on Friday) with his competitive spirit. Next up is a team the autocorrect wants to call Stanford, it's Samford of Alabama, a ranked (#17) FCS school representing our only off team on the slate this year. Win at home at night and the Miss State Bulldogs visit (again at night) Athens for a rare meeting between the Bulldogs of the SEC.


Georgia can't get caught looking ahead, with a trip to Knoxville on the horizon.