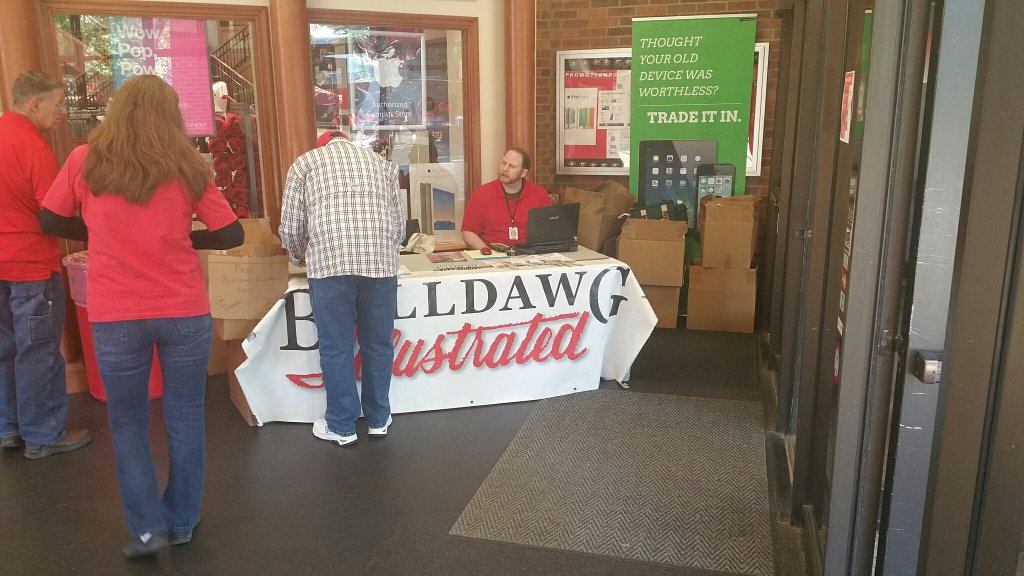 Bulldawg Illustrated would like to extend a big 'ole Bulldawg "thank you" to all the awesome Georgia fans that came out to support UGA and the football team on G-Day and took the time to drop by the UGA Bookstore and our table to say "hello."


It was both a pleasure and honor to meet so many of our readers, posters, and followers on Saturday. It is always nice to attach a face to the person behind the keyboard and to see some DGD's dressed out in their red and black. Congratulations to all those that received an UGA Bookstore gift certificate and a further thank you to all those that signed up for the Bulldawg Illustrated news letter.


For me it was a most memorable G-Day experience out of a number I have had over 35 years, and it touched this life long Georgia fan's heart to see the love and support pouring into the Classic City from so many fans on what could not have been a more beautiful spring day in April. With the energy and excitement in and around Athens, it felt more like a home game than a spring game.




And keep your eyes and ears open for big things coming from Bulldawg Illustrated this season.


Our 2016 Season Preview is set to be out on May 24th, and we are moving to a magazine format. Best of all, it will still be FREE to you our readers, and if you don't get the opportunity to pick up a physical copy in Athens, Macon, or Brunswick, we'll have a digital online copy for each issue that will also be FREE.


If you haven't had the chance yet to do so, I encourage you to go read Bulldawg Illustrated owner and editor Vance Leavy's Letter from the Editor, and you can also take a look at a sneak peak and a sample of Bulldawg Illustrated's up coming season preview. Just click on the link below.


I am looking forward to counting down the days with each and every one of you till the University of Georgia kicks off their 2016 college football season against the Tar Heels of North Carolina on Saturday, September 3rd at the GA Dome in the ATL. Go Dawgs! Sic'em!


---
CLICK HERE
TO
READ THE
LETTER FROM THE EDITOR
FROM VANCE LEAVY
---
CLICK HERE
FOR A
SNEAK A PEEK
AT
BULLDAWG ILLUSTRATED'S
MAGAZINES TO COME

---