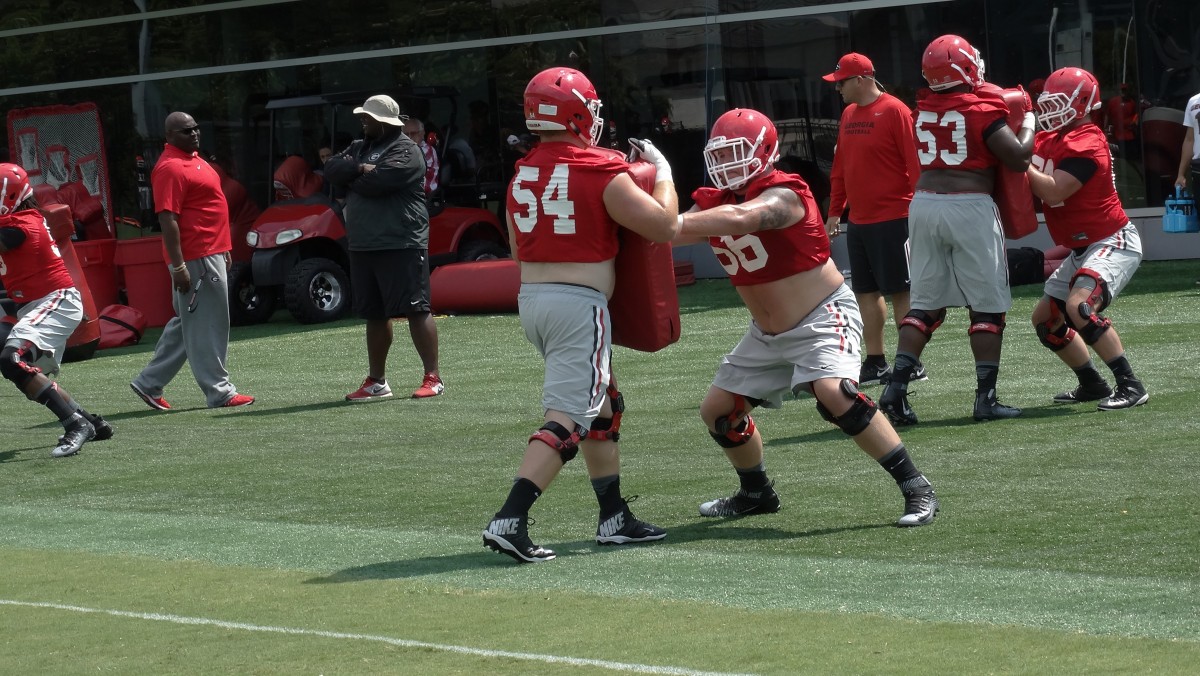 [su_spacer size="20"] University of Georgia center Brandon Kublanow has grown more and more comfortable at center and recently started his first game at the position. Kublanow is enjoying his time at the position and is eager for SEC play to begin this week.
[su_spacer size="20"]
Brandon Kublanow begins his interview with a question concerning how he believed new starting quarterback Greyson Lambert played. Kublanow was clearly pleased with what he saw out of the Virginia transfer as he had this to say:
[su_spacer size="40"]
He had great poise back there and a lot of confidence. He's got a lot of game time experience, so that's good. He handled our offense well… He did a great job.
[su_spacer size="40"] Kublanow was later asked about how he feels going into week two with SEC play beginning against Vanderbilt. Kublanow acknowledged the difference between SEC games and games against other conferences and explained it in this way:
[su_spacer size="40"]
Yeah, I mean it's a whole other ball game getting into SEC play. I'm excited for this week.
[su_spacer size="40"] The one question that Kublanow was constantly asked throughout his interview was along the lines of How much more comfortable will the center position be going into game two? Kublanow seems very confident in his play at the position and it should be noted that he was very consistent with his snaps against ULM. Whenever he was asked about hi comfort at the position Kublanow had this to say:
[su_spacer size="40"]
I mean I was pretty comfortable in game one. Obviously, as the season goes on you get more and more comfortable with each game, but I think we did fine as a line.
[su_spacer size="40"] Kublanow also had this to say concerning his comfort level at the center position and calling out protections. He also mentioned that back-up center Hunter Long helped him learn the position some this past offseason. When specifically asked about his comfort level with calling out protections, this was his response:
[su_spacer size="40"]
I'm very comfortable. I studied a lot for this game so i'll just continue to prepare week by week like I did for the first week… I had to do a lot of studying by myself and with coach.
[su_spacer size="40"] Kublanow's versatility on the offensive line is reminiscent of former Alabama offensive lineman Barrett Jones, who played tackle, guard, and center during his tenure with the Crimson Tide. Kublanow has already started for the Bulldogs at center and guard and hinted he believes he could play tackle as well.
[su_spacer size="40"]
I feel like I can play everything. He hasn't given me a shot at tackle yet but I'm trying. I feel like I can play center or both guards or whatever they need me to play. 
[su_spacer size="40"] Kublanow had a great game at center for the Bulldogs and I believe he will keep it up in the future for them, as well.
[su_spacer size="40"] [su_youtube_advanced url="https://www.youtube.com/watch?v=VtwP8a00kas" autohide="no"] [su_spacer size="80"]