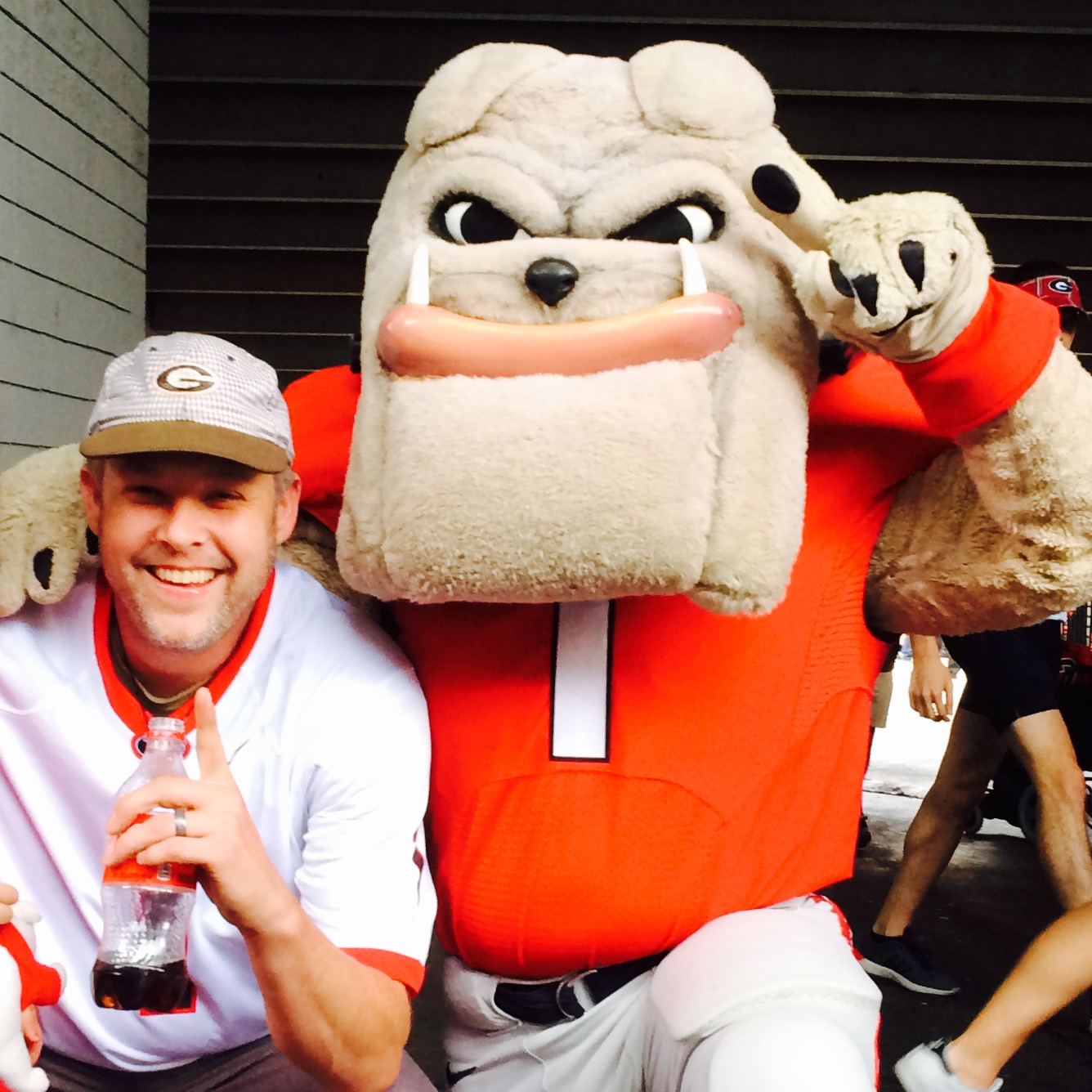 Thrilled to have my poem "Cocktail Party" published in my last iteration of Han Vance on Georgia football for Bulldawg Illustrated. As the aspiring Georgia Bulldogs poet laureate and Harriette Austin Poetry Award winner, I hope to someday officially earn the – currently unoccupied but historically existing and once held by a lineage of UGA poets – Bulldogs Poet Laureate title. Another more distant future role I could be in line for someday, considering my close ties Dawg-trajectory and the fact that my alumna wife and I are considering retiring in Athens, is that of UGA sports historian. Dan Magill (RIP) and BI contributor Loran Smith (alive and kicking, he penned the foreword to my book Richt Era: 15 Years in Athens), were both at times vocal champions of the Bulldogs Poet Laureate position, its cultural relevance and the benefit of having a poetic voice on Georgia football. They have each embodied at times the role of being a historian of the University. Two great men of UGA.
Vince Dooley has also done nice work in historical chronicling of both UGA and Georgia Bulldogs football, the latter focused on his time there as head football coach (and athletic director), being from Mobile and a graduate of old sister school Auburn University. I have two of his books. I grew up in Marietta, Georgia, and attended the University of Georgia, where I managed the Tate Student Center Set-Up Crew and made UGA Presidential Scholar, and I've covered the Dawgs for 11 years and counting now, so I have that. Thinking of releasing my Dawgs poetry as Silver-britched Poems, I have had two poetry books published so far: ATL Fire and Silver Stone Press Presents (with Tom Cheshire).
Bridges to everywhere it's Jacksonville week, y'all. The Classic City students, the alumni and fans, especially those residing in that part of the state, descending to the First Coast, here meaning the first coast discovered in the Sunshine State, a catchy marketing nickname for the area. Jacksonville is a glamorous enough little Southern city atop the long peninsular state at the long bottom of the important East Coast of the United States of America. Florida's land is actually part of the African tectonic plate; the area is new world "old" in the sense of the word that Savannah (Est. 1733) is old. Florida's St. Augustine (1565) is actually the oldest continuously-occupied European settled city in the U.S.A., while Georgia is a much older state and was one of the 13 original American colonies.
Georgia has won the historic game once-called Cocktail Party 4-of-7 tries, while the Gators have within that same time period won it 3-of-4. First, Georgia won it three times in a row while quarterbacked by Aaron Murray, who struggled in each of the games but pulled out close wins, after losing to them in overtime as a redshirt freshman, in a game he played well in until the end. Then, Florida won the Oar three times consecutively, over a span when both schools had multiple head coaches.
Finally, Kirby Smart whipped a folding, quitting Florida team 42-7 last season. Georgia is favored by a touchdown this year at the World's Largest Outdoor Cocktail Party. The favorite has, trend-wise, overall gotten the best of it in the series more often lately.
Under new head coach Dan Mullen who came over from Mississippi State, Florida scores, on average after seven games, nearly 35 points per game and poses a major threat to Georgia to recapture the SEC East title, won by the Gators twice consecutively before 2017. Former Georgia defensive coordinator and bad attitude potty mouth Todd Grantham is back in the Classic City. He loudly begs to get punched in the face regularly and is always blitz-happy and Georgia, with an oversized and young offensive line, has struggled in pass protection. An unseen advantage is, I know from covering him and complaining about it, Grantham subs in later than any coordinator I have watched. Quick hitters and quick snaps definitely throw him way off his game. He was calling the defensive schemes for the Maroon Pups last year when Georgia blew out Miss State in the SEC home opener, in Athens, and he was doing the same at Louisville when true freshman Nick Chubb embarrassed him in a bowl game in Charlotte.
Florida will be stacking the box early, with virtually the entire Georgia fanbase clamoring for more power running. It may not work so easily. Jake Fromm may have to beat them with precision passing. He can do it, with quality protection, against a defense getting battered by successful power running, if the receivers and tight ends get open and make plays. I'm betting on Fromm (18-3) bouncing back here and getting the win. Guys need to attack the ball and high-point it much better.
Unlike Georgia, Florida has a high-quality win this football season (LSU), while Georgia was blown out in the only game played versus a topflight, ranked team (same). Florida's lone loss was to Kentucky, in the Swamp. In SEC East action amongst ranked teams (all in the current AP Poll top 12), Georgia visits the Bluegrass on the Saturday after the Georgia-Florida game. This is the first time both Georgia and Florida have been ranked in the Top 10 since 2008, a game won 49-10 a year after they simply could not stop Knowshon Moreno (42-30) and Tim Tebow cried on TV.
Kentucky currently holds two key tiebreakers over Florida, having beaten them head-to-head and having giving them a loss in the SEC East. Florida holds a third tiebreaker with a higher ranking. Unless all three teams have two losses, it probably won't have to come down to tiebreakers. There is a scenario where Georgia could win the SEC East still if dropping the game by beating Kentucky. Florida would have to lose another league game for it to go to tiebreakers, with each of the three teams having one loss, one win in round robin play amongst the three, all with the same SEC and SEC East records.
The Georgia-Florida series was won an embarrassing lousy only three times by Georgia over 21 long games, from 1990-2010.  As mentioned, Georgia is 4-3 since then and holds the all-time series advantage. I publicly picked Georgia 31 – 21 Florida but am thinking it may be a lower-scoring game now, both teams wanting to run the football. The team with the most rushing yardage winning it a crazy 12 times consecutively; rushing offense and rushing defense will be key. Expect hard hits.
If they play to potential, Dawgs win both of these football games and win the SEC East, at least. A second loss and bigger team goals for the season are all out the window, reasonably. In the offseason, I projected this as the single biggest game in the SEC East, Florida Georgia's top challenger.
In big rival games at Georgia to-date, heralded coach Kirby Smart is 1-1 vs. Florida, 1-1 against Georgia Tech, 2-1 vs. Auburn and 2-1 vs. Tennessee. A mark of still just 4-3 versus UGA's historic rivals and just 6-4 if including newer key rival Tennessee. (South Carolina doesn't qualify.)
With old Auburn in the tank and no longer seen as a major threat to Georgia this season, the Bulldogs play three total tough football games in the whole regular season, all consecutive, none in Athens, the bye before this neutral site game, which is sandwiched by two tough-spot road games. Asking Georgia to go 2-1 in their challenging games is hardly dreaming an impossible dream.
Kirby has won 77% of his games, a UGA record for a head football coach. Mark Richt is in second in the vital stat at 74%. Thing is, winning 3-of-4, or even 8-of-10 overall is no longer acceptable. The bar has been raised, not based on history so much as simply on want and will.
Anyway, snappy old fellow that he was in both sartorial dress and silver tongue, the great Dan Magill who I'd seen in person at the stadium late in his life, said of the disputed opening series conflict, claimed by Georgia as a game and a win, although discredited by Florida, won by Ol' Georgia 52-0 in 1904 in Macon over the football team of one of four lame predecessor colleges to the current location of the University of Florida in swampy Gainesville, "That's where Florida was back then. We can't help it if they got run out of Lake City."
This series is one of consistent acrimony, culturally, historically, significantly. Georgia danced on Florida in the year of the Blackout (versus Auburn and Hawaii NOT Florida, too, as some fans adamantly misremember). Florida is "New Jack", winning nothing until Steve Spurrier showed back up as head football coach in 1990; the national champion Georgia Bulldogs beat Florida 75-0 way back in 1942 en route to winning the Rose Bowl. UGA is the birthplace of American public higher education, 1785.
The huge state population of Florida, 3rd-most populated state in the country, is of huge advantage to its flagship compared to the rest of the mostly sparse-in-density South, Deep South and Southeast. Atlanta, the undeniable capital of the South, being in the state of Georgia, is to distinct advantage to Georgia. While career-minded folks and their families flock magnetically to Atlanta to settle from all over the South and the also from the rest of the country, Georgia as a whole is more distinctly Southern than Florida culturally. The Northern bloodlines of much of the student body and alumni of Florida painfully evident in many of their annoying dialects, the rest of the Gator fans jorts-wearing toothless swamp-necks with jail tattoos. Boom. The most common across states out-of-Florida migration is actually into the state of Georgia, while Georgians also move to sunny Florida en masse every year. Even I lived down there for a year. Both are strong schools and with private Vandy, as well, push the SEC East way ahead of the SEC West in terms of institutions of academics, a gap that shall most assuredly never be bridged.
Ah, the bridges… bridges to everywhere. A successful Georgia season runs through Jacksonville.