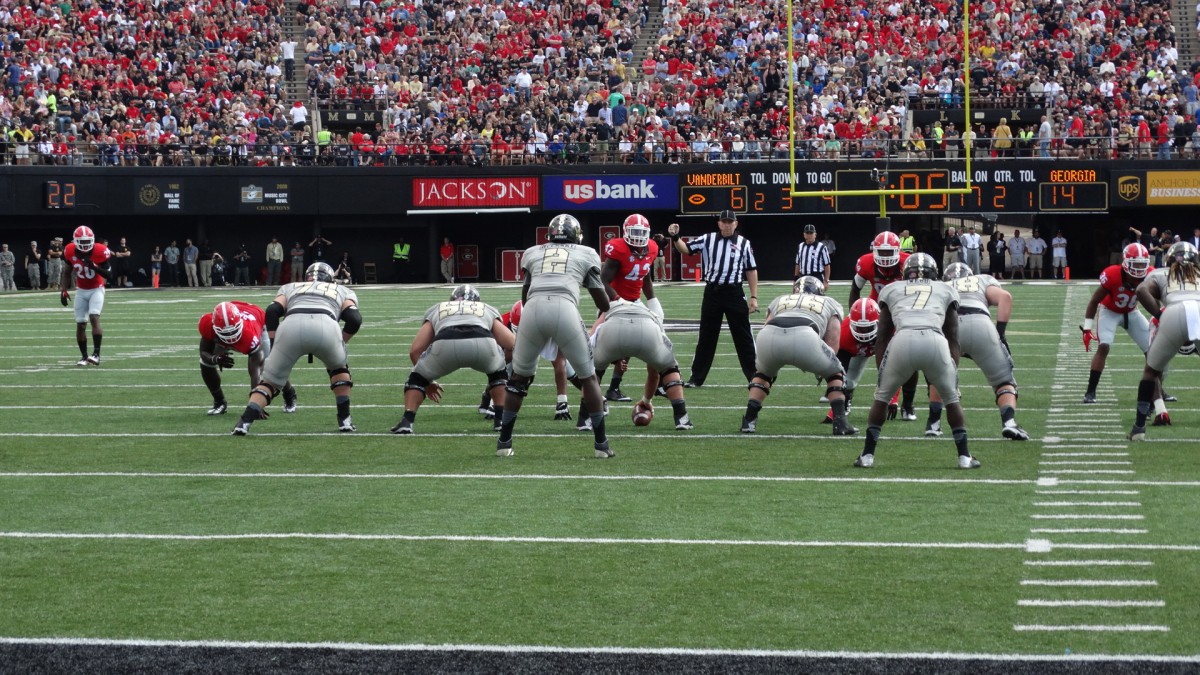 [su_spacer size="20″] Here are the Bulldawgs half-time notes and stats from Vanderbilt game on Saturday, September 12, 2015.
[su_spacer size="20″]
Specialists Putting Dogs On Board:
[su_spacer size="20″] Sophomore SE Isaiah McKenzie returned his third career punt for a touchdown (first this year) and his fourth kick return for a score in the opening quarter to put Georgia up 7-0. His return was for a career-long 77 yards and he is the SEC's active leader with three. Georgia now has 22 special teams touchdowns in the Mark Richt era. McKenzie's punt return touchdown was the longest for the Bulldogs since Brandon Boykin went 92 yards for a score in the 2012 Outback Bowl versus Michigan State.
[su_spacer size="40″]
Tailbacks Hit 163 On The Ground:
[su_spacer size="20″] The Bulldog tailbacks finished the half with 163 yards rushing on 13 attempts (12.5 avg.) and two touchdowns. Sophomore TB Nick Chubb sprinted for 68 yards on his second carry and finished with 128 yards on 10 carries (12.8 avg.) in the half. This marks his 10th consecutive game with at least 100 yards rushing. Toledo's Kareem Hunt has the nation's longest active streak with 11 games with 100 yards or more rushing. Toledo faces Arkansas at 4 p.m. on Saturday.
[su_spacer size="40″] To complement Chubb, sophomore TB Sony Michel came off the bench to tally 35 yards rushing, including a 31-yard touchdown run to put Georgia up 14-3 in the second quarter. This was Michel's sixth career rushing touchdown.
[su_spacer size="40″]
Two Quarterbacks:
[su_spacer size="20″] Junior QB Greyson Lambert led the Bulldogs to a couple of touchdowns in the first half. On Georgia's final drive of the second period, redshirt sophomore QB Brice Ramsey came in and finished his drive 2-for-4 for 25 before the Bulldogs were forced to punt.
[su_spacer size="40″]
'D' Keeps 'Dores Out Of End Zone:
[su_spacer size="20″] Georgia held the Commodores to just 6 points (two field goals). Senior OLB Jordan Jenkins posted career-high nine stops in the first two quarters, including 4.5 tackles for loss and two sacks. He is the SEC active leader with 18 sacks and 34.5 tackles for loss in his career. Jenkins also moved to No. 5 on Georgia's all-time list. Sophomore SS Dominick Sanders has already tallied career-high six tackles while redshirt sophomore CB Aaron Davis is one off of his career high with six stops.
[su_spacer size="40″]
For Starters:
[su_spacer size="20″] Redshirt sophomore OLB Davin Bellamy and freshman TE Jackson Harris started their first career games. Also of note, sophomore OLB Lorenzo Carter was disqualified for targeting early in the opening period after coming in as a reserve.
[su_spacer size="40″]
Today's Captains:
[su_spacer size="20″] Seniors Jordan Jenkins (OLB), John Theus (LT) Malcolm Mitchell (SE) and junior Reggie Davis (FLK) served as the Bulldog captains.
[su_spacer size="80″]