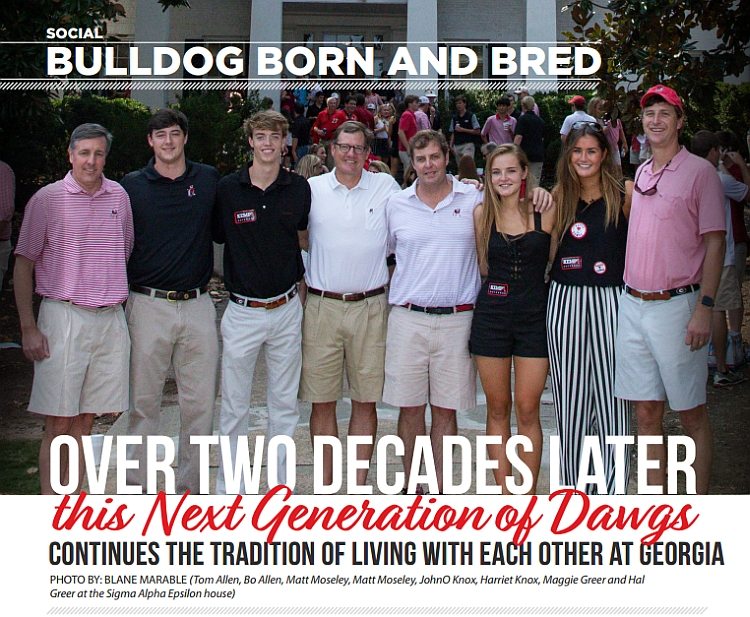 Love and allegiance to the University of Georgia and the Bulldogs football team make for a common bond, one that has enabled students and UGA alumni to develop friendships that have lasted for decades, yes, even for lifetimes. But with four families who are devoted to the Red and Black, this thread of UGA togetherness goes even deeper. Call it, if you will, Generations of Dawg Roommates.



Georgia graduates Hal Greer and JohnO Knox, who attended the university in the late 1980s and were roommates, now have daughters, Maggie Greer and Harriet Knox, who are freshmen at UGA and are also rooming together. And Tom Allen and Matthew Moseley were likewise roommates, also in the late '80s, at Georgia and now they see their sons, Bo Allen and Matt Moseley, being roommates in their first year at the university.


And, going further, another common link is that all the fathers and sons were/are members of the SAE fraternity at UGA.


"I roomed with JohnO Knox, we went there in 1988," said Hal Greer, who now resides in Macon. "We're the same age and had a house out on Timothy Road. We were SAE's at the same time and both of our wives were SAE little sisters back when they used to have them. That would be Rae Cole, she's obviously now Rae Knox, and Jenny Murray, who's now Jenny Greer. Our daughters who now room together at Georgia are Maggie Greer and Harriet Knox. They've known each other from tailgates and family vacations since they were little and always said they wanted to room together. Both got in Georgia and now they're both here and are freshman roommates in Brumby Hall."


Greer said he and Knox weren't acquainted when they first enrolled at UGA.


"We met up there when we were freshmen. I'm now in the financial planning business for Raymond James in Macon, and JohnO is in Atlanta and is in a similar business, asset management. We went to Notre Dame together, all of us, and we go to Georgia- Florida together, doing what we do. At home games, our tailgates are right next to each other in Legion Pool lot."


Greer said his daughter Maggie and Knox's daughter, Harriet, talked about rooming together at UGA "as long as I can remember, maybe fifth or sixth grade. They always said they were going to room together and we tried to explain to them that you really can end up not liking somebody if you room with them, might not be the best idea, but they were adamant and they did it" he said, noting that the girls are now Kappa Kappa Gamma pledges at UGA.


Greer said the mutual love for the University of Georgia and the Bulldogs is the common thread that brought Maggie and Harriet together, just as it did with he and Knox when they were freshman roommates in Athens back in 1988. "No question, it's fun to see them having as much fun as we're having. And we're all going to Georgia-Florida together, just as we did to the Notre Dame game."


"I know the girls will make an 'A' in Georgia football and an 'A' in sorority… we'll see what the rest of it shakes out like" he mused.
"Over the years we've taken family trips together and Hal and I park in the same lot for all the Georgia games," said John O. Knox. "And for years we've been setting up tailgates right next to one another, and our children have sort of grown up together. I do have another daughter in school there and she's friends with Maggie, too. She's two years older than Harriet and her name is Mari Cole Knox and she's a junior."


Knox said UGA has been in his blood from the day he was born.


"I was born in Athens while my parents were students" Knox related. "My daughters, for lack of a term, and my son, who's younger, have been brainwashed since birth but they took to it, thankfully. I would say the primary difference is, yeah I met Hal when we first stepped on campus when we were 18 years old but I think the academic requirements for admission are so much more difficult now, I would say if Hal and I were 20 years later we may have never been accepted and may never have met one another.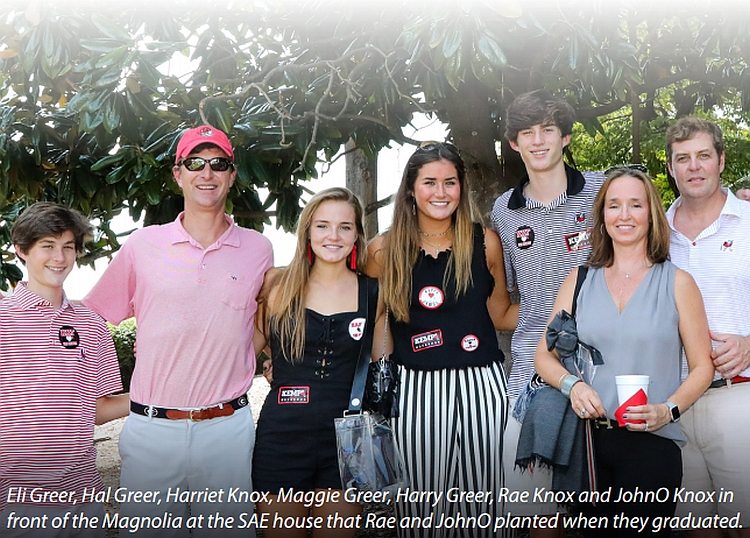 "So my girls and my son and Hal's children — he has two younger boys — they've all grown up going to all the games up there and we go to all the games we can as well so it's a great bond and they're passionate about it. And best I can tell, those two freshmen are having the time of their life right now."


Maggie Greer and Harriet Knox are indeed having the time of their lives in their first year on the Georgia campus. And they are elated to be UGA roommates, just as their dads were.


"Harriet and I grew up together, actually met when we were babies," said Maggie. "We went to the beach together and the lake and tailgates, obviously. When we were in the 8th grade and freshman year in high school, we kind of always joked that if we both got into Georgia, we'd be roommates."


"Then come April of this year, we both got in. We went to Notre Dame and we've got a house together for Georgia-Florida. We went to the lake together with a bunch of girls at Notre Dame, stayed in the same hotel, so we're really close. It's really fun and we get along really well. Right now I'm on the public relations route for my major," added Maggie, "but I don't know … I'm hoping I'll stay there but don't know right now."


"We've grown up together and just always been good family friends," echoed Harriet. "When we kind of started thinking about college, we always said if we both got in Georgia we'd definitely want to room together. And when we got in here, it was like, 'Wanna still room?' And now we are roommates. There was no doubt about us going to Georgia, unless we didn't get in, and we did, thankfully. I plan to major in business, marketing."


Harriet Knox said her long-time familiarity with Maggie Greer makes for fairly smooth sailing as roommates.


"It's a lot easier because knowing each other the way we do, we don't get into fights," she joked. "We knew how each other acted and stuff, so like I say, it just made things a lot easier. Like Maggie said, going to Notre Dame together with our families and staying in the same house at Georgia-Florida with our families, that will be fun."


As was the case with Hal Greer and John O. Knox, Tom Allen and Matt Moseley didn't know each other entering UGA as freshmen.


THE ALLEN-MOSELEY ROOMMATE CONNECTION

"We were fraternity brothers in SAE and we lived in a house on King Avenue by the hospital … not a very nice house," Allen said, chuckling. "Along with Hal and John, we were all there at the same time. They're a little bit older than us but we were there from 1989 to 1994. We're still really good friends, both from Athens, and our boys are the same age. They grew up together so we've remained good friends ever since."


"The boys have grown up tailgating and going to football games all their lives," said Allen. "We tailgate over behind Dawson Hall, right at the graduate studies building. We didn't go to Notre Dame together this year but we've done a lot of family trips together, football games, family vacations … those sort of things. Matt's wife Katherine was an SAE little sister sweetheart and she and my wife Laura were really good friends from college, too."


Allen said there was never a question where his son Bo and Bo's best friend, Matt Moseley, were going to college. It was Georgia all the way — as long as they could meet the stringent entrance requirements.


"The love for Georgia and the Bulldogs has been a constant for us ever since college, all our lives, and it's something we'll always have," said Tom Allen. "And I guess one of the neatest things is now it's come full circle, just seeing all these people we were friends with in college, their kids going to school here and becoming friends and getting to meet each other and having that common bond … that's really great to see."


Like with Maggie Greer and Harriet Knox, Bo Allen and Matt Moseley said becoming UGA roommates — just as their fathers did — seemed the natural thing to do, considering their lifelong acquaintance with each other.


"We both grew up in Athens and we hang out a lot, tailgate together, go to games together," said Bo. "We've been tailgating at SAE lately but I'm sure we will go back to our family tailgates soon. We both got accepted to Georgia for the spring semester and we knew we didn't want to live at home so we decided to move into an apartment together. We were both taking classes out at UNG and so we carpooled out there and it was an easy decision once we got our acceptance from UGA," said Bo, who delivers Bulldawg Illustrated in Athens. "We both went to Athens Academy together; we both played sports together in high school. I'm an open major, haven't decided yet, but I'll figure it out. We'll be going to the Florida game together."


Matt Moseley, with the same first name as his dad, gives all credit to both sets of parents for he and Bo Allen winding up as Georgia roommates today.


"It was nice that both of our dads and families kind of kept in touch after graduating from the university," said Matt. "With them both settling down in Athens, Bo and I were able to grow up together, not only through school but through different sports. So we got to know each other well over the past 18 years. Bo and I played basketball and football together and I played golf in the spring.


"We grew up always going to the same tailgate together," he said. "We'd see each other throughout the week and then we'd see each other on Saturday at the tailgate. We really didn't talk about rooming together at Georgia but it was more of a mutual feeling between us, that if we both got accepted we would room together. Our apartment is on Dearing Street, which is basically right across the street from Brumby Hall and right near the Varsity. So we're actually in a good spot, right on campus and in the middle of everything."


Matt Moseley said, besides the two girls, Maggie Greer and Harriet Knox, he doesn't know of a similar situation where not only were the dads roommates at Georgia, but their offspring are as well.


"But I think it's nice to be able to have families that are so close," said Matt. "We live in the same town but it's a different world going from high school in Athens to college in Athens, kind of a surreal feeling. It's a lot more comfortable having someone to room with you've known all your life instead of going in there with someone new that you don't know well."


And, oh yeah, about that football team the Greers, Knoxes, Allens, and Moseleys love so much.


"We're super excited with the way Kirby has coached up the team and gotten off to a hot start this season," said the young Matt Moseley, speaking just before the Bulldogs routed Mississippi State a couple of weeks ago. "We're just hoping for a good rest of the season and to hopefully make that trip to Atlanta to watch them play for the SEC championship."



---
Recent Articles by Murray Poole


[pt_view id="2fb799183g"]