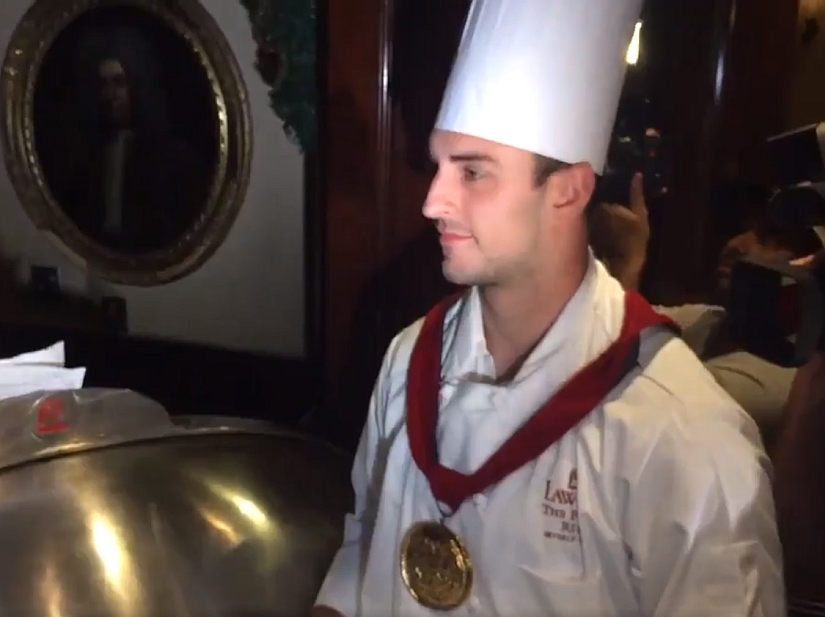 One of the Rose Bowl week activities and traditions that the two participating college football teams get to enjoy is the annual Beef Bowl at the world famous Lawry's The Prime Rib restaurant in Beverly Hills. The Georgia football team players and coaches got their opportunity to show their "chops" with knife and fork at the Beef Bowl on Friday evening.


This marks the 61st year of the celebrated tradition which has taken place each year since its inception prior to the 1957 Rose Bowl Game and honors the players and coaches of each Rose Bowl‐bound team.
As part of the tradition, one player is selected to make the ceremonial first cut of the prime rib and serve the first plate to a person of his choice, see video clip below, and if I am not mistaken, he serves fellow tight end, sophomore Isaac Nauta. Of course, the burning question is who devoured the most, an offensive or defensive lineman? My money is on Ben Cleveland or Isaiah Wilson.
---
---
---
---
---
---
---
---
---
---