&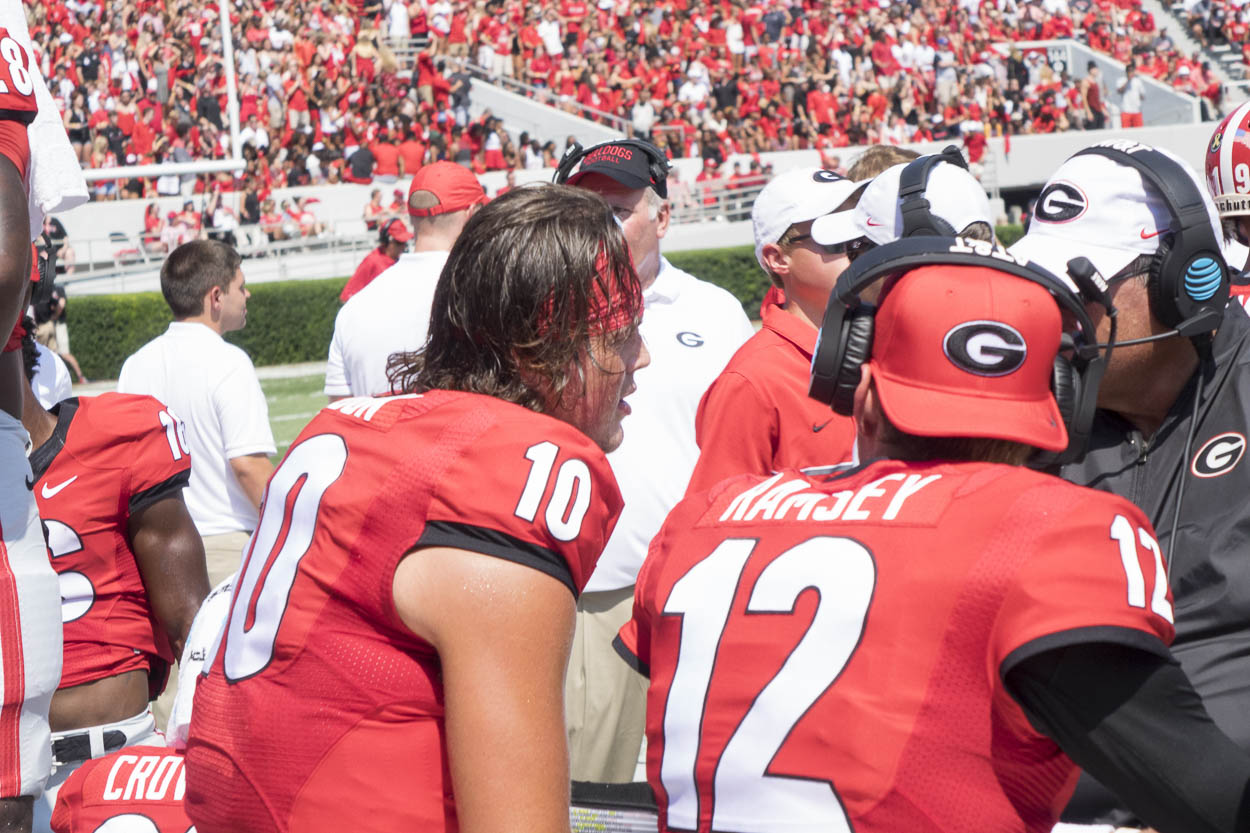 50-point favorite?
Yeah, right! … The Georgia Bulldogs were fortunate indeed to beat the FCS Nicholls State Colonels by two points Saturday afternoon at Sanford Stadium.
In fact, with 6:48 left in the third quarter, the sold-out crowd of 92,000-plus was rubbing its collective eyes in disbelief as the little school from Louisiana held a 14-13 lead on the nation's 9th-ranked football team.
As it was, the Bulldogs had to hold on for dear life to subdue the Colonels, 26-24, in a Kirby Smart home debut that bordered on disaster for much of the four quarters.
After a 5-yard pass from Chase Fourcade to C.J. Bates and extra point kick pulled Nicholls within the two points with 3:42 to play, it took some key first down runs by Nick Chubb to enable backup quarterback Greyson Lambert to take two knees in the waning minute and thus lock up this surprisingly hard-earned win.
On a day when the Georgia offensive line simply couldn't create space for the running attack and new starting freshman quarterback Jacob Eason experienced a so-so performance, the Bulldogs had to get several huge plays by Isaiah McKenzie to pull this one out. And still, even McKenzie got in on the turnover act that kept the Colonels in the ball game.
No question, after an inspired 33-24 opening win over North Carolina in the Georgia Dome and a disappointingly contrasted performance on Saturday, Bulldog fans have to be left wondering which Georgia team will show up when the SEC slate begins next Saturday night at Missouri.
Smart has to be wondering as much himself.
"I'm a half-glass-full guy myself but you've got to understand this football team has to get better," said Smart. "We've got to improve. It's frustrating! There's a lot of guys out there that didn't execute, didn't play well and that's my responsibility and we've got to improve on that. Because you know, we're going to play a lot of good teams coming down the road.
"Humility is always one week away, just like it is for us now," added Smart. "These other schools work on football too. It's just disappointing when you don't go out and execute. You've got to improve that execution and players have got to believe in it. And we've got to do a better job of running the ball (just 167 rushing) and getting better movement on the front in the offensive line. We didn't run the ball very well today — they whipped us up front and there wasn't a lot of room there. So we'll watch the tape and see what's going on. We were never on rhythm after the first drive today … the rhythm was gone."
Eason, playing most of the contest before being relieved by Lambert in the fourth quarter, was 11-of-20 for 204 yards with a 66-yard touchdown pass to McKenzie but also a costly fourth-period interception that was returned 91 yards to keep the Colonels in the game.
"Anytime you start a true freshman in college football, it's challenging and he found that out today," said Smart. "There are no easy games and he's got to continue to improve his ability to manage the huddle, get in and out and do things quickly. He's a freshman and we know that. He's also a talented freshman that can make a lot of plays on a lot of throws. So that balancing act is really tough for us right now to make the right decision for the total offense."
Only Georgia touchdown in the lackluster first half was a 6-yard run by Chubb to cap the Bulldogs' 67-yard drive on the opening possession. A 36-yard strike from Eason to Terry Godwin led to Chubb's touchdown, which came with 12:54 left in the first. The Bulldogs then went up 10-0 via William Ham's 23-yard field goal midway of the second quarter.
But the Colonels would strike back, cashing their first touchdown with just 45 seconds left in the half on a 4-yard run by Dontrell Taylor. The Nicholls score was set up when Chubb fumbled the ball away at the Bulldogs' 30. Thus, Georgia clung to a shaky 10-7  halftime advantage.
Ham's 26-yard field goal, after McKenzie returned Nicholls' first punt of the third quarter 55 yards to the Colonels' 14, lifted the Bulldogs up 13-7 but the visitors then proceeded to march 75 yards to go up 14-13, Fourcade passing 20 yards to Jarrell Rogers with the 6:48 showing in the third.
But finding themselves in that dire predicament, the Bulldogs rallied. Dropping back to throw at his own 34-yard line, Eason drilled a bullet over the  middle to McKenzie and the little junior broke into the open field and raced 66 yards for the touchdown. Ham's kick made it 20-14 with 5:43 left in the quarter.
Minutes later, Georgia would add to its lead when Aaron Davis hit Nicholls' third string quarterback Devin Powell from the side on a pass attempt and Powell's fumble was scooped up by outside linebacker Lorenzo Carter at the Colonel 24. Carter sped untouched into the east end zone and although Eason's 2-point run try failed, the Bulldogs now led 26-14 with at the 4:50 mark of the third.
But there would be no putting Nicholls State away on this afternoon. With Georgia seemingly going in for another score at the Colonels' 9, an Eason pass was tipped and picked off by Jeff Hall and the Nicholls  defensive back weaved and bobbed his way back 91 yards, all the way to the Georgia 7-yard line. That led to a 26-yard field goal by David McKey that pulled the Colonels to within 26-17, with 7:50 left in the game.
And then, Nicholls would make the Bulldog faithful sweat even more. A fumbled punt by McKenzie gave the Colonels the football at the Georgia 9 and two plays later, Fourcade passed to ace receiver C.J. Bates from six yards out for the touchdown. The PAT kick was true and it was, sort of unbelievably, 26-24 with 3:42 to go.
On the kickoff, McKenzie had another bobble, letting the ball touch his hands and go out of bounds at the Bulldogs' 7-yard line. But with their backs to the wall and the Colonels calling their final timeouts, the Bulldogs finally salted the game away on the strength of several determined first-down runs by Chubb, who was limited to 80 yards on 20 carries by the Nicholls gang-tackling defense.
Freshman Brian Herrien added 47 yards on eight carries while McKenzie — take away the two late-game mistakes — had a productive game with 33 yards rushing, two catches for 61 yards including his long TD dash and his 55-yard punt return. Godwin caught three balls for 47 yards. Defensively, with sophomore tackle Trenton Thompson recording 11 total tackles and linebacker Reggie Carter having seven stops, the Bulldogs did limit the Colonel offense to just 125 rushing yards and 111 passing.
"It's not surprising," said Chubb of the close call. "We knew these guys came out here to play for their first game of the season. We expected them to come with a lot of energy and they showed it." (On rushing struggles) "Those guys played hard and they out-hit us for the entire game, almost. A lot of stuff we've never seen. We've never had tape on those guys, so coming into this game we didn't know what to expect but we still have to do what we are supposed to do."
Now, the Bulldogs get ready for the Missouri Tigers, who have struggled on offense in recent years but are always tenacious on defense, a fact that could be problematic for a Georgia offensive line that couldn't create space against an FCS school on Saturday. Kickoff will be at 7:30 this coming Saturday night in Columbia, Mo.
"Missouri is a tough place to play," said Smart. "Every SEC team can beat another SEC team any week. We have to go to the drawing board, get to work, get more physical, and show improvement from Week 2 to Week 3."