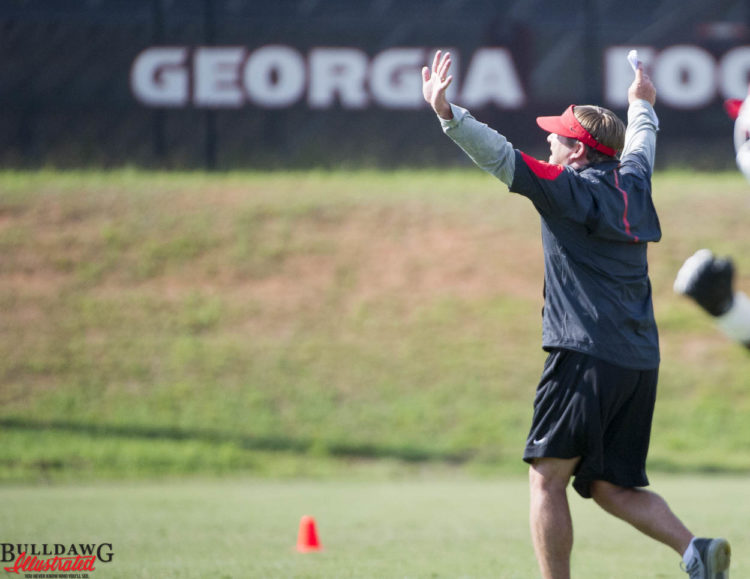 Every Coach in the Bulldogs fall practice today seemed to be displeased with what they were seeing from their players today. Once I stepped onto the practice field, the first thing that caught my eye was Kirby Smart sprinting up and down the field getting after players who were not doing their job. Coach Smart was not taking anything less than a player's full 100% effort and anything less than that was unacceptable.
Kirby was constantly getting after guys for not moving properly or quickly enough on a drill and he was more vocal today at his players than I have seen thus far. Midway through practice we saw players break down into position groups and three things stood out today and they are the guys who were off rehabilitating, Nick Chubb, and the quarterbacks and who seemed to be taking first and second team reps.
There were two players that stood out as guys who were rehabbing injuries and they were Sony Michel and Shaquery Wilson. These players do not really come as a surprise as it has been reported for a while that Michel has a broken arm and Wilson is dealing with a bone bruise. However, it was rather interesting to see Michel participating in some team and position drills and not just spending all of his time on the side doing light work. It almost seems that Michel may be taking the mindset that Chubb has taken while rehabbing and he may be pushing to be as ready as soon as possible, which is very encouraging.
On the other hand, A bone bruise is not a serious injury at all but it continued to plague Shaquery Wilson today as he did some light work on the side but it did not seem like he was able to go a full 100% and he even seemed to be running gingerly when he was doing his light work. Wilson should be ready to go soon and he will most likely be relied upon at some point since the Bulldogs do not have the most depth at the running back position.
Continuing on the position of running back, Nick Chubb continues to look as if he will be ready to go for the season opener and Kirby even said they would continue to work him in all of the regular team drills and he has done just that. Chubb's progression has been outstanding thus far and should help most of the Bulldog nation breathe a little easier as the season opener gets closer and closer. Barring any setbacks I believe Chubb should be ready to go for the season opener but only time will tell.
The final aspect of practice that was particularly interesting was how the quarterbacks seemed to rotate during drills. From what I saw it looked like the quarterbacks were working on handoff drills and it seemed that Brice Ramsey and Jacob Eason were taking the 1's and 2's reps. I saw both Eason and Ramsey hand off the ball to Nick Chubb, Sony Michel, and Brendan Douglas respectively but Greyson Lambert stood over to the side and worked on hand offs with Tae Crowder and Brian Herrien.
However, what is more interesting is that during some of the passing reps we saw Eason and Lambert taking those reps side by side followed by Brice Ramsey and Sam Vaughn. This quarterback race is wide open but it seems Eason is really pushing for the starting job.
There a few other things that stood out in practice, starting with wide receiver Javon Wims. He seemed to get very frustrated during practice and it looked as if he was not taking the normal reps with the team. He seemed to be doing some work off on the side and it is something I will definitely be keeping my eye on throughout practice.
Also, as of right now it looks as if the Bulldogs starting offensive line would line up like this (from left to right): Isaiah Wynn, Dyshon Sims, Brandon Kublanow, Lamont Gaillard, and Greg Pyke. Kirby already confirmed that Wynn would take about 60 percent of his reps at left tackle and 40 percent at left guard but it seems that left tackle will be his permanent home. Kirby also stated that Pyke would be at right tackle even though he is listed as a guard on the roster. Pyke is a very versatile lineman so his listing on the roster is not surprising and as of right now he will be the starting right tackle.