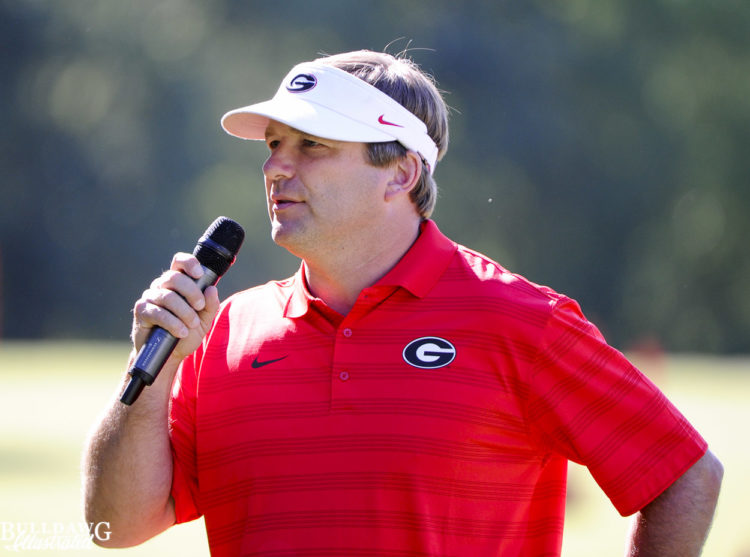 The Bulldog Fan Day celebration is an open practice that will be held on on Saturday August 6th. The open practice will take place from 2:30-4:30 and afterward head coach Kirby Smart and players will be available for autographs after the practice at 4:45 but photography or video will not be allowed during the practice or autograph session.
Admission is free for the Fan Day celebration but strollers are not permitted on location in hopes of accommodating as many people as possible. Fans will also have the opportunity to take photos with UGA X from 2-4 pm and tickets for meeting UGA X will be distributed at 11:00 am to the first 150 fans that are lined up at East End ticket window on East Campus road. Fans who receive a ticket for a photo op with UGA X will have to be lined up at 2:30 pm. Only those who have a ticket will be guaranteed a ticket and no standby tickets will be distributed.
Fans can enter the stadium through gates 2,4,5,6,7 and Main beginning at 1:30 pm. The sections 325-337 and 138-139 are not open for spectator seating.The open practice will start at 2:30 pm and will last for two hours. After practice ends, fans who wish to participate in Fan Day will enter through the West end zone gate and fans may begin to lineup at 4 pm.
Coach Smart and the players will be available for autographs for 45 minutes following practice and will only sign 2016 team posters, which will be handed to fans as they enter the field for the autograph session. Fans are limited to two posters per person and no other items will be permitted for autographs. Also photography and videoing with players or Coach Smart will not be allowed during the autograph session.
Parking is available in any lots along East Campus Road, Psychology-Journalism, Clarke Howell, Legion Field, Tate Center parking deck, Hull Street parking deck and North Campus parking deck. Handicapped parking will be available in the Tate Center surface lot. A shuttle will begin to run from the East deck to gate 6 of Sanford Stadium at 12:30 and those services will conclude at 7:30 pm.
Concessions will be available in all permanent stands under the bridge, 100, 200, and 300 levels. The 600 level will offer concession vendors in the stands with Coca-Cola products and selected snacks. Fans can purchase UGA merchandise inside Sanford Stadium at Reed Plaza. If there is any inclement weather, the Fan Day portion of the afternoon will be canceled.
Bulldog Fan Day Schedule – Saturday, August 6, 2016
11 a.m. Ticket distribution for photos with Uga X – Ticket windows at East end on East Campus Road
12:30 p.m. Shuttle service from East Deck to Sanford Stadium Gate 6 begins.
1:30 p.m. Gates 2, 4, 5, 6, 7 and Main open for fans
2-4 p.m. Uga X photos in Athletic Box on North Side
2:30-4:30 p.m. Open Practice
4:00 p.m. Fans may begin lining up at West End Zone field gates for autographs
4:45 p.m. Autographs on the field with Georgia football players and head coach Kirby Smart
Defense – South sideline
Offense – North sideline
Coach Smart in East End Zone
5:30 p.m. Event Concludes