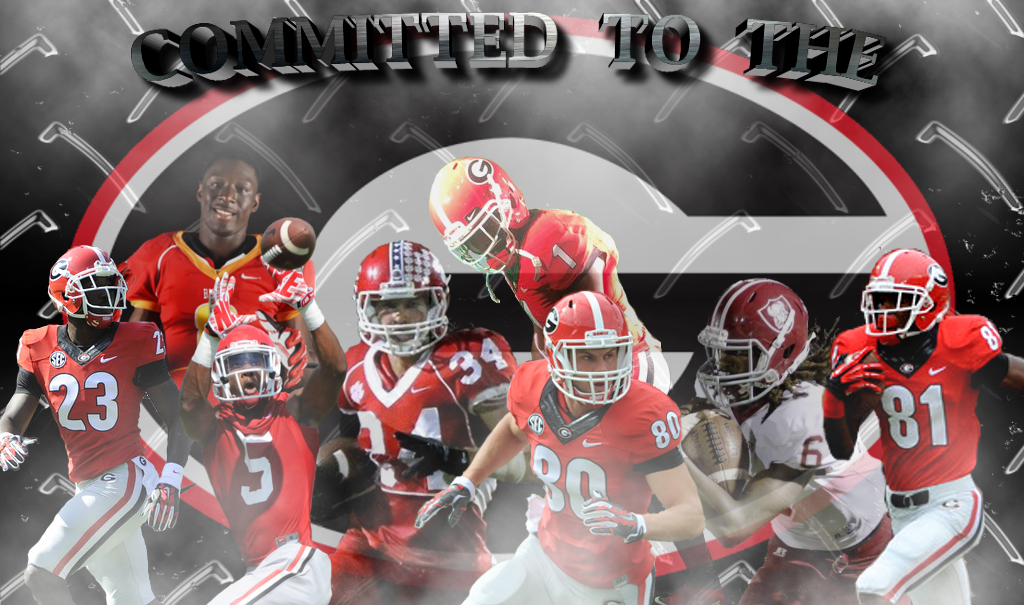 Kirby Smart wants his Bulldogs to get bigger. That has been one of the battle cries as far as recruiting and sound bites go from some of Coach Smart's press conferences since he was named the 25th head coach of the University of Georgia football program. And when we have talked about "bigger" we have centered on the defensive front seven and especially the offensive line, but those are not the only position groups that "getting bigger" is limited too with this new coaching staff.

Just take a look at the wide receivers currently on the Bulldog's roster:


---
CURRENT UGA WIDE RECEIVERS
| | | | |
| --- | --- | --- | --- |
| NAME | CLASS | HEIGHT | WEIGHT |
| Michael Chigbu | Sophomore | 6 foot 2 | 218 lbs |
| Reggie Davis | Senior | 6 foot 0 | 180 lbs |
| Terry Godwin | Sophomore | 5 foot 11 | 179 lbs |
| Charlie Hegedus | Senior | 6 foot 2 | 202 lbs |
| Isaiah McKenzie | Junior | 5 foot 8 | 170 lbs |
| Cavin Riley Ridley | Freshman | 6 foot 1.5 | 199 lbs |
| Jayson Stanley | Sophomore | 6 foot 2 | 210 lbs |
| Shakenneth Williams | Junior | 6 foot 1 | 199 lbs |
| Shaquery Wilson | Sophomore | 6 foot 1 | 190 lbs |
---


Of the 9 receivers on the roster currently, including early enrollee and freshman Cavin Riley Ridley, there is not a single one over 6 foot 2 on the current roster, not even a walk-on, but that will change.

Two of the four receivers that Georgia signed for the class of 2016 are 6 foot 4 and taller. Charlie Woerner is 6 foot 5 and 228 lbs, and Javon Wims 6 foot 4 and 215 lbs.

And that trend is continuing for the class of 2017. If anything, the next class is a stronger indicator that the Bulldogs and wide receiver coach James Coley are wanting to get bigger at the position. Georgia has offered 21 receivers for 2017 so far and eight of those are 6 foot 4 and taller including 6 foot 5 Nico Collins, 6 foot 4 Trevor Grimes, 6 foot 4 JUCO WR Stephen Guidry, 6 foot 5 Jalen Harris, 6 foot 5 Tee Higgins, 6 foot 5 Matt Landers, 6 foot 4 Evidence Njoku, and one of Georgia most recent verbal commitments for the 2017 class, 6 foot 5 and 195 lbs wide receiver Xavier Jenkins out of Lowndes County High School in Valdosta, GA. Compare those numers to the class of 2016 where Georgia only offered 4 receivers out of 37 that were 6 foot 4 or taller.

Now, that doesn't mean a receiver that is under 6 foot 4 in height cannot play or is not good. Nothing could be further from the truth. There are numerous pass catchers that have come through the hallowed halls of the University of Georgia and played between the hedges that were both talented and threats on the field of play that didn't even clear the 6 foot mark. The same can be said for receivers in the NFL.

Last year freshman Terry Godwin, a 5 foot 11 and 170-ish lbs receiver, raked in 35 receptions for 379 yards and a couple of touchdowns. Most Dawg fans know what kind of weapon Isaiah Mckenize is with the ball in his hands in the open field, and he stands just 5 foot 8.

And, of course, there is Malcolm Mitchell who recently finished his senior and final season with Georgia. At 5 foot 11 and 194 lbs, he amassed a total of 174 receptions and 2,350 receiving yards, scoring 16 receiving touchdowns during his collegiate career; which puts number 26 at fifth all time in career receptions, 6th all time in career receiving yards, and 8th all time in career receiving touchdowns at UGA.

In fact, Georgia's top two record holders for receptions in a single season, Brice Hunter and Terrence Edwards were both 6 foot 2 and under, and they hold other receiving records for the Dawgs.

So, we have established that taller receivers don't necessarily equate to a better receiver as far as performance on the field, and that receivers that are under 6 foot 2 in height as well as receivers under 6 feet in height, can certainly play at the position and not only be effective but dominant, record breaking players.

But tall receivers do create a mismatch problem for defenses and a conundrum for defensive coordinators to counter. Does the opposition stick a bigger but slower line backer on the taller receiver? Does the coverage slide over to the taller receiver's side of the field, bringing a safety over the top to help the CB covering him? How does a defense cover multiple receivers tall and big receiver sets presented to them by the offense?

Which leads me to do this … How much more effective can Terry Godwin and Isaiah Mckenzie be if they get the ball in space and a player like Woerner or Wims is blocking out in front? How about if teams have to leave single coverage on Godwin and McKenzie to double cover receivers like Woerner or Wims?

And talk about how big a weapon a 6 foot 4 plus receiver is in short yardage and goal line situations when the quarterback can just put the ball up and dare the defense to stop it.

Coupled with the use of talented tight ends like Jeb Blazevich, Jackson Harris and incoming freshman Isaac Nauta, it is something many a Georgia fan has been wanting to see on offense, especially when they have seen teams like Missouri and Tennessee do so against the Dawgs. Now, will we see new Offensive Coordinator Jim Chaney. I certainly hope and expect so.


---