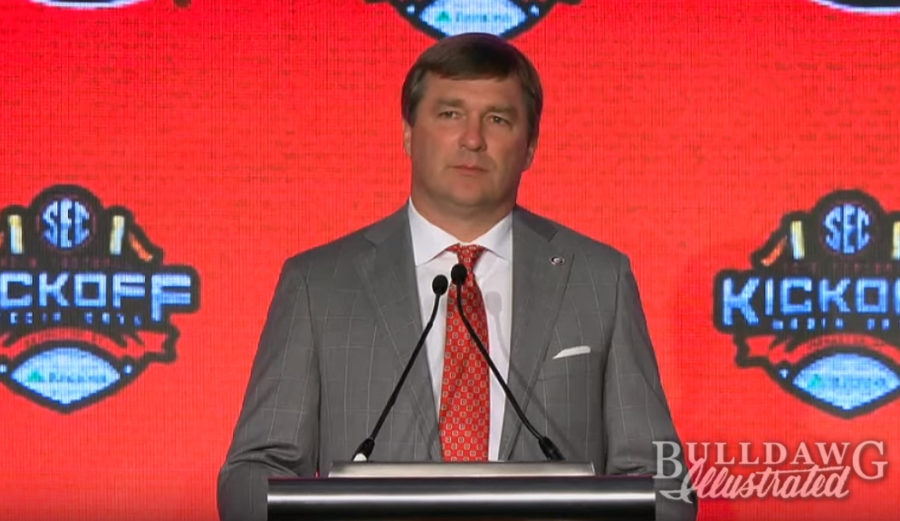 HOOVER, ALA. – If Jake Fromm, J.R. Reed and Andrew Thomas weren't among the very top leaders for the 2019 Georgia Bulldogs, they wouldn't have accompanied head coach Kirby Smart to SEC Media Days here Tuesday.
Fromm, of course, is the Bulldogs' junior quarterback who has guided the Georgia offense the past two seasons while totaling 5,364 passing yards along with 54 touchdown passes. He led the Bulldogs to the SEC title, a Rose Bowl victory over Oklahoma and a berth in the national championship game against Alabama as a mere freshman and then in 2018 sparked Georgia to a second consecutive SEC East title before the Bulldogs experienced yet another tough loss to the Crimson Tide in the SEC championship game.
J.R. Reed returned for his senior season this year after starting at safety the past two seasons. He was named All-SEC Second Team during the Bulldogs' splendid 2017 campaign.
And Andrew Thomas, Georgia's 6-5, 320-pound junior left tackle, has performed at an All-America level his first two seasons in the red and black and, in fact, was named SI.com All-America First Team following his sophomore season and earned second-team A-A honors from both the Associated Press and Walter Camp.
"They've got a lot of experience," said Smart, speaking to the Georgia beat media Tuesday. "That's the first thing. You're talking about three guys … two of them have played only two seasons but Jake has started almost every game and the other one (Reed) has been a starter for a while, too. They're tremendous leaders. A lot of what we do will depend on how they act in certain situations. The adversity that's created … they're gonna respond, they're gonna handle the locker room. We've got a lot of confidence in those three guys, with the amount of snaps they've played."
"And they're very unique leaders," Smart said. "They're not guys who concern themselves with what other people think about them. They say what they feel and speak their mind so that makes me comfortable with them."
"Jake Fromm who we all know has been a tremendous asset for the University of Georgia. He leads the right way. Does everything you ask him to do. He enjoys the game of football. He plays the game of football the way it should be played," said Smart. "When you go out to practice every day, this guy's got a smile on his face, he's competing, he's challenging people. He challenges me day in and day out. I know defensively we try to stop him, and he does a tremendous job. He's in our Terry College of Business. He's a finance major."
"First of all, I'm extremely excited he's our quarterback," Smart continued. "He is the leader of our program, the face of our organization, a guy that has given so much to Georgia and Georgia means so much to. As far as where he stacks up in the NFL, I don't think that's for me to determine. I think Jake's got tremendous ability. He's a leader. That's the first quality you look for. We had a guy come speak the other day to our team talking about characteristics that scouts look for. He checks every single box on that list. He's won a lot of football games. He's thrown touchdowns and hasn't thrown interceptions. All of those qualities he has are going to give him a chance of success whenever he chooses to go to the NFL. "
Former Pace Academy standout Thomas, unlike Fromm and Reed, has led more by example his first two years in Athens. But Thomas, quiet and reserved, is now taking on a more vocal role with his teammates.
"Andrew speaks with his play, first and foremost," said Smart. "The guy's been really a physical and dominant player for two years. He's not a big talker but that's quite all right. I think he's capable of a more vocal role but that's not what we love Andrew for. It's his toughness and the things he does to represent the University of Georgia. Andrew was one of the first guys we were able to identify and recruit early on. He's a communications major — I'm sorry, he actually a sports management major, J.R. Reed is a communications major. But Andrew Thomas is a sports management major who is coming into his junior season. He started every game that he's been at the University of Georgia. He's a tremendous leader, person, charismatic. Doesn't say a whole lot all the time," Smart repeated. "That's why it's fun to bring him to this event. I told him today as we got off the plane: Andrew, you're going to have to talk today. And I think he's excited to do that."
"J.R. Reed is a guy that's a repeat visitor (to Media Days)," said Smart. "He decided to come back. He's also a product of a transfer which has been a lot of topic of conversation. He's a kid that's come into our program and been a great leader, been a starter. He does things the right way. He commands the respect of the other players, and he's been an asset to our program. And his sister, ironically, is a student-athlete at Texas A&M, a track athlete."
Someone asked Smart about the mentality circulating among UGA fans this summer, that it's all or nothing on the Bulldogs to win the SEC this coming season.
"I don't know I have control of that," he replied. "I've always been a look from within, put pressure from within. We put a lot of pressure on our team, day in and day out. We put a lot of pressure on our staff and myself, day in and day out. We'll always measure things internally and, externally, we'll be judged. We accept that. Our motto is to do more 24-5, and we have to find ways to do that more. That's the goal."
In his introductory remarks in the Main Media room, Smart cited the fifth birthday of the SEC Network as well as alluding to former Georgia coach Vince Dooley having the Sanford Stadium field named after him, the dedication being held at the first home game Sept. 7 against Murray State.
"I think that changed the face and exposure of the SEC," said Smart, commenting on the SEC Network. "I think the teams in the SEC are now able to go out and recruit nationally because of the SEC Network, and it's been pretty remarkable to have those two things (also this being the 150th year of college football) in the same year. So this is a special year for the SEC and college football both, but it's also a special year in Athens, Georgia. We're naming our field for Vince Dooley, who served as our head coach for 25 years, athletic director for 25 years. He's a legend in the history of college football and had a significant impact on the SEC as well. It's a special year for us in Athens since we're doing that, and he's meant a lot to both my wife and myself in our careers."
As usual, someone quizzed Georgia's coach on "getting over the Alabama hump."
"Well, the next step for us, and I don't mean this to be trite, but it's Vanderbilt," Smart answered. "You have to get to that point because we don't have Alabama on our schedule. We know Alabama has been very powerful in this conference for a long time. We respect the job they do. I got a lot of respect for Coach Saban and his program. I probably wouldn't be here today if it weren't for him. I also understand we have a really good program too. We have been able to recruit at a high level. I'm excited about this team coming back. The biggest thing is concerning ourselves with us and not concerning ourselves with somebody else."
"Am I confident somebody's going to beat him (Saban)? It depends on how long he coaches. It depends on how many opportunities they get. Inevitably, with enough opportunities, anything can happen. Like I say I got a lot of respect for the job he does. I got a lot of respect for the program. The success he's gotten has been earned. Make no mistake about that. He's earned it. There's not one thing he asked assistant coaches to do that he doesn't do himself."

"As far as on the recruiting trail, he's like he is on the field," said Smart. "He's very relentless. He's active as a recruiter. When you talk to a kid, a lot of times you find out he's talked to Coach Saban as well. That's part of it. It's communications skills that help you recruit, and he doesn't leave any stone unturned, and I got a lot of respect for the job he does."
Smart said Georgia's receiving corps received a jolt when starter Jeremiah Holloman was released from the team for an off-the-field transgression but that he expects the Bulldogs' young pass-catchers to step up this fall.
"I don't think it changes anything. I think one of the big question marks for any season would be the receivers. That's just more glaring now because one of the guys that got a lot of touches is now gone. We were facing that issue anyway. We lost a lot of touches catching the ball, not necessarily running the ball. But I'm excited about the guys we've got," he said. "They've worked really hard and the more you guys write about it, the more chips they've got on their shoulder and hopefully the better they'll be."
Smart mentioned highly-touted incoming freshman wideout, George Pickens, who had first committed to the Auburn Tigers.
"We're excited to have George. He's come in this summer and worked tremendously hard. He's been there from day one, grinding with our guys. He's a kid we recruited throughout the entire process. He came over to our place for several football games. He knew what he wanted. He knew what style offense he wanted to play in. He saw an opportunity when he saw two guys declare early for the draft in Mecole and Riley and Terry Godwin leave and then Isaac Nauta, there was a lot of touches there available, and I know he wanted to have an opportunity to play with a quarterback like Jake Fromm. We're excited to have him. We're looking forward to seeing him work and earn his opportunities."
Smart is also looking forward to the contributions of graduate transfers Lawrence Cager and Eli Wolf, who played at Miami and Tennessee, respectively.
"I've just seen them work out and they do that hard," he said. "They're very mature. These guys come from two really good programs, they work really hard and they know this is their season, their opportunity to shine, and we feel like the guys have bought in and can help us win the game."
Defensively, Smart said rising junior inside linebacker Monty Rice has also assumed a primary leadership role on the team.
"This is a kid that's a very good leader in our program. He works day in and day out, really does a good job in the classroom. He was banged up last year. He's one of our faster linebackers, which we're trying to increase some speed at that position. He's been very productive. When you look at what Monty has done in games, ability to make tackles and close on people, we've been really excited about what he does," said Smart. "I think defensively, it would be coach speak if I sat here and said we don't want to be more aggressive. We always want to be more aggressive. But you want to do it with what you have behind it in mind.

"We were a young defensive football team last year. We had a lot of guys from the previous season that were gone. We have a lot of guys coming back. We should be able to do some more things. We should be able to be a little more aggressive and be given the opportunity to do that if we want to."
Smart said the Bulldogs' preseason focus should be even better this year, what with Georgia kicking off the season with an SEC counter Aug. 31 at Vanderbilt.
"I don't think you ever take any opponent for granted regardless whether it's conference or not. That's our focus. We work on ourselves in camp, but there comes a point where you got to turn your attention to the opponent. We go on the road to Nashville to play a very well-coached Derrick Mason football team. I have tremendous respect for those guys and the job they do, and our guys will be focused on that game."
And as has been the case the past few months, Smart again fielded a question on the possibility of moving the Georgia-Florida game out of Jacksonville, for a home-and-home scenario.
Said the questionnaire: "Coach, are you definitely for moving that Florida/Georgia game to home and home and, also, what are your thoughts on Gator fans sort of trolling Georgia fans on social media this offseason, considering the way you guys have handled them the last couple of years?"
To that, Smart gave his standard reply:
"I'm for what's best for the University of Georgia and as a group and as a staff and as administration, and we'll look at that internally and make the decisions based on what is best for our student-athletes and what is best for the university. I don't get caught up in the emotion of this decision or that decision. I look at it from a perspective of 10,000 feet where I say: 'What is best for our program?' And it's that simple. And we'll make that decision as a group and go with it. And as far as Florida's concerned, we really don't get caught up in that. We're really focused on us. We got enough in-house things that we have to manage that I'm not caught up in the affair with social media and trolling."