The Bulldogs headed inside to utilize UGA's new Indoor Athletic Facility for Wednesday afternoon's practice, the fifteenth of Fall Camp for Georgia. It was the second time the team has practiced in the IAF this week as weather sent them inside on Monday, and it's the third time they have used the IAF since July 31st.


The Dogs donned shorts and helmets and went through various drills with coaches looking on intently, and a former Georgia Bulldog was on hand to watch the players put in some work. Former DE and now ESPN commentator David Pollack was in the house and hung out with one of his former teammates during practice, Odell Thurman, who is now an intern with Georgia's strength and conditioning staff.

GEORGIA OFFENSE

Looking at the offensive line rotations, the No. 1 unit saw senior Isaiah Wynn again at left tackle. Wynn set out all last week with an undisclosed illness but has been back at practice this week, and he doesn't look to have missed a beat. Next to Wynn was redshirt sophomore Pat Allen at left guard. Holding down the center position was junior Lamont Gaillard and that has not changed since spring. On the right side of the O-line, redshirt freshman Solomon Kindley was at right guard and freshman Andrew Thomas was back at right tackle. Thomas spent last week at left guard with the No. 1 unit.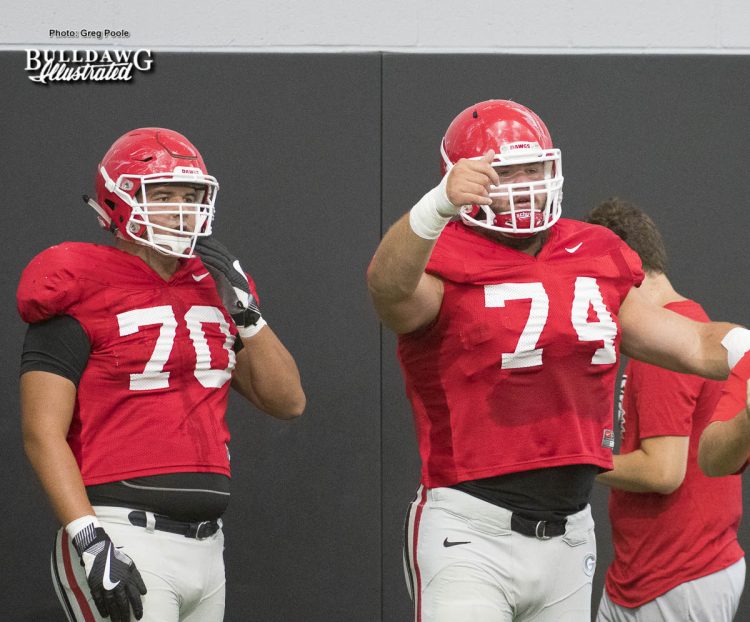 Redshirt freshman Ben Cleveland looks to be back with the No. 2 group at right tackle with the return of Wynn, and junior Kendall Baker was at right guard. Back in spring, junior Sean Fogarty emerged as the No. 2 center and he has further entrenched himself there through fall camp. Freshman Isaiah Wilson was again practicing at left guard and senior Dyshon Sims at left tackle in the second group. Seeing Wilson with the No. 2 group is a good sign that he is progressing nicely this Fall Camp so far and Ben 'Big Country' Cleveland has come a long way since he was a 17-year-old true freshman last year.


The Georgia coaching staff continued to have different personnel working out of the slot with the receivers that included sophomore tight ends Isaac Nauta and Charlie Woerner along with sophomore running back Brian Herrien. In addition to different personnel working out of the slot, the Bulldogs also continue to look on "Wild Dawg" formations. Taking snaps out of the "Wild Dawg" were senior running Sony Michel and sophomore wide receiver Mecole Hardman, Jr.

BULLDOG DEFENSE

We didn't get a chance to really observe the defense during the short open media viewing period, but what did stand out, what everyone noticed, was that Aaron Davis was working at cornerback instead of STAR. More on that below.

INJURY UPDATES

There were a couple of notable players missing from Wednesday's practice. Freshman running back D'Andre Swift missed his practice for the second day in a row. Kirby Smart said in Tuesday's post-practice presser, that Swift was getting some "medical things checked on" but that he should be OK and back soon.


Earlier in the day on Wednesday, there was a rumor of a defensive player having a serious injury but we have not been able to confirm those reports as of yet. But senior cornerback Malkom Parrish was out on Wednesday. In his place at corner was senior Aaron Davis who moved over from his STAR position.


Sophomore wide receiver Tyler Simmons was at practice, but still in a black "no-contact" jersey and a cast on his left wrist. After missing a couple of practices on Saturday and Monday with an undisclosed illness, junior DE Jonathan Ledbetter was back for the second day in a row and looked no worse for wear.


PHOTO GALLERY: Practice 15, Wednesday, August 16, 2017
CLICK ON PHOTO TO ENLARGE

[foogallery id="109894″]

The Bulldogs will get after it again this afternoon with the sixteenth practice of Fall Camp, and if the weather cooperates, then the team should be out doors again. We should also get some more clarification on injuries from Kirby Smart after practice.