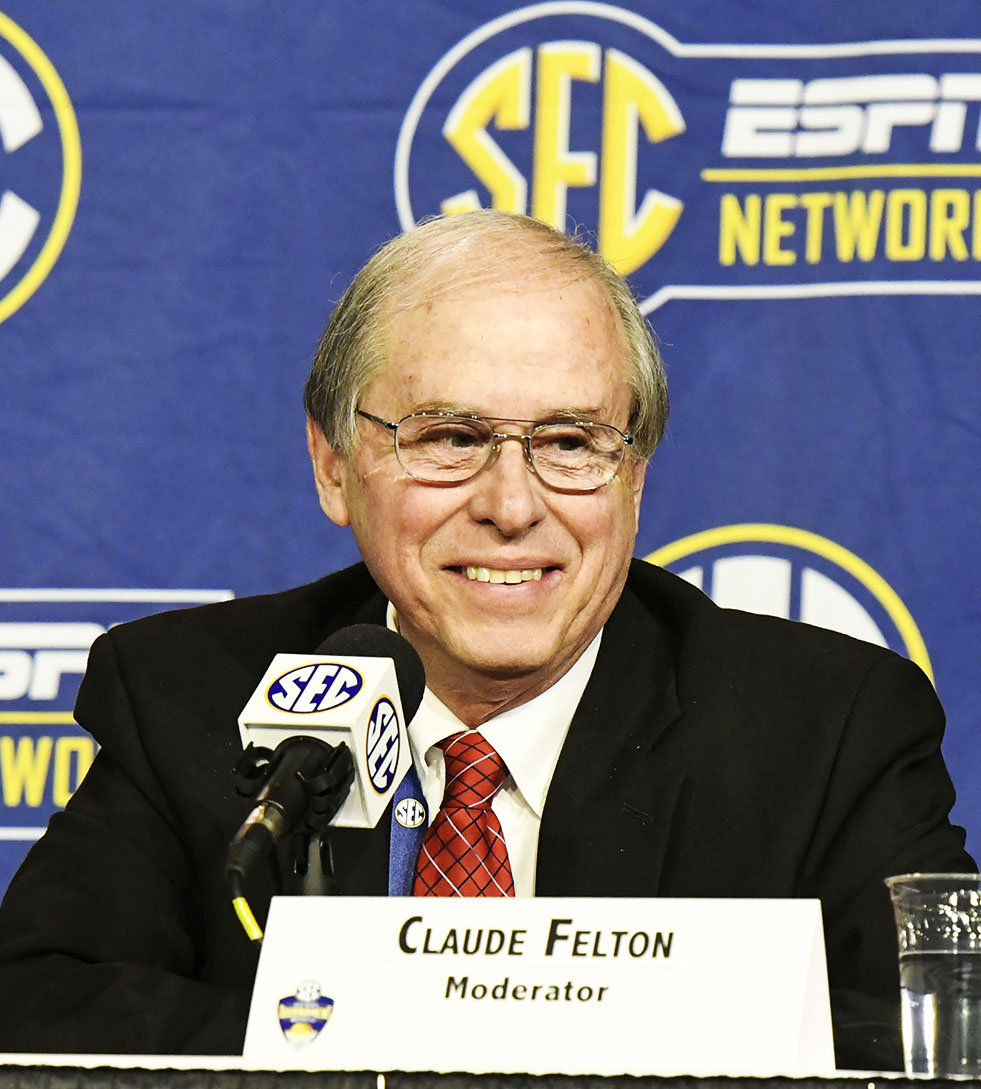 Bulldawg Illustrated continues its new series, featuring long-time UGA personalities of the Fourth Estate. There are many who are published authors along with network television superstars. Our second installment highlights the devout devotion of Claude Felton to the University he loves and serves.
It is not uncommon for dedicated university staff members to spend their lives affiliated with noteworthy and signature achievement, but always underappreciated and for the most part underpaid.
They are subjected to envy and jealousy, a staple of campus tenure. They take slings and arrows and second-guessing without complaint, work long hours, and reside in the background while others take bows. They are unsung heroes who give of themselves to their job and the university's constituency, always deflecting tribute as if it were a plague.
In addition to being great at promoting a university and its people, they are steadfastly loyal to whom they report. Often, their most important ability is durability. They are adept at damage control. They are never the life of the party. In fact, they do not party at all. Partying interferes with work. They eat lunch on the go, they keep handy a supply of anti-acid pills as they field limitless requests. Their phone rings early morning and late in the evening. They are always on call.
    On the surface you might say that Georgia's Claude Felton is not underappreciated. If you ask a succession of athletic directors from Vince Dooley to Greg McGarity to Josh Brooks about this man's multi-talented work and exceptional abilities, they will give him high marks. However, it is akin to having a good wife and not knowing anything different. All too often wives are appreciated but, nonetheless, taken for granted. Claude's good works have often been taken for granted.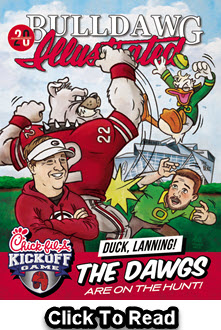 He gives all sports teams his best and you see him everywhere, especially when winter segues into spring when as many as ten teams are in the heat of battle. At some point, he shows up at all competitions.
Claude's capable staff is steadfastly loyal to this remarkable sports information director, mainly because he doesn't function like a boss. Furthermore, he gives of himself. He wants his staff to get credit for the work they do and do well. The atmosphere in his suite of offices is as compatible as a bird singing festival on an April morning. It is low key with a relaxed pace in which the greenest student assistant feels comfortable gaining experience that they hope will propel them to inspiring opportunity.
They learn the value of cogent leadership from the outset. There has never been a temper tantrum in his office, there is no bombast to his style, but if you get out of line, a misstep or a wrong move, it will be addressed. He is not an enforcer but can be found "coaching up" the kids who come to work for him. He wants them to learn and to achieve and go on to greater things.
His protégés can be found throughout the National Football League, Major League baseball, network television, radio, newspapers, P. R. firms, the Olympics, the Augusta National Golf Club, the PGA Tour and World Soccer organizations.
P. R. officers, executives and managers of the aforementioned know that when a Georgia graduate, trained by Claude Felton, comes their way, no retraining is required. All they need to do is suit them up and anchor them at a desk with a computer. Perhaps, that is a bit of an overstatement, but that is essentially the way it is.
Claude is the consummate P. R. person/publicity man. The titles for his job have changed over the years, but Claude has been primarily devoted to putting the best face on Georgia athletics, providing the best in service to the media and touting the accomplishments and successes of Bulldog coaches and athletes—the best town crier that a university could have—without ever calling attention to himself.
He has hired competent professionals as associates and assistants—Tim Hix, Mike Mobley, Christopher Lakos, Leland Barrow, Tray Littlefield, Sean Stevenson, Karra Logan and Steve Colquitt for his full-time staff, and they will fill a conversation about Claude with abundant verbal high fives.
For years, Claude has been a fixture at the Final Four and other top NCAA competitions. He is a member of the COSIDA (College Sports Information Directors Association) Hall of Fame and a recipient of the COSIDA Arch Ward award. He was honored by The Football Writers Association of America with its prestigious Bert McGrane Award. You won't find plaques on the wall, however. If Claude had won the Congressional Medal of Honor, he would have to be arm twisted to go to the presentation ceremony.
Sportswriters also give him high marks for his professionalism. He is accommodating, he avoids confrontation, but if any member of the media takes a shot at anybody in Bulldog clothing, Claude will defend, with the greatest of verve, his teams, and his constituency.
A man with devout integrity, Claude is an advocate of fair play, a loyal Dawg for all seasons. Nobody has worked longer career hours; none have invested more time in fine tuning the image and adding to the gloss of athletic performances for the Bulldogs since 1979.