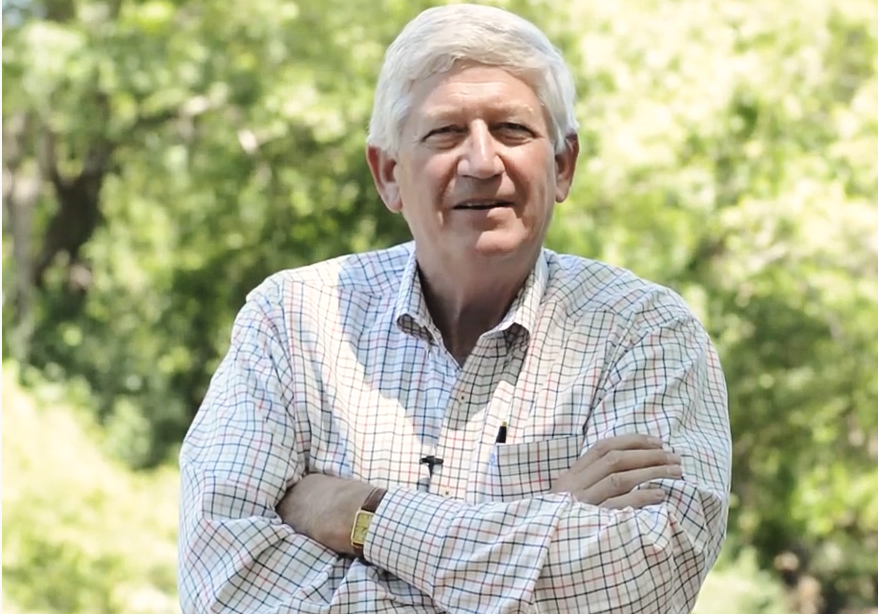 Bulldawg Illustrated continues its new series, featuring long-time UGA personalities of the Fourth Estate. There are many who are published authors along with network television superstars. Our third installment highlights the Dawg-loving newspaperman and prolific prose writer, Dink NeSmith.
While I am not sure what Dink NeSmith considers his chief occupation to be, I think it fair to say that he has a journalist's bent that keeps him happy as a writer, but he is also a publisher who enjoys a healthy bottom line.
Few newspapermen in our state have written with his passion and have succeeded on the business side with his canny financial sense that has made his balance sheet substantial when it comes to assets. He has a degree from the Henry Grady College of Journalism, but he would have flourished just as famously had he pursued a business degree from the Terry College of Business.
Perhaps, what this man has become is best described in his official biography: "In 1958, Dink NeSmith was 10 years old and already active in the newspaper business. When the 3:00 o'clock bell rang at the Orange Street Elementary School, he would jump on his bike and race seven blocks to the back door of the Jesup Sentinel. There he would buy a stack of the weekly newspapers for a nickel each. Pedaling as fast as he could, he rushed to meet the shift change at the Sea Island Shirt Factory. As the women left work, he turned his nickels into dimes before the ink dried on the latest edition of the local news."
Like the lawyer who becomes an avid fly fisherman or a banker who tends the best vegetable garden in town, Dink's most fulfilling moment each week—even into retirement—is to put words on paper that bring him an emotional lift that satiates his soul. It makes his day to make someone out there in his vast circles feel good.
As an editorialist, he is all about taking politicians to task when there is wrongdoing or supporting honesty in government, but there is local staff to do that. What he prefers is to write about is a kid scoring three touchdowns in a Friday night game and then getting up Saturday morning and reporting for his part time job so he can buy a used car to take his favorite girl to the homecoming dance. Somebody's niece who wins the local line dancing contest, somebody who grew the biggest watermelon in summer.
Although he lives in Athens, Dink will always consider Jesup, where he grew up, home. If you have ever driven through Jesup and were moved to say something nice about the seat of Wayne County, you are his friend for life. Same with the University of Georgia. He doesn't have much of a bad side, but if you want an arch enemy in your life, just denigrate UGA and the Bulldogs. The best way to become his friend is to befriend the Dawgs.
Lately, he has been beside himself almost daily because of Stetson Bennett IV bringing unending glory to 'Ol Georgia. Dink can't wait for the next Stetson accolade, the next game when No. 13—the little train that thought it could aficionado—continues to be the David who slays SEC Goliaths.
Before we get too carried about the emotional side of this native Georgian, we need not to hide his credentials and his resume under a blanket. For the record, he was graduated from UGA in 1970. He is past president of the Georgia Press Association, chairman emeritus of the board of directors of the Fanning Leadership Institute. He is past chairman of the Richard B. Russell Foundation and emeritus member of the UGA Athletic Association Board of Directors and emeritus trustee of the UGA Foundation. He was appointed to the University System Board of Regents by Gov. Sonny Perdue and has served as chairman of this august group.
His wife Pam, has a distinguished career in her own right, having been co-founder of "The Bottleworks" in Athens and is owner of Historic Smithsonia Farm in Oglethorpe County. The Nesmith's three children—Allan, Emily N. Wilson, and Eric are attached to the family businesses some way—a tight knit family if there ever was one, all with UGA degrees and hearts that bleed Red and Black.
Dink is co-owner of the Athens based Community Newspapers, Inc., publisher of two dozen newspapers in Georgia, Florida, and North Carolina. Recently he took over and revived the Oglethorpe Echo, which had left Oglethorpe Country, a nice place with overpowering political connections dating back to the early days of this country, without a weekly newspaper.
A proponent of the notion that putting out an interesting and informative newspaper is to be appreciated, but there is a fact-of-life saw that must be habitually honored. One must pay his bills, regardless of his business philosophy.
In today's world, Dink NeSmith is gainfully employed in a business where failure has become rampant. Every week, as he makes his banker smile, he is writing a pretty piece of down-home prose that warms hearts throughout his numerous constituencies.