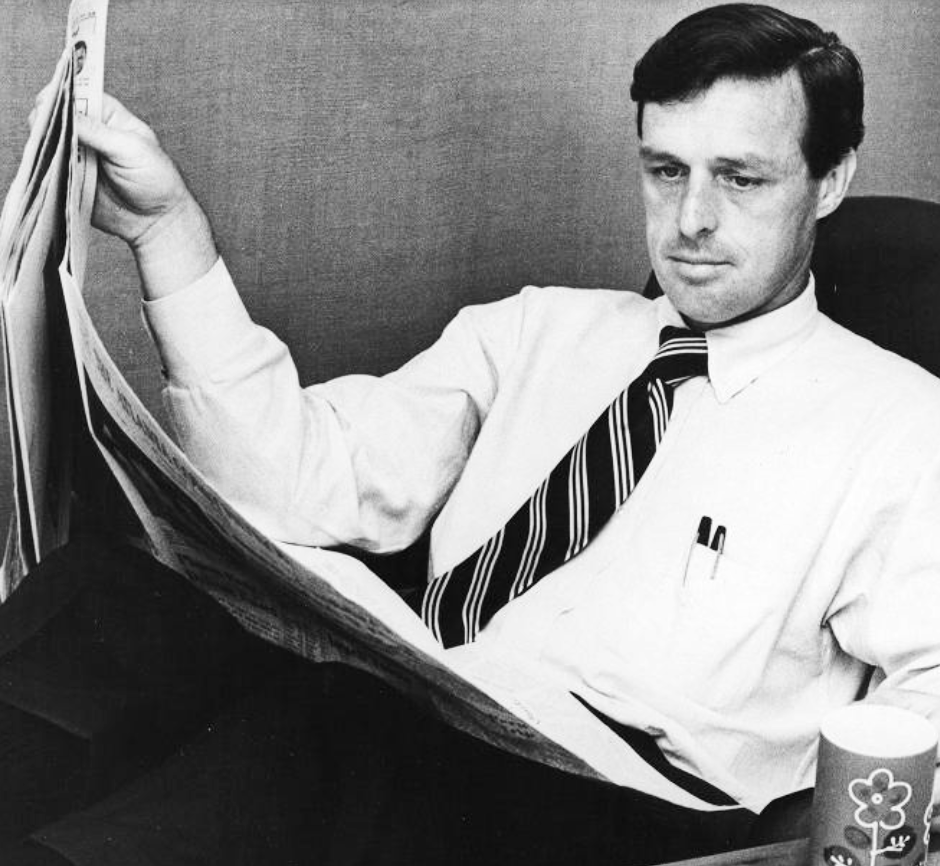 Bulldawg Illustrated continues its series, featuring long-time UGA personalities of the Fourth Estate. There are many who are published authors along with network television superstars. Our seventh installment spotlights honorary Bulldog Reg Murphy whose dynamic career began in newsrooms but led to leadership rolls with the National Geographic Society and the United States Golf Association.
Reg Murphy grew up in Gainesville, the chicken capital of the world, where he became a passionate Georgia football fan. Then with a point of pride, he adds, "as far back as I can remember."
He became a distinguished writer, editor and publisher who lived only 40 miles from the UGA campus, an eight-year-old kid who enjoyed the good fortune of seeing Frank Sinkwich and Charley Trippi play Between the Hedges. How was it that he did not study journalism at the state university which was virtually within arm's length?
Graduating from high school at age 16, he was eager to enroll in college, but his mother thought UGA, even in 1949, was too big of a place for her precocious son and sent him further down the road to Mercer. Nonetheless, he has always had a high regard for Georgia football and bought season tickets until he headed west to become publisher of the San Francisco Examiner.
Even today as he enjoys retirement at his home at Sea Island, he remains a devoted Bulldog fan who organizes a family texting session on Saturday afternoons when Georgia plays before network television cameras.
In his pre-teen years, Sanford Stadium was not as big as it is today, but he remembers it being "very loud." He remembers the colorful water boy, Clegg Starks, the team's bright red jerseys and silver pants. He remembers the squatters on the railroad tracks at the east end of the Stadium having to scatter when the train came their way.
When the Bulldogs played on the road, he was often glued to the radio broadcasts of Ed Thilenius and later those of Larry Munson. There was always a lot of red in the closet. If anyone deserves to be an "honorary Dawg," it is Reg Murphy.
As a college student, he began work with the Macon Telegraph as his star began rising. He would become editor of the Atlanta Constitution at a time when Martin Luther King was touching the lives of countless Americans. "He lit a fire under a lot of people, including me," Reg says. He saw the Supreme Court overthrow the county unit system of voting in an era when Republican presidential nominee Barry Goldwater carried the state, which shocked long time soothsayers.
Editors prefer to write headlines not make them, but that is exactly what Reg did on Feb. 20, 1974, when he was kidnapped at gunpoint by a man claiming to be a member of a right-wing militia group. The kidnapper demanded a $700,000 ransom which the AJC agreed to.
An interesting sidebar developed with Jim Minter, a former sportswriter, who was then the managing editor of the Atlanta Constitution. Minter agreed to deliver the ransom money wearing a short sleeve shirt. The kidnapper also stipulated that the deliverer of the money drive an open-air jeep.
As directed, Minter endured bitter cold on that day in freezing temperatures from downtown Atlanta to Cumming, a distance of more than 40 miles. The good news is that the kidnapper was caught within six hours and virtually all the money was recovered.
Years later when the Baltimore Sun was sold to the Times-Mirror Corporation, Reg became entitled to a multi-million dollar return for his stock which prompted Minter to write him a note: "Next time you get kidnapped, don't call me. Write a check."
While publisher of the Examiner, he became involved with the kidnapping of Paddy Hearst, whose father, owned the newspaper. While with the Baltimore papers, where he was publisher and CEO, he saw head turning economic development in Maryland's major market.
After the sale of the Sun, he later became President and CEO of the National Geographic Society (1996-98) after serving as President of the United States Golf Association.
Along the way, Reg was an editor who would tackle an unpopular issue if he thought it was the right thing to do. A very competent columnist his book on Georgian Griffin Bell, who became Attorney General in the Carter Administration, has gotten high marks: "Uncommon Sense," says his friend Jimmy Bishop, "is one of the best books I have ever read."
Today, Reg lives a quiet life at Sea Island with his wife Diana, who also became President of the U.S. Golf Association and helped make golfing history by becoming an early female member of the Augusta National Golf Club.
In his younger days, Reg was a competent golfer who often enjoyed the game in the company of the first George Bush to take up residence in the White House.
One day George H. W. Bush called Reg and asked him about playing Caves Valley, a relatively new course in Owings Mill, Maryland. When the President suggested a certain date, Reg noted that he had to attend a wedding that day. When Reg told the President that the wedding was at 6:00 p.m., he informed Reg that they would be finished in time for Reg to get to the wedding. So, the golf game was on.
A few days later, the President called back and said, "Reg you didn't tell me it was YOUR wedding."
When the Presidential helicopter landed at Caves Valley, the President disembarked with Griffin Bell and golfing legend Arnold Palmer.
After the round, Reg asked his playing partners to sign his wedding invitation. Arnold Palmer wrote a note to Diana. "Hope Reg plays better tonight than he did today."