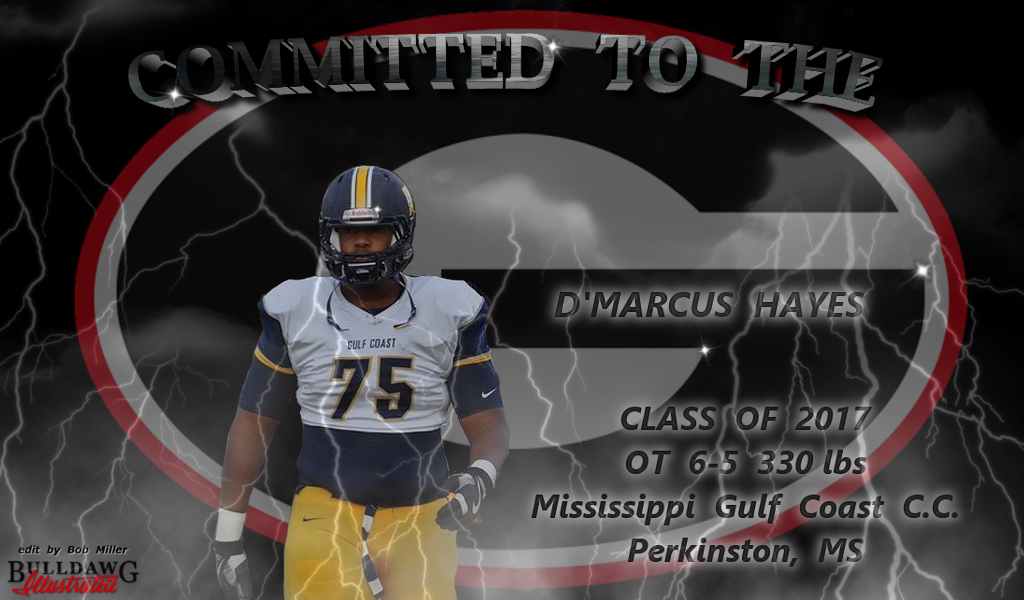 When Kirby Smart took the Head Coaching job at the University of Georgia football program, one point he made very clear is that the Bulldogs needed to get bigger, better and deeper in the trenches, especially the offensive line. He reiterated that point during Fall Camp and again during the season. Coming into today, Coach Smart and his Offensive Line Coach Sam Pittman had four o-linemen committed to the 2017 class, and they continue to build the Bulldogs' offensive line by adding number 5 with the commitment of D'Marcus Hayes.

With Georgia losing starters Tyler Catalina and Greg Pyke at both left and right tackle on the offensive line from 2016, the Bulldogs needed to address this area headed into next season. Mississippi Gulf Coast Community College's D'Marcus Hayes fits the bill. The 6 foot 5 and 330 lbs lineman is rated one of the top three JUCO offensive tackle prospects for 2017 by 247Sports.com's composite ranking system, and he is considered a top 50, four-star JUCO prospect by ESPN. Both Rivals and Scout also rank Hayes as a 4-star prospect.
Hayes certainly has the size, length, and strength to compete at left or right tackle for Georgia. He will need to get acclimated to the speed and size of defensive linemen in the SEC, but he has the potential to be a solid anchor for the Bulldogs on the o-line. Hayes will get a head start on getting ready to compete as he is expected to be an early enrollee in January. He will join a solid 2017 class of "Big Dawgs" that include offensive guard Netori Johnson and his teammate from Cedar Grove, Justin Shaffer, along with offensive tackles D'Antne Demery and Andrew Thomas.
D'Marcus Haye's Highlights:

2016 JUCO Highlights – CLICK HERE

2015 JUCO Highlights – CLICK HERE