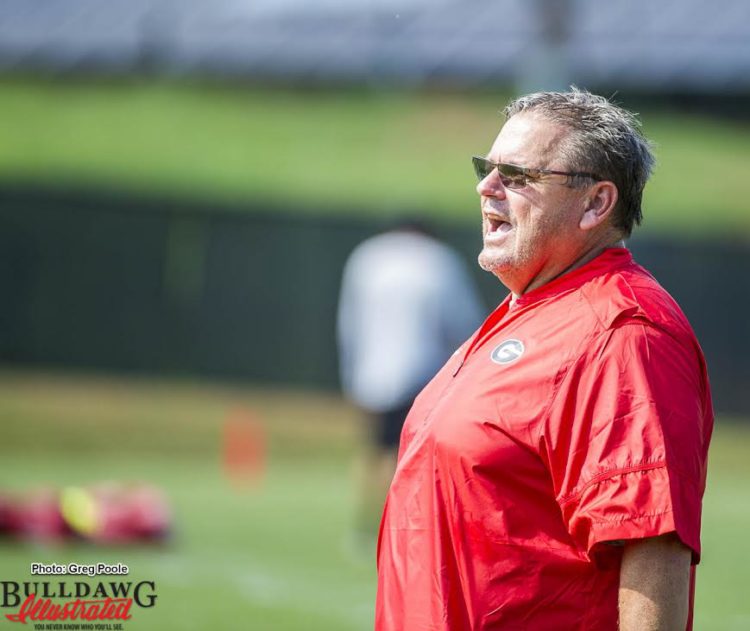 This Bulldogs practice report points to the team taking another step in finding out, who may be the starters for game one. Two positions that seem to have shown how they will line up in game one are the offensive line and the secondary.
Before addressing the probable depth chart these two positions, I want to give a brief injury report for the team. The only two players, who were in black noncontact jerseys, were Sony Michel and Sam Madden. Madden is recovering from mono and Michel seems to be more healed up and prepared to potentially get a few snaps in game one. Kirby says that Michel has not been cleared for live tackling yet but it would not surprise me if they are trying to keep Michel's return a mystery from North Carolina.
Starting with how the offense looked, The offensive line overall looked very solid and the starting five seemed to receive constant praise from Coach Sam Pittman. Coach Pittman may have shown all of his cards to the media on who the starting offensive lineman will be when he said "Give me the ones," and Tyler Catalina, Isaiah Wynn, Brandon Kublanow, Lamont Gaillard, and Greg Pyke in that order, left to right.
The whole unit of "ones" seemed to receive a lot of praise from Coach Pittman and he was often very pleased with each players reps. One player that really seemed to please Coach Pittman every rep was potential starting left tackle, Tyler Catalina. At one point, Catalina had a good rep and Coach Pittman was so pleased he exclaimed "That was awesome man," to Catalina and gave him a high five. Catalina really seems to be impressing at left tackle and he is definitely a player to watch out for in game one in what should be his first SEC start.
Quarterbacks seem to be everyone's focus for the time being and yesterday watching Jacob Eason, and Greyson Lambert throw was interesting. Starting with Lambert, it seemed as if Lambert was able to make a few more quality throws than Eason during the media viewing period, but there was also a few points where Lambert struggled with under throwing his teammates. Eason on the other hand was throwing impressive bullets but seemed to struggle with overthrowing his teammates. Both quarterbacks seem to still be trying to find their rhythm as game one edges closer and closer.
There was only one main thing that really stood out on the defensive side of the ball today and that was how the secondary seemed to be lining up with their ones. The "ones" included guys who have been slated as starters for most of practice like Dominick Sanders at safety, Malkom Parrish at cornerback and Juwuan Briscoe at cornerback.
However, the other safety position, which was usually manned by Quincy Mauger, seemed to have a new face taking first team reps. That new face was Aaron Davis, who is the former walk-on that received a scholarship last year. Davis took multiple reps with the so called ones and it may point to him getting a start in the Georgia Dome as the Bulldogs safety opposite of Dominick Sanders. Regardless of what happens in game one, the Mauger and Davis battle for starting safety should be intriguing throughout the season.
The depth chart on both sides of the ball seems to be shaping up as the onset of game week begins. The Bulldogs are anxiously awaiting their upcoming opponent in the North Carolina Tar Heels and it should be a very telling game one of how good the Bulldogs offense and defense really are.
[foogallery id="86877″]