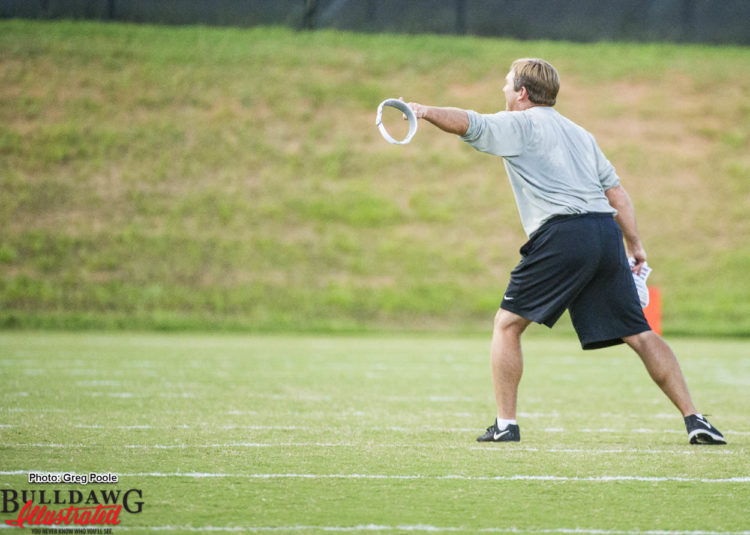 The Bulldogs practice Monday saw a few guys missing, a few guys playing where they don't normally play, and a few new faces as well. Kirby Smart was getting after the defense today and was fired up for most of the media viewing period.



On the offensive side of the ball, there were some very encouraging signs for the staff in terms of injuries.The most encouraging sign was to see Sony Michel catching passes and having a ton of regular participation with the running backs. I even saw Shaquery Wilson working out with the wide receivers during the media session yesterday, which I believe means the Bulldogs have some confidence in their running back depth.


The only offensive guy that was not practicing in full capacity was freshman tight end Charlie Woerner. Woerner has had a great fall camp thus far but was in a boot yesterday and spent a lot of time on a bike doing some hands drills with a trainer. There has not been any official word on Woerner yet but we should hear something very soon.





Tyler Catalina seems to have moved up to the number two spot on the depth chart at left tackle, as it seemed that he worked at left tackle with the two's and Isaiah Wynn moved over to guard with the second team guys as well. Catalina is a very fresh face on this team but the Bulldogs had an even fresher face out at practice yesterday. This new face is another former Alabama player, quarterback Parker Mcleod. McLeod will provide the Bulldogs with much needed depth at the quarterback position.


On the defensive side of the ball the injury report for the most part remained the same. There was no sign of John Atkins yesterday as he is still ailing from a hyper extended knee. Two defensive guys were in black non-contact jersey and they were Juwuan Briscoe and Juwan Taylor, but they seemed to be full participants in practice.


Maurice Smith was out at practice and is putting up a great fight for the nickel back position on the Bulldogs defense. It has also been reported that Rashad Roundtree has been moved to inside linebacker and this may be a response to the recent loss of Tim Kimbrough, who is set to transfer away from UGA. Kirby Smart's Bulldogs are shaping up as the season opener draws ever closer.