ATLANTA – As the circus known as Media Day unfolded here Saturday morning in the Philips Arena, adjacent to the Mercedes-Benz Stadium where Georgia and Alabama will do battle Monday night for the 2017 CFP National Championship, the Bulldogs took center stage first from 9 a.m. to 10 followed by the Crimson Tide from 10:30 to 11:30.

The interview sessions were held at the basketball arena so as to allow the fans from both teams to take their place in the stands and both view and tune into the interviews being held on the floor down below them.
For what it's worth, the fans of the Bulldawg Nation far outnumbered those of Alabama, filling the lower section of stands from bottom to top.
For Georgia, head coach Kirby Smart, tailbacks Nick Chubb and Sony Michel, linebacker Roquan Smith, quarterback Jake Fromm and offensive and defensive coordinators Jim Chaney and Mel Tucker were the guys up on the podiums, with their names above them in bright red lights. The rest of the Bulldog team and coaching staff occupied tables on the floor of the arena.
And as they looked ahead to Monday's 8 p.m. battle for all the college marbles these SEC champion Bulldogs, who advanced to the title game with a stirring 54-48 double-overtime Rose Bowl win over Oklahoma, offered great respect for the vaunted Crimson Tide – which shut down No. 1 Clemson 24-6 in the Sugar Bowl on New Year's Day – but at the same time said in no way are they awed by an Alabama team that has made a habit of playing in the national championship game.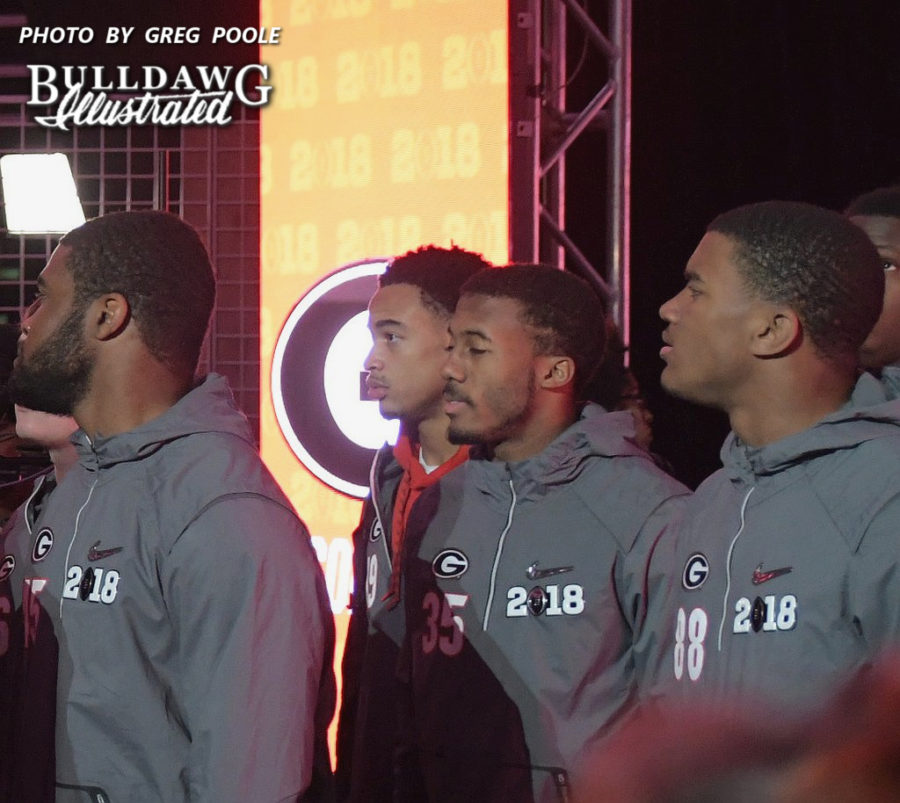 "Alabama has been proven to be the top team in the country every single year," said Georgia senior cornerback Aaron Davis. "You can't ever discount the amount of work they've put in, the amount of things they do. Every year they are always talking national championship. So I think the Alabama team is as good as they've ever been," said Davis, "and I'm really eager to play them.
"But we feel like we prepare, we do the best we can," he said. "And it's been pretty good in the season so far. It's gotten us all the way to the national championship game. We're just going to go out there and prepare for them and put on the best showing that we can."
Since he's a senior and four-year starter in the Georgia secondary, Davis said this is his last shot to win a national championship but said both the Bulldog seniors and underclassmen need to make the most of this opportunity, since it's not a given that a team can make it back to the ultimate game in college football.
"One hundred percent you have to take advantage of this," Davis said. "You never know what the future holds, you never know when you'll be in this kind of position again. I think it's been like 38 years since we've been in the national championship game so it's really huge for us and it's something we definitely want to hone in on. We definitely want to take full advantage of every single opportunity we can to try to get some kind of advantage on them because we'll need it when it comes to Monday."
Davis said he knows the Bulldog defense will have its hands full attempting to slow Alabama's power running game and the passing and scrambling ability of Tide quarterback Jalen Hurts.
"First and foremost you have to stop the run," he said. "That's pretty much for any offense but especially with them. They have some great physical backs, a great offensive line and they even have a mobile quarterback who has the next element we have got to prepare for. So we have to first stop the run and do our best to try and make them one-dimensional, try to make them predictable. We have to get off the field on third down and that's really the recipe for any game. Jalen Hurts is able to make a little extra magic happen whenever things break down on the field, whether that's good coverage or something like that happens," said Davis. "He really becomes another running back at that point so you have to stay on your P's and Q's because he's looking to score. He's not going to get just five yards and slide. He's looking for those home-run runs and take it all the way to the end zone so we just have to do a good job of containing him and keeping him inside the pocket and squeezing in on him."
"Alabama's a great team," said Bulldog sophomore tight end Isaac Nauta. "It speaks for itself what they've done the last couple of years. They're a big, physical and fast football team and that's what you get to expect from those guys.
"But we're a team that is never going to shy away from anybody," said Nauta. "We feel like we can play with anybody – we're a confident team and with all the work we've put in this year, that's what we expect. They've got a good team and we're looking forward to the challenge."
Nauta said, without question, the top-rated Alabama defense is going to present quite the challenge for the Georgia offense come Monday night in Mercedes-Benz.
"This is definitely a game you don't want to hold anything back in," he said. "It's the last game and you want to pull out and use all the tools you can, and especially against a good defense. They've had some injuries this year but they've got some guys who can step in and they can keep winning, keep things rolling. So that's a testament to them and how they play and like I say, it's going to be a good challenge and everybody's going to have to play big, step up and do even more," said Nauta. "So it's going to be fun."
Nauta also emphasized now that the 13-1 Bulldogs have advanced to the national title game, it's a must they take advantage of this rare opportunity.
"Absolutely," he said, "because a lot of people would die to be in this position right now. You can't wrap your mind around it but a lot of times these opportunities don't come around. So when you're in 'em, you have to take full advantage of them and you got to play your heart out, really!"
"You definitely want to beat one of the better teams in the country for the national championship and I'm glad we have this opportunity," related Georgia's sensational freshman quarterback, Jake Fromm. "I just hope we go out and make more plays than they do.
"We feel we're just as good as the next team," said Fromm. "And as long as we go out and play our football game, I think we'll be OK and at the end of the day, score more points than they do."
Fromm knows full well how stingy the Alabama defense is, what with the Tide limiting top-ranked Clemson to two measly field goals in the Sugar Bowl semifinal game in New Orleans.
"They're big up front and their scheme is similar to what I see every day at practice," he said, referring to Georgia's own rugged defensive unit. "And now we're here and have to get ready to go."
Coming off a stupendous performance in the Bulldogs' win over Oklahoma when he ran for 181 yards and tallied four touchdowns – including the game-winning 27-yard dash in the second overtime – senior tailback Michel is also confident his team can stand toe-to-toe with the Crimson Tide on Monday.
"We have the confidence we can play with Alabama, or anybody," Michel said. 'We've played some great defenses this season. They have a great tradition and different players but they're similar to Auburn and teams like that. This is my last time playing college football and we know how much hard work it took to get here and I want to make the most of it by winning a national championship."
Because Nick Saban's team has been on this stage so many times, everyone knows the Crimson Tide will enter the championship game with supreme confidence but as these Bulldogs and others involved in Saturday's media day clearly stated, they have the confidence they will capture the national championship as well and won't be backing up from anybody when the ball is kicked off Monday evening.
---
Recent Articles by Murray Poole
[pt_view id="2fb799183g"]