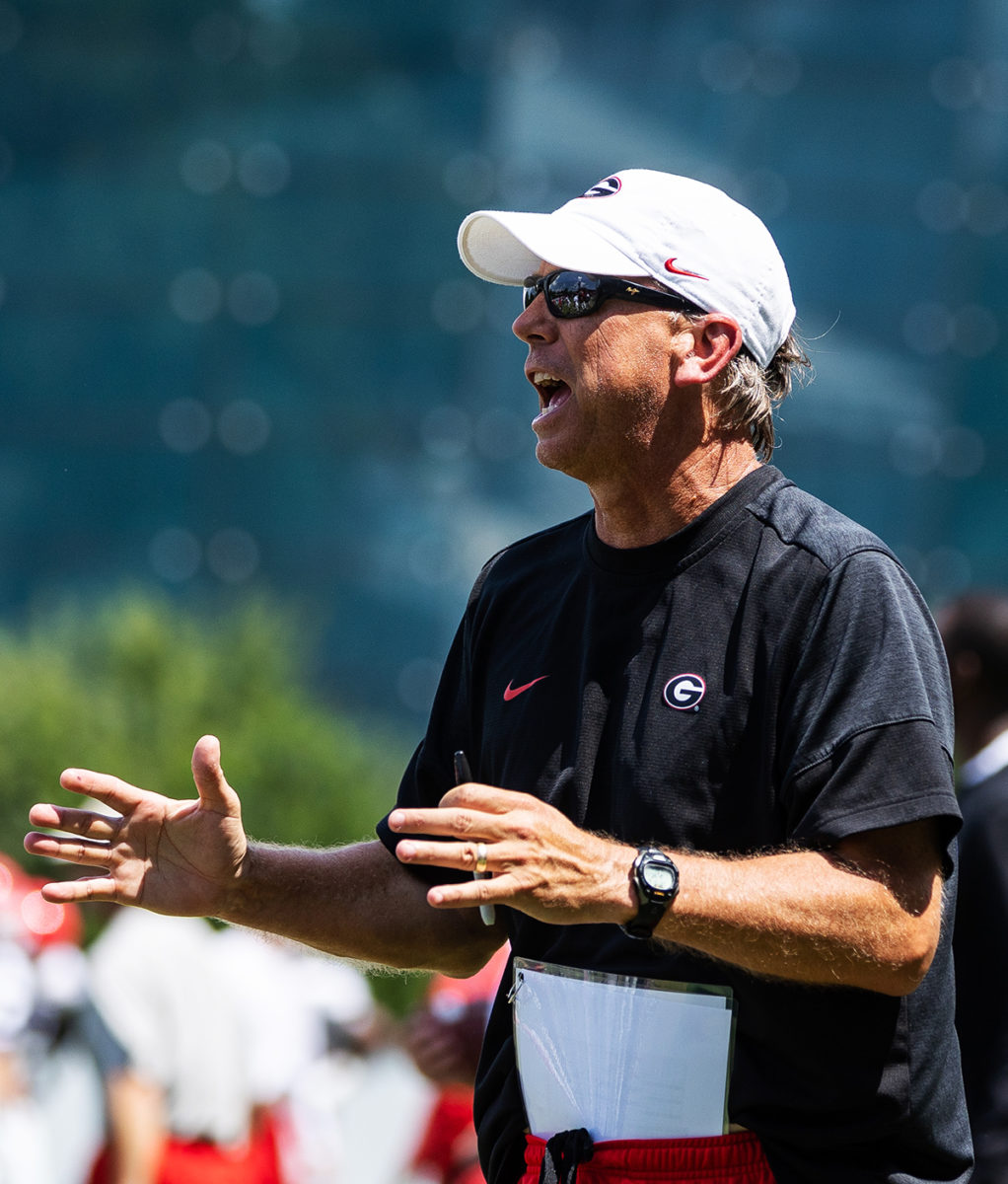 J.T. Daniels (QB, #18) – He's the cool, calm, California gun slinger. Georgia's offense turned the page instantly when Daniels took Dover the quarterback position in the Mississippi State game in 2020, after coming off his knee injury. Daniels threw for 1,231 yards in just four games and helped lead the Bulldogs to a victory in the Chick-fil-A Peach Bowl. Now, it's up to Daniels to take the next step. As the signal caller, this team will only go as far as he takes them, but there's a lot to be optimistic about for Georgia fans.
KIRBY SMART/TODD MONKEN – Kirby Smart has never lost an opening game as the head coach of the Bulldogs. He also has not had to match up with a team as talented as Clemson this early in the season. Quarterback JT Daniels and offensive coordinator Todd Monken have raved about their chemistry together and get a big test to start that early. Monken has weapons everywhere, but must find balance using talented running backs and receivers.
JERMAINE BURTON (WR #7) – Sticking on the offensive side of the ball, Georgia wide receiver Jermaine Burton is primed for a breakout year. He showed flashes as a freshman, racking up 197 receiving yards and two touchdowns against Mississippi State, which earned him SEC Freshman of the Week. With George Pickens expected to miss most of, if not all of the 2021 season, Burton should be WR1 in Athens.
JORDAN DAVIS (DL #99) – Not only is Davis the most physically imposing player on the field for this week's matchup, but it is also a homecoming game for him. The Charlotte, North Carolina native said he dreamed about playing in Bank of America Stadium as a kid, and now he will get that chance. Davis will anchor Georgia's run defense which should be stout up front, especially with Clemson losing star running back Travis Etienne now playing in the NFL.
NAKOBE DEAN (LB #17) – Georgia has a tremendous track record of developing inside linebackers. From Roquan Smith to Monty Rice, the Bulldogs find guys who can fly around the field and make tackles. Nakobe Dean is next up after leading UGA in tackles last season with 71 total tackles. Dean can cover sideline-to-sideline and will be tasked with figuring out a difficult Clemson offense.
DERION KENDRICK (DB #11) – Kendrick is a player to watch in this matchup due to Georgia's lack of experience at cornerback. The Bulldogs added him after spring drills, when many worried about that position. He also happens to be a Clemson transfer and will have some familiarity going up against the Tigers' receivers. Kendrick needs to establish himself as Georgia's lockdown corner with a solid performance in this game.