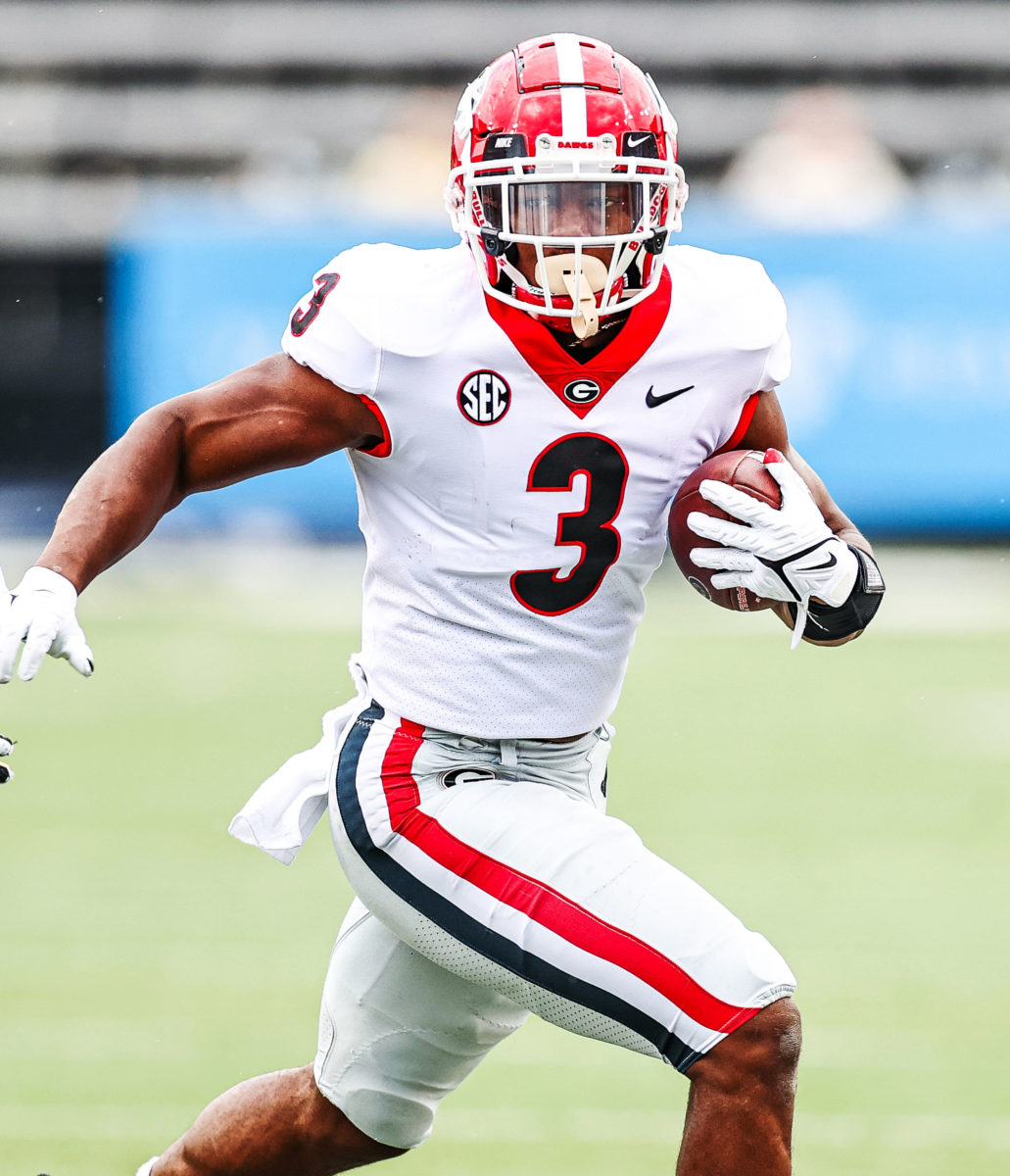 JT DANIELS (QB #18) – Daniels has been stellar for the Bulldogs since returning from an oblique injury that caused him to miss the UAB game. He should be well rested since he did not have to take a snap after the first quarter of Georgia's rout over Vanderbilt. Daniels has been extremely efficient, even in the Clemson game where he mostly had to just take what the defense gave him. So far, Daniels has completed 76% of his passes this season. The Bulldogs will need him to keep that percentage high against an Arkansas defense that has talent around the edges.
ZAMIR WHITE (RB #3) – White finally had a full healthy offseason to prepare, but it has not been the breakout campaign some expected of him so far. He is the team's leading rusher averaging 5.6 yards per carry and Georgia will need White to be physical on first and second down runs against Arkansas. His longest run was a 22-yard gain, so it will be interesting if White can improve in the "explosive plays" department this coming week.
JUSTIN SHAFFER (OG #54) – Again, for a school that is often considered "RBU," it is strange that Georgia is ninth in the SEC in rushing so far this season. Yes, the passing game has reached a level fans have yet to see at Georgia under Kirby Smart, but Georgia wants to run the ball more effectively too. Part of that starts up front with veteran guard Justin Shaffer. Shaffer has been the steady starter at left guard amongst all of the offensive line shuffling. Georgia will need him to be physical at the point of attack to get the ground game going against the Razorbacks.
ADONAI MITCHELL (WR #5) – Mitchell enrolled early at Georgia, shining in the spring game back in April. He's carried that momentum into the season, catching his first career touchdown against South Carolina. Mitchell possesses a good combination of speed, hands and athleticism for a receiver. He had a drop against Vanderbilt, but made up for it with three catches. Georgia would benefit tremendously in the passing game if they can get him involved early next week.
TRAVON WALKER (DE #44) – Most focus on Jordan Davis when it comes to Georgia's defensive line, and rightfully so. However, that often leads to Travon Walker flying under the radar. Walker has 10 tackles and a sack so far during his junior year. Let's see if he can add to that total, while facing a dynamic quarterback.
NAKOBE DEAN (LB #17) – Dean has done a tremendous job as the starting middle linebacker of a defense most consider the best in the country. He flies all over the field with his speed and quickness. Georgia's defense has given up a few chunk plays to mobile quarterbacks this year, so Dean will have to stop that if Georgia's defense wants to dominate again against Arkansas.