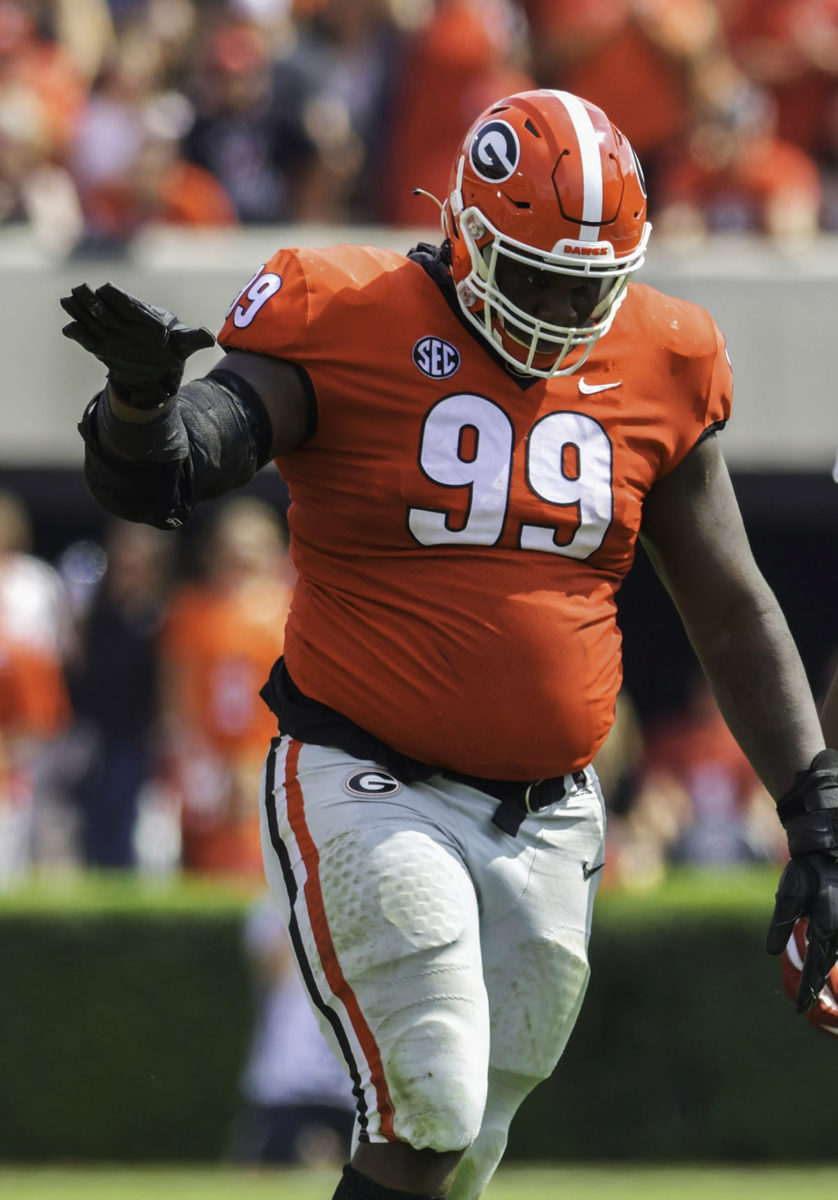 KIRBY SMART – Smart might have the most complete team he's ever had in his six years in Athens as head coach. Also, he would never ever admit that. Smart has consistently found ways to challenge his team to be better despite all of the early success, especially on defense. He's used the phrase of either you are "elite or not" in making plays, forcing turnovers, playing to a standard and so far it is working this season. Now, Smart will have to lead his team into their first true hostile environment so far in 2021.
JAMES COOK (RB #4) – While none of Georgia's backs have had a breakout start to the year, James Cook has been the most impressive with his speed in open space. Cook is the team's second leading rusher but has done that on only 34 carries. His 6.2 yards per rush is the best of Georgia's four main running backs. The Bulldogs should try to get him involved early to see if he can break one and quiet the Auburn crowd.
JAKE CAMARDA (P #90) – Punters can have a tough job and oftentimes they do not get the recognition they deserve because nobody is ever truly excited to punt. However, Jake Camarda puts some excitement into punting with the way he has turned into a weapon for UGA. He's only had to punt 15 times this year but when he has, he's been tremendous. Camarda has multiple punts that have been downed inside the 10-yard line, helping put Georgia's defense in a good position.
JORDAN DAVIS (DL #99) – Jordan Davis is the heart and soul of Georgia's defense and maybe even the whole team. You obviously cannot miss him on the field with his 6-foot-6, 335 pound stature. Davis also possesses speed and discipline that you do not always see from someone his size. If he can stop Tank Bigsby and Auburn's rushing attack early it could be a long afternoon for Auburn. Georgia's defense has dominated teams who have been forced into third-and-long situations.
DARNELL WASHINGTON (TE #0) – Another guy who possesses unbelievable size for a tight end. If someone told you he was a defensive end, you would believe them. Washington made his season debut against Arkansas and did not have any targets or catches. However, he still played a factor in the run game that Georgia ended up dominating on Saturday. Now, it will be interesting to see if Monken tries to get him involved in the passing game against Auburn.
DERION KENDRICK (DB #11) – Sometimes as a cornerback it is better to not have any significant statistics because opposing quarterbacks are not throwing at you. That has been the case so far for Derion Kendrick who has more than fit the bill as Georgia's top cornerback after transferring from Clemson. Kendrick did get an interception against South Carolina and has locked up his assignments the last two weeks in the Bulldogs' shutouts.