This Saturday, who are the Georgia Bulldogs to watch as UGA hosts Mississippi State for their first SEC game of the season.


SOLOMON KINDLEY (OG, # 66)

Despite being just a redshirt freshman, the 6-4, 335-pound Kindley has become a force in Georgia's O-line at his right guard position. The Jacksonville native owns both the strength and quickness to develop into a future all-star candidate at his position and the Bulldogs certainly need a good performance from Kindley Saturday night to exploit a good Mississippi State defensive unit.

RILEY RIDLEY (WR, #8)

Ridley has the ability to stretch the field and provide the UGA quarterbacks with a bonafide deep receiving threat, as evidenced by his 47-yard touchdown catch from Jacob Eason near the end of the Tennessee game last season. Ridley, the younger brother of Alabama's All-SEC wideout Calvin Ridley, was suspended for the Appalachian State season opener but had two catches in the win at Notre Dame. Look for bigger things from this 6-2, 200-pound sophomore as the season moves along … hopefully beginning Saturday night against the MSU secondary.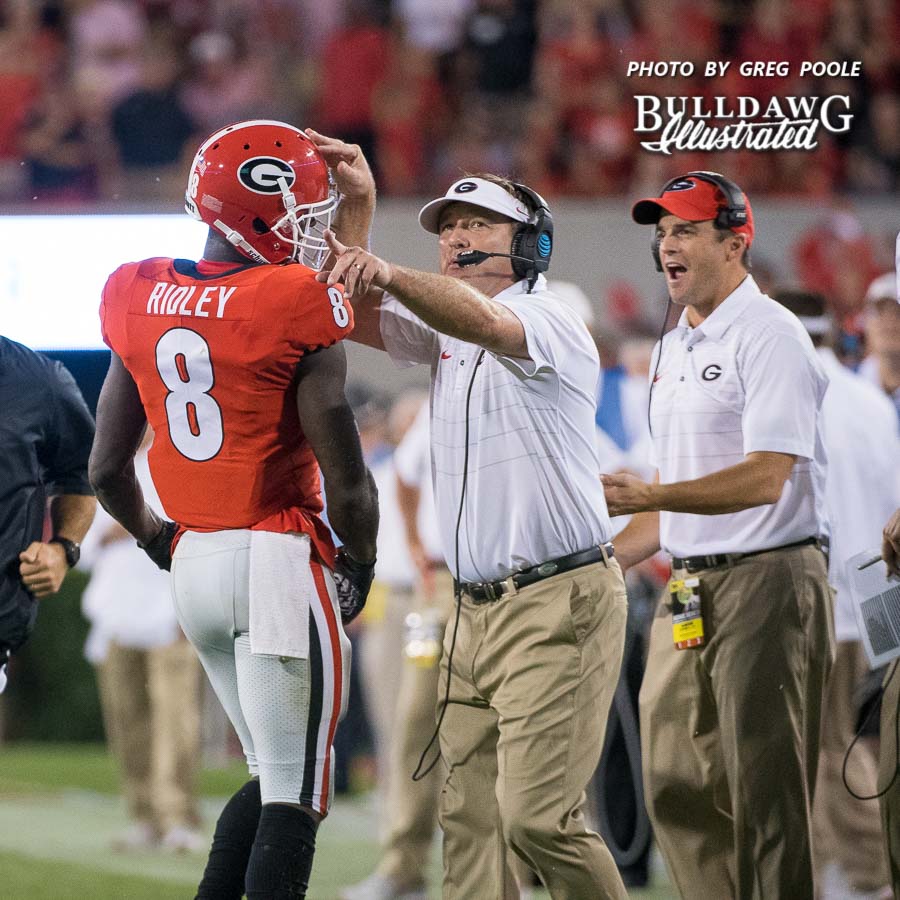 KIRBY SMART (UGA HEAD COACH)

Second-year Georgia coach Smart maybe got his first defining win two weekends ago when his Bulldogs went to Notre Dame Stadium and came back to Athens with a landmark 20-19 victory over the favored Fighting Irish. Now, for Kirby, the stakes begin to climb higher as he matches his 3-0 and now 11th-ranked Bulldogs against the 17th-ranked and also 3-0 Maroon Bulldogs of Mississippi State. Dan Mullen's team ventures between the hedges Saturday night after taking apart the 12th-ranked LSU Tigers by 37-7 last weekend. By any measure you look at it, this game is huge for both football teams as the winner could be looking at a Top 10 national berth as well as sounding the alarm it will be a bonafide SEC championship contender this fall!

JULIAN ROCHESTER (NT, #5)

This 6-5, 300-pound sophomore teams with senior John Atkins at the nose tackle position and has rendered steady improvement while losing weight and shaping his body into one that can more acclimate to defensive line play in the rugged SEC. Rochester and all of his defensive front buddies will have to be at their absolute best to stymie the Nick Fitzgerald-led Mississippi State Bulldogs on Saturday night.

CHRISTIAN PAYNE (FB, #47)

If there's been an unsung hero in the Bulldogs' offense the past several years, it's this guy. Payne, now a 6-1, 242-pound senior, clears the way for Nick Chubb and Sony Michel with his pinpoint blocking skills. And not only is Payne an outstanding blocker but in the 20-19 Georgia win at the historic Notre Dame Stadium, he carried the football for the first time in this young season and responded by making key first down runs. Payne will again be a key to Georgia establishing a strong ground attack Saturday night against those other Bulldogs.

DAVID MARSHALL (DE, #51)

Marshall, a 6-3, 274-pound sophomore, is another key player in Georgia's defensive front, one who sees considerable action in relief of starter Jon Ledbetter.
Like Rochester, Marshall must be ready to get after MSU quarterback Fitzgerald, running back Aeris Williams and the rest of the Bulldogs' offensive attack when the potent Mississippi State team comes calling between the hedges of Sanford Stadium.

RICHARD LECOUNTE (SAF, #2)

This mere freshman safety moved into a starting role in the Bulldogs' secondary from the season's outset and hasn't disappointed. Out of Liberty County High in Hinesville, the 5-11, 180-pound LeCounte was rated one of the top prep defensive backs in the country with his speed, quickness and true nose for the football. Whether it's defending the pass or coming up to put big hits on running backs, LeCounte will be expected to spark the Georgia secondary on Saturday against Donald Gray and Nick Fitzgerald.


---
Recent Articles by Murray Poole


[pt_view id="2fb799183g"]