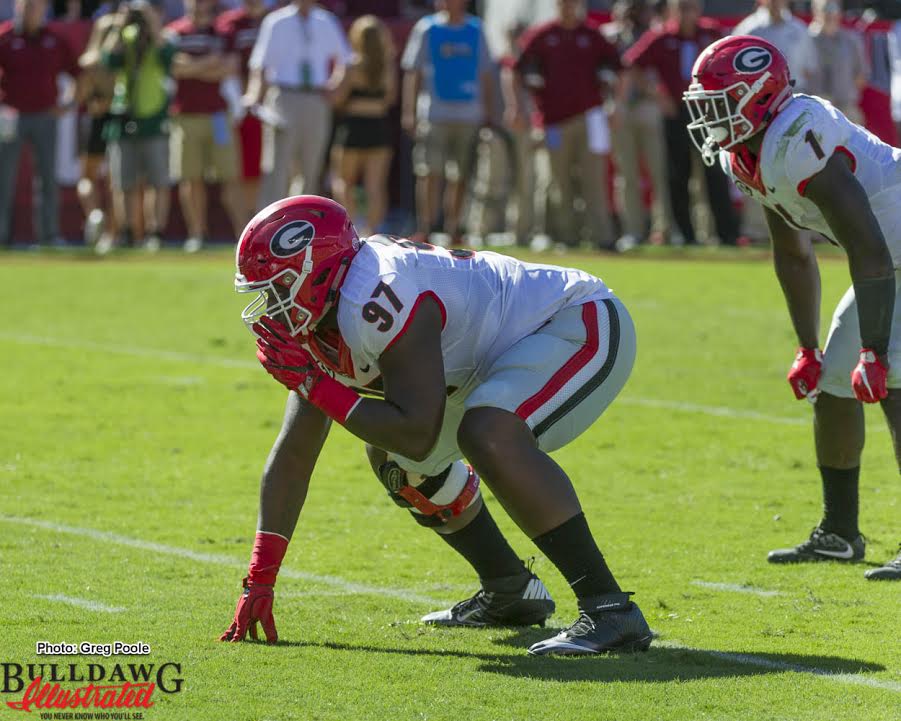 Its homecoming weekend, and Murray Poole has some Bulldogs to watch in Athens for this Saturday's game versus Vanderbilt.
ISAAC NAUTA (TE, #I8)
The 6-4, 246-pound Nauta is a freshman who's quickly living up to his prep accolades for the Bulldogs. A 5-star rated prospect from Buford, Nauta played his final high school season at IMG Academy in Florida. At tight end, Nauta has already become a favorite target of his UGA roommate, Jacob Eason, and in fact was named Kevin Butler's Bulldog offensive player of the week for his team-leading receiving performance in the heartbreaking loss to Tennessee. Going forward, offensive coordinator Jim Chaney has big plans for Nauta who, with his pass-catching ability and penchant for breaking tackles after he catches the ball, is fast making the tight end position once again relevant in the Georgia offense.
BRIAN HERRIEN (TB, #35)
Herrien (6-0, 210) has arguably been the biggest surprise on the Georgia football team thus far in the 2016 season. A not-highly-talked-about freshman from New Manchester High, this 3-star prospect has been an outstanding complement to veteran Bulldog tailbacks Nick Chubb and Sony Michel … especially after Chubb sustained an ankle injury in the first half of the Ole Miss game. Herrien not only can squeeze into small running spaces and make defenders miss but, also, runs with amazing power for someone who doesn't look to be nearly that 210 pounds he's listed on the UGA roster. If Chubb and Michel do opt to move on to pro football next season, this guy could well become the Bulldogs' starting tailback.
JOHN ATKINS (NT, # 97)
Atkins (6-4, 315) has played a lot of football for the Bulldogs the past three seasons and, in fact, was one of the few returning veterans for the Bulldogs this season on the defensive front. Atkins, out of Thomson, Ga. who transferred to Georgia from Hargrave Military Academy, is being counted on heavily by defensive line coach Tracy Rocker, not only to be a force in the defensive line from his nose tackle position but also be a ringleader for Georgia's up-and-coming young linemen … as the Bulldogs make ready to slow down the upcoming running attacks of Vanderbilt, Florida, Kentucky, Auburn and Georgia Tech.
KEVIN SHERRER (OLB COACH)
Named a defensive assistant under Mark Richt in January of 2014, Kevin Sherrer was retained on the staff by Kirby Smart when Smart assumed the Georgia head coaching reins in December of 2015. After coaching now-NFL players Leonard Floyd and Jordan Jenkins last season Sherrer, who came to Georgia after serving as director of player development at Alabama and then defensive coordinator at South Alabama, is tutoring two other outstanding outside linebackers in 2016 in Lorenzo Carter and Davin Bellamy. After slow starts this season in sacking the opposing quarterbacks, look for Carter and Bellamy — under Sherrer's coaching — to turn up the pressure as the Bulldog defense continues to make big strides in the second half of the Bulldogs' season.