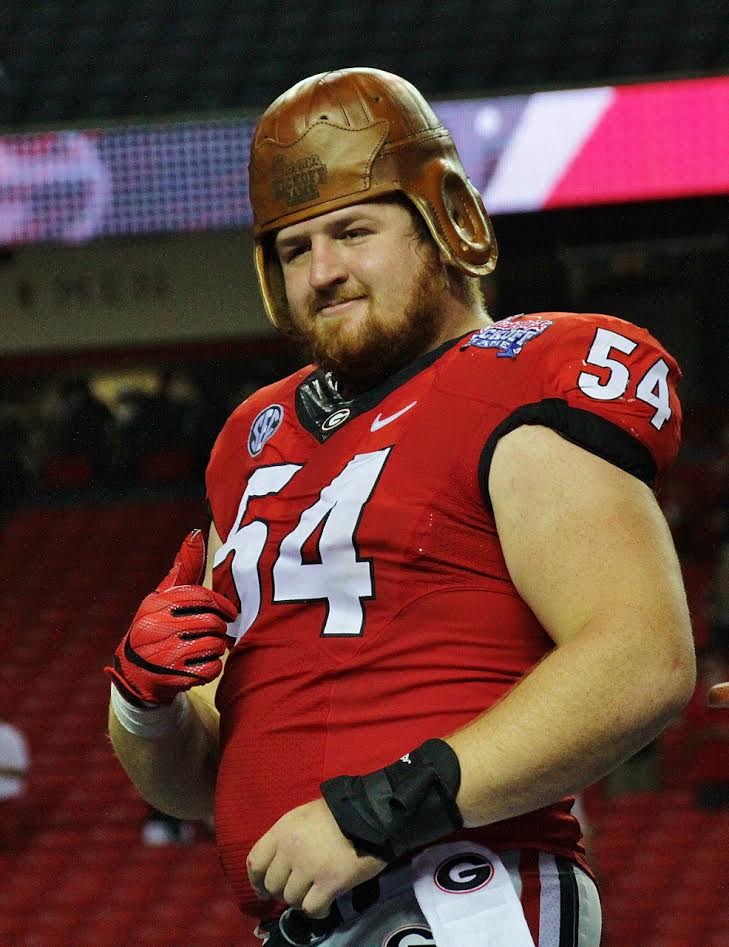 Murray Poole has some Bulldogs for you to watch and keep an eye on for Georgia's first home game of the season versus Nicholls State.
JIM CHANEY (OFFENSIVE COORDINATOR)
This 30-year coaching veteran of the SEC, Big Ten, ACC, and the NFL is expected to bring both explosive passing and a power-running game to the Georgia offense in Chaney's first season as coordinator. Chaney has built potent offenses at Cal State Fullerton, Purdue, Tennessee, Arkansas and Pittsburgh and with Nick Chubb and Sony Michel running the football coupled with Jacob Eason's vast potential at quarterback, one can look for the Bulldog offense under Chaney's tutelage to make life tough for opposing defenses in the Southeastern Conference.
BRANDON KUBLANOW (C, #54)
There's no question that senior center Kublanow is the ringleader of Sam Pittman's offensive front this season. A three-year starter, Kublanow was named Associated Press All-SEC Second Team in 2015 while also receiving the Frank Sinkwich Toughness Award and the Hugh Hendrix Award for being a player who most strains his potential following this year's spring practice. As so goes Brandon Kublanow, so goes the Bulldogs' O-line in this new football season.
JACOB EASON/GREYSON LAMBERT (QBS, #10, #11)
Not since Matthew Stafford's freshman season in 2006 has a Georgia quarterback been as highly touted as has Jacob Eason. The 6-6, 242-pound Eason had truly a legendary prep career in Lake Stevens, Wash. when he was named 2015-16 Gatorade National Football Player of the Year, Maxwell Football Club National Back of the Year, 2016 Bobby Dodd National Back of the Year and USA Today All-USA Offensive Player of the Year. The Bulldawg Nation is truly relishing the prospect of seeing Eason throw the ball over the next three seasons.
After graduating from the University of Virginia, Jesup product Greyson Lambert started 12 games for the Bulldogs last fall and led Georgia to a 10-2 record as the starting signal caller. Passing for 1,959 yards and 12 TDs Lambert was a steady but not spectacular performer for the Bulldogs, that is, with the exception of his performance in the South Carolina game when he set an NCAA, SEC and Georgia record for best completion percentage (with a minimum of 20 completions) at 96.0% while finishing 24-for-25 for 330 yards and 3 TDs, completing his last 20 in a row, also a Georgia record, and being named SEC Co-Offensive Player of the Week. Lambert's senior leadership should prove vital for the freshman Eason this fall.
TRENTON THOMPSON (DT, #78)
This guy is but a true sophomore for the Bulldogs but is expected to set the pace for the defensive line in 2016. Coming out of Albany's Westover High after being named the 2014 Maxwell Football Club's National High School Player of the Year, Thompson brings both explosive quickness and strength at the snap of the ball and after making six starts as a freshman and finishing with 25 total tackles including a career-best eight tackles against Tennessee, you can look for Thompson's defensive numbers to soar mightily this season.