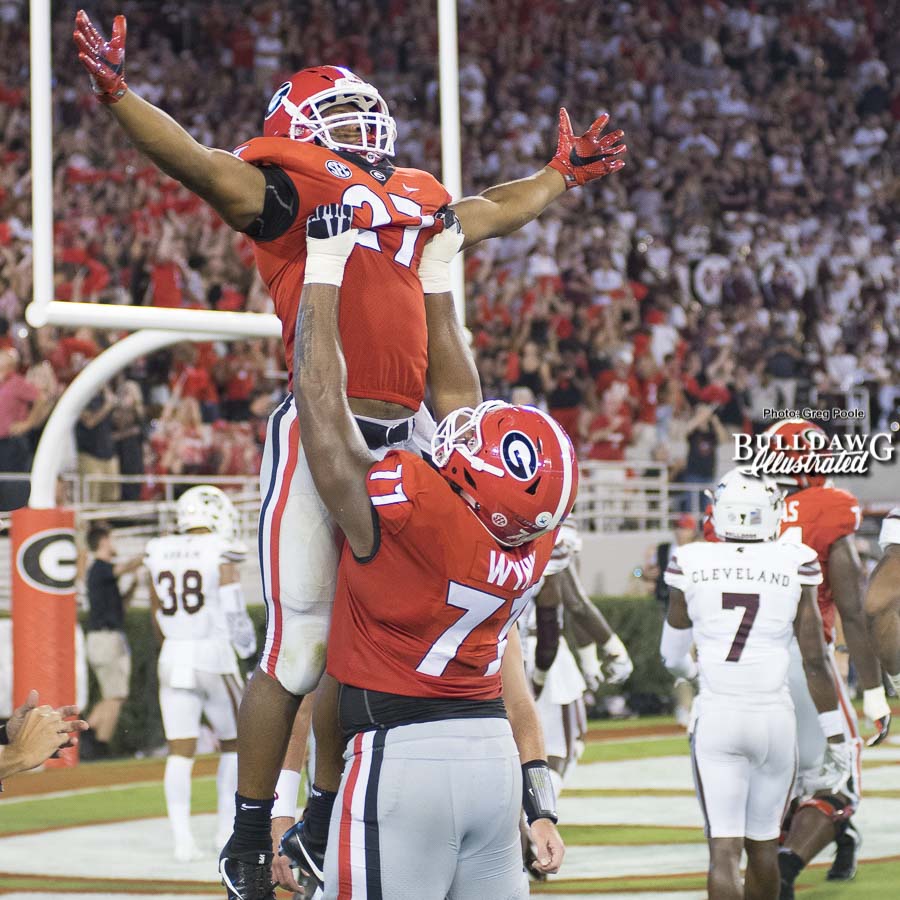 The Missouri Tigers… For unbeaten and 4th-ranked Georgia, this Saturday night game in Sanford Stadium is one the Bulldogs must win before turning their attention to THE GAME.

Although the struggling Tigers of Barry Odom enter Saturday's 7:30 p.m. kickoff saddled with four consecutive defeats under their belt and a 1-4 season worksheet, you can bet Mizzou would love nothing better than to right its ship a bit by stunning Kirby Smart's high-riding football team.


Not a chance, you say. Well, what about the then third-ranked Oklahoma Sooners last weekend? Playing at home also, the Sooners were shocked 38-31 by a 30-point underdog Iowa State team. As you might have heard, that's about the same number of points the Bulldogs are favored by over Missouri this weekend.


I'm sure Smart has repeatedly brought the Oklahoma loss up to his team this week. No matter the records of the opposing teams, in this day and time of college football, any high-ranked team can be knocked off its pedestal on a given day.


And, too, the Tigers arguably rendered their best performance of the season this past Saturday when they went to Kentucky's Commonwealth Stadium and took the favored Wildcats down to the wire before eventually falling to UK by 40-34.


And you know how Vanderbilt quarterback Kyle Shurmur was able to exploit Georgia's talented secondary (38-yard pass to the UGA 1 set up the Dores' first-half touchdown) at times last weekend, well another outstanding passer, Missouri's Drew Lock, is arriving between the hedges Saturday night. And Smart says Lock is more than capable of having success against the Bulldogs' defense … if Georgia isn't better prepared to defend than it was against Shurmur and the Vandy passing game.


Smart, in his weekly press conference on Monday, went even further to say that nobody has really stopped the Tigers' offense this season, that the Missouri offense has stopped itself with penalties and turnovers.


I don't know about that because, in Auburn's 51-14 rout of Mizzou in Columbia, it looks like those Tigers did a pretty good job of choking off the Missouri offensive attack. And it looks like the Tigers were also stopped pretty well in crushing 35-3 and 31-13 losses to Purdue and South Carolina, respectively.


But, anyway, you get the picture here. Georgia doesn't need an off night — especially on homecoming — against a foe the Bulldogs are favored to handle rather easily. Get upset and embarrassed in this game and everything positive Georgia has accumulated over the past six weekends pretty much sails out the window, even before the Bulldogs head south to Jacksonville in two weeks.


As I said last week in this space, this Georgia team hasn't yet been caught looking ahead to stronger opposition. The Bulldogs have blown out five of their six foes to date with only the thrilling 20-19 triumph at Notre Dame being the exception. And hey, if you recall, the Dawgs were the underdog in that somewhat historic game.


While I do expect Lock's passing to put some points on the board Saturday night for Mizzou, you may also be aware that the Tiger run defense surrenders nearly 200 yards per game and ranks near the bottom of the SEC so, pray tell, how is Missouri going to slow down Chubb, Michel, Swift, Herrien and Holyfield, along with new running threat, Jake Fromm? Fact of the matter, the Tiger defense won't and that's why I see the Bulldogs soaring to 7-0 with a 42-14 pasting of Missouri Saturday evening … about what the spread is on this game and about the same score as Georgia dispatched Vanderbilt by in Nashville. Then, well, we can begin thinking about the Gators all we want!




---
Recent Articles by Murray Poole


[pt_view id="2fb799183g"]