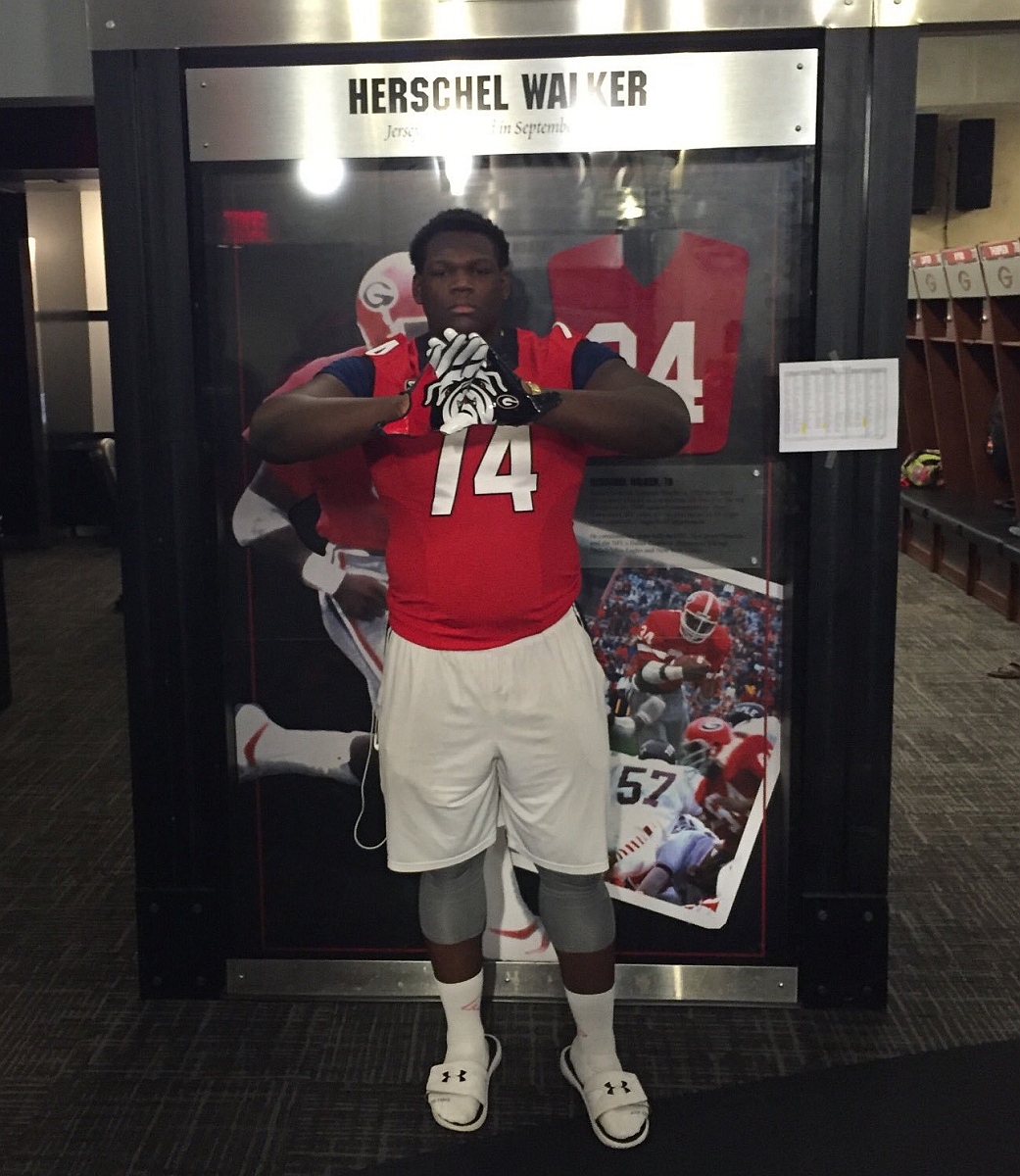 If the Class of 2013 "gutted" UGA Football then the Class of 2017 has the potential to be the class that "establishes" Georgia among the nation's elite.  The fireworks on the recruiting trail were non-stop in 2016 and have continued for the Dawgs in 2017 with commitments from explosive defensive backs DeAngelo Gibbs and Tray Bishop on New Years Day.
When Kirby Smart was hired to replace Mark Richt there were questions abound of whether he was ready to run his own program.  Would he develop into Nick Saban 2.0 or would he struggle in his first attempt as a head coach?  The 2016 season proved to me a mixed bag of both successes and failures but one quality that has never wavered is his ability to recruit.  Kirby Smart's hire brought with it a certainty that UGA was going to compete at an elite level on the recruiting trail giving the program an opportunity to rise to that same elite level on the field.
The combination of big personalities, leadership and swag have created a strong bond amongst the members of this class with Richard LeCounte, III, Jake Fromm, Netori Johnson and Isaiah Wilson playing the role as the ringleaders.  Those four have the magnetic personalities and the big game to go along with those personalities.  Their impact on recruiting will be immeasurable on the recruiting trail during their tenure in Athens.
With 22 commits currently onboard – including 2 5-Stars, 17 4-Stars and 3 3-Stars – Coach Smart has amassed an unprecedented haul of talent.  Some will be instant impact players, others will need a couple years and inevitably some simply won't pan out.  Below are five recruits who I think can have an instant impact and one recruit who I think is being overlooked my most.
Five Instant Impact Recruits I Can't Wait to See in 2017
DeAngelo Gibbs – 6'2 204 – Star – With the departure of Maurice Smith and Rico McGraw combined with Gibbs enrolling early, it sets up perfectly for Gibbs to win the starting job.  Gibbs reminds me a lot of Jabril Peppers with his frame, athletic ability and versatility.  His physical style of play and ability to play man coverage make him the perfect hybrid for the Star position against today's downhill spread rushing attacks.
Isaiah Wilson – 6'7 354 – Right Tackle – It is difficult for offensive tackles to come in and play immediately as true freshmen, especially when they aren't early enrollees.  However, Wilson's physical stature, underrated athleticism and football IQ could make him the exception to the rule.  For those who like comparisons think a more athletic D.J. Fluker.
Richard LeCounte, III – 5'11 184 – Safety – With Dominick Sanders and Aaron Davis both returning for their senior seasons one would think that would limit LeCounte's availability to make an instant impact.  However, I firmly believe the LeCounte is simply too talented not to force his way into the rotation at safety.  He is a flat out playmaker.
Jeremiah Holloman – 6'1 196 – Receiver – Holloman may be the most dynamic athlete in this class.  He has every single physical tool that you look for in an elite receiver.  He has the combination of sudden explosion, long speed and leaping ability that make it easy to create a ton of separation.  Simply put, Holloman will be as good as he wants to be and with him arriving as an early enrollee I fully expect him to be a major contributor in 2017.
Nate McBride – 6'2 225 – Special Teams – The Dawgs coverage units were subpar in 2016 but McBride's arrival in Athens will make an immediate impact.  His strength and elite speed will make him a heat seeking missile on both punt and kickoff returns and I won't be surprised to see him make momentum changing plays.
Most Overlooked Prospect
Andrew Thomas – 6'5 330 – Left Tackle – Thomas is being overlooked in this class, largely because of the big personalities of fellow offensive lineman Isaiah Wilson and Netori Johnson.  Thomas has a frame you can't teach at 6'5 with incredibly long arms that make him very tough to get around.  He will likely need a redshirt year, plus one more year to take off some bad weight and add some good, but I think he has All-SEC potential at LT in the future.
At the end of the day, recruiting is full of uncertainty but on paper the Class of 2017 is already the greatest class of all-time for the University of Georgia.  It has a special vibe to it, a vibe that I don't believe I have felt in my lifetime.   The scary thing is, in the words of Richard LeCounte, III – WE STILL AIN'T DONE!!