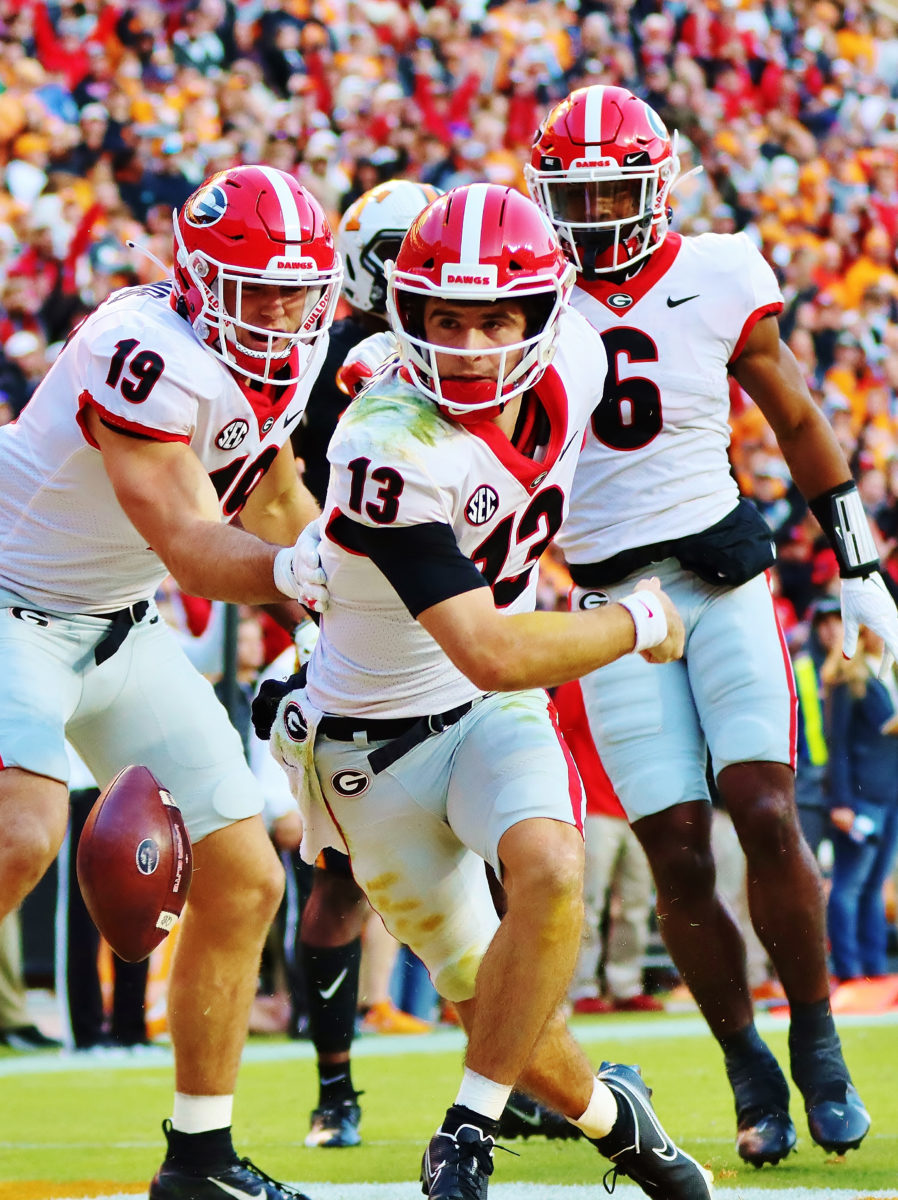 Top-ranked Georgia hosts Charleston Southern Saturday afternoon at Sanford Stadium. Kickoff is set for high noon Between the Hedges, with the Bulldogs heading into the game with a record of 10-0 and the Buccaneers out of the Big South Conference of Division 1-AA/FCS, 4-5.
This past Saturday, Georgia topped Tennessee 41-17 at Neyland Stadium in Knoxville in what was the last of eight straight Southeastern Conference contests. It was Georgia's final SEC regular season game. After the game with Charleston Southern, the Bulldogs head to Atlanta to play Tech.
The Bulldogs have now beaten Tennessee in five consecutive seasons and in 10 of the past 12 years to increase the Bulldogs series lead over the Volunteers to 26-23-2.
Georgia has great expectations, and head coach Kirby Smart has preached all season about his team playing to a standard. Despite the success thus far this season, Smart, in the sixth season at the helm of his alma mater, has emphasized that these Bulldogs are far from a finished product.
There is some history to touch on with these Bulldogs, who are fighting to leave a championship legacy. Georgia last started a season 10-0 back in 1982, when the Bulldogs posted a perfect 11-0 regular season and won the Southeastern Conference championship for a third straight year.
Dating back to last season, when the Bulldogs won their final four games following a loss to Florida – highlighted by a thrilling last-second victory over Cincinnati in the Chick-Fil-A Peach Bowl – Georgia is riding a 14-game winning streak. That's the third longest winning streak in Bulldogs lore.
From the second half of the 1945 season through the perfect 11-0 SEC championship campaign of 1946 through the opener of the 1947 campaign, Georgia won 17 straight games. The Bulldogs beat Tech in the 1979 finale – no bowl for the Dogs that year – then went 12-0 and won the national championship in 1980, followed by victories in the first two games of the 1981 SEC title campaign for a 15-game winning streak.
A win over the Buccaneers would match that 15-game winning streak.
Charleston Southern is coming off a thrilling 32-24 double overtime win over Gardner-Webb. The Buccaneers have won two of their last three games, beating Campbell 27-14 and losing to N.C. A&T 21-18 prior to the win over Gardner-Webb. The Buccaneers opened the season with a 38-21 win over The Citadel, in-town Charleston rival from.
This will be the third Palmetto State team the Bulldogs have played this year. Georgia opened the season with a 10-3 victory over Clemson in Charlotte. In the third game of the year, the Bulldogs bested South Carolina 40-13.
Georgia and Charleston Southern will be meeting for the first time ever on the gridiron.