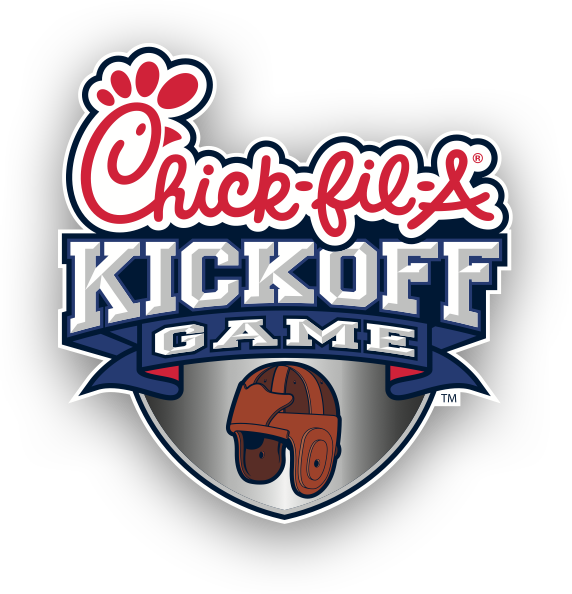 The Chick-Fil-A Kickoff Game has a tradition of recognizing a celebrity from each participating team, by making them game ball delivery honorees. This year's Chick-Fil-A kick off game will see former North Carolina Tar Heel Jeff Saturday and former Georgia Bulldog Hines Ward as the game ball delivery honorees.



Ward and Saturday will ride together in a KIA Sportage – provided by KIA Motors, the official vehicle of the Chick-fil-A Kickoff Game – to midfield just prior to the coin flip where they will present the officiating crew with a pair of game balls from the two teams.


At midfield, Ward and Saturday will be joined by University of Georgia coaching legend, Vince Dooley, and his nephews, Ashton and Sean, sons of the late University of North Carolina coaching legend, Bill Dooley. Bill Dooley was set to join his brother Vince at midfield, as Bill most famously coached at North Carolina and Vince most famously coached at Georgia. However, Bill tragically passed away earlier this month at the age of 82. A moment of silence will be held to honor the other coaching legend as his elder brother and sons participate in the honorary coin toss.


Vince Dooley was the head coach at the University of Georgia for 25 years, compiling a record of 201-77-10. He won six SEC titles and the 1980 national championship. A former assistant for his brother Vince at Georgia, Bill Dooley won three ACC titles, including the school's first outright championship in 1971 with North Carolina. He coached at the school from 1967-77, left as the winningest coach in Tar Heels history and is tied for second on the school's all-time wins list with 69. He went on to coach at Virginia Tech and Wake Forest.


Hines Ward will deliver the game ball for the Georgia Bulldogs. Ward played quarterback for the University of Georgia in the 1995 Peach Bowl and was inducted into the Chick-Fil-A Peach Bowl Hall of Fame last year. A wide receiver for most of his Georgia Bulldog career, Ward's 149 career receptions for 1,965 yards places him second in team history. He also played tailback and totaled 3,870 all-purpose yards, second only to Herschel Walker in Bulldogs history.


In the NFL, Ward was a third-round selection of the Pittsburgh Steelers in the 1998 NFL draft and played all 14 years of his career there. He ended his career as a four-time Pro Bowl selection and two-time Super Bowl champion, and was the MVP of Super Bowl XL.


Jeff Saturday was an Atlanta native and former All-ACC center for North Carolina, Jeff Saturday will deliver the game ball for the Tar Heels. A four-year letter winner under Head Coach Mack Brown, Saturday was twice named team captain.


After originally being signed by the Baltimore Ravens as an undrafted free agent, Saturday landed with the Indianapolis Colts, where he spent the next 13 years of his career. He would go on to be named to six Pro Bowls and was twice named to the Associated Press NFL All-Pro First Team. Saturday is a Super Bowl champion, winning Super Bowl XLI with the Colts.


This year's Chick-fil-A Kickoff Game is the first time Georgia and North Carolina have met since the 1971 Gator Bowl when Vince Dooley's Bulldogs defeated Bill's Tar Heels 7-3.The Chick-fil-A Kickoff Game between (18) Georgia and (22) North Carolina will be played Saturday, September 3 at 5:30 p.m. ET at the Georgia Dome in Atlanta. The game will be nationally televised on ESPN.


For more information, visit www.Chick-fil-AKickoffGame.com.