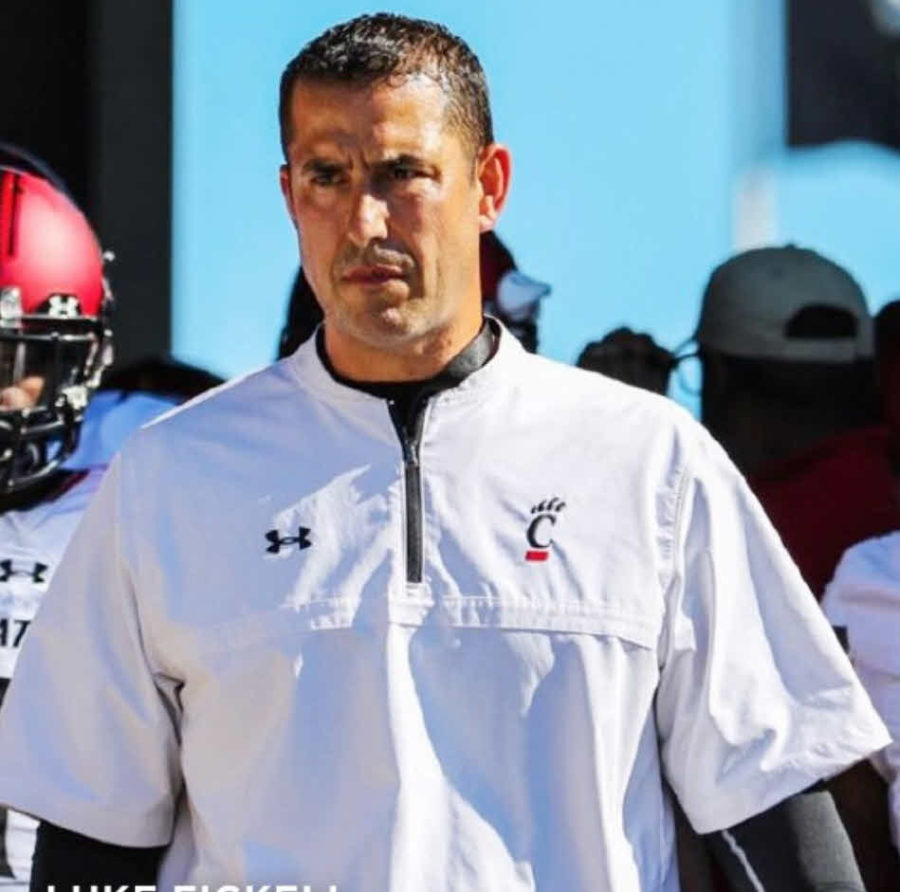 Luke Fickell (Head coach)
Cincinnati head coach Luke Fickell is in his fourth year as the head coach and has led the Bearcats to a 9-0 regular season record. The Bearcats are currently ranked No. 8 in the College Football Playoff rankings, which is just one spot ahead of Georgia. Expect to see him have his team ready after getting nothing but disrespect from the College Football Playoff committee. The Bearcats have a shot to knock off a national household name like Georgia, which is something that doesn't get to happen every day. The 47-year old head coach has the Bearcats as one of the best up and coming programs in the G5 conferences.
Desmond Ridder (QB)
Cincinnati quarterback Desmond Ridder has had a very successful season. The junior signal has passed for 2,090 yards and 17 touchdowns; while also running for 609 yards and 12 scores. At 6-4, 215-pound, Ridder can be a composed pocket passer, but also beat you with his feet. Those are pretty impressive numbers for just nine games. But he will have a tall task against a stout Georgia defense that will be looking to shutdown a high-powered Cincinnati offense. Look for him to try and create plays in space to keep the Bulldogs' defense unbalanced.
Gerrid Doaks (RB)
Bearcats senior running back Gerrid Doaks is very comparable to Georgia's James Cook. The Indianapolis native has racked up 609 rushing yards and 202 passing yards with nine total touchdowns. He's scrappy, but can bulldoze defenders as he stands at 6-0 and weighs 230-pounds. Doaks average 4.7 yards per attempt on the ground, but 14.4 yards per reception through the air. He will be a huge factor for the Cincinnati offense against Georgia. Expect to see him play both roles as a running back and option for Ridder out of the backfield.
Josh Whyle (TE)
Cincinnati sophomore tight end Josh Whyle is the team's leading pass catcher. He's hauled in 25 receptions for 318 yards and five scores so far this season. A Cincinnati native, there's nothing more special than playing for his hometown team. Expect Whyle to be determined to help the Bearcats upset the Bulldogs on a national stage. At 6-7, Whyle is a huge target and could create mismatches all over the field for Georgia defenders. Expect Whyle to be determined to help the Bearcats upset the Bulldogs on a national stage.
Jarrell White (LB)
UC linebacker Jarrell White is a bit undersized, but he was one of the best linebackers in the AAC this year. The 5-10, 205-pound senior has racked up 74 total tackles, 7.0 tackles for loss, 2.0 sacks, two interceptions, two pass breakups, four passes deflected and four quarterback pressures. It seems like Jarrell is all over the field on every play, always igniting contact. Like Whyle, White is a native of Cincinnati. The former four-star recruit would like nothing more than to upset Georgia in his final as a Bearcat.
Myjai Sanders (DE)
Bearcats defensive lineman Myjai Sanders is a threat off the edge. The junior leads the team in sacks with 7.0, although he's also racked up 30 total tackles and 10.0 tackles for loss. He also has five pass breakups, five pass deflections and four quarterback pressures. Sanders will challenge Georgia's offensive line to get to quarterback J.T. Daniels. At 6-5, 258-pound, he's lean and very physical; while also quick off the line of scrimmage. This will be his toughest test yet though as he faces a veteran SEC offensive line.
---
When it comes to all-time great alumni, Cincinnati has two of the all-time Hall of Fame greats, with basketball legend Oscar Robertson and Dodgers southpaw icon Sandy Koufax.
Cincinnati's men's basketball program had an historic run from 1961-63, advancing to three straight NCAA Championship Games, with two national title wins over Ohio State in '61 and '62.
Cincinnati has won football titles in six different leagues – The Buckeye Athletic Association, the Mid-American Conference, the Missouri Valley, Conference USA, the Big East and the American.