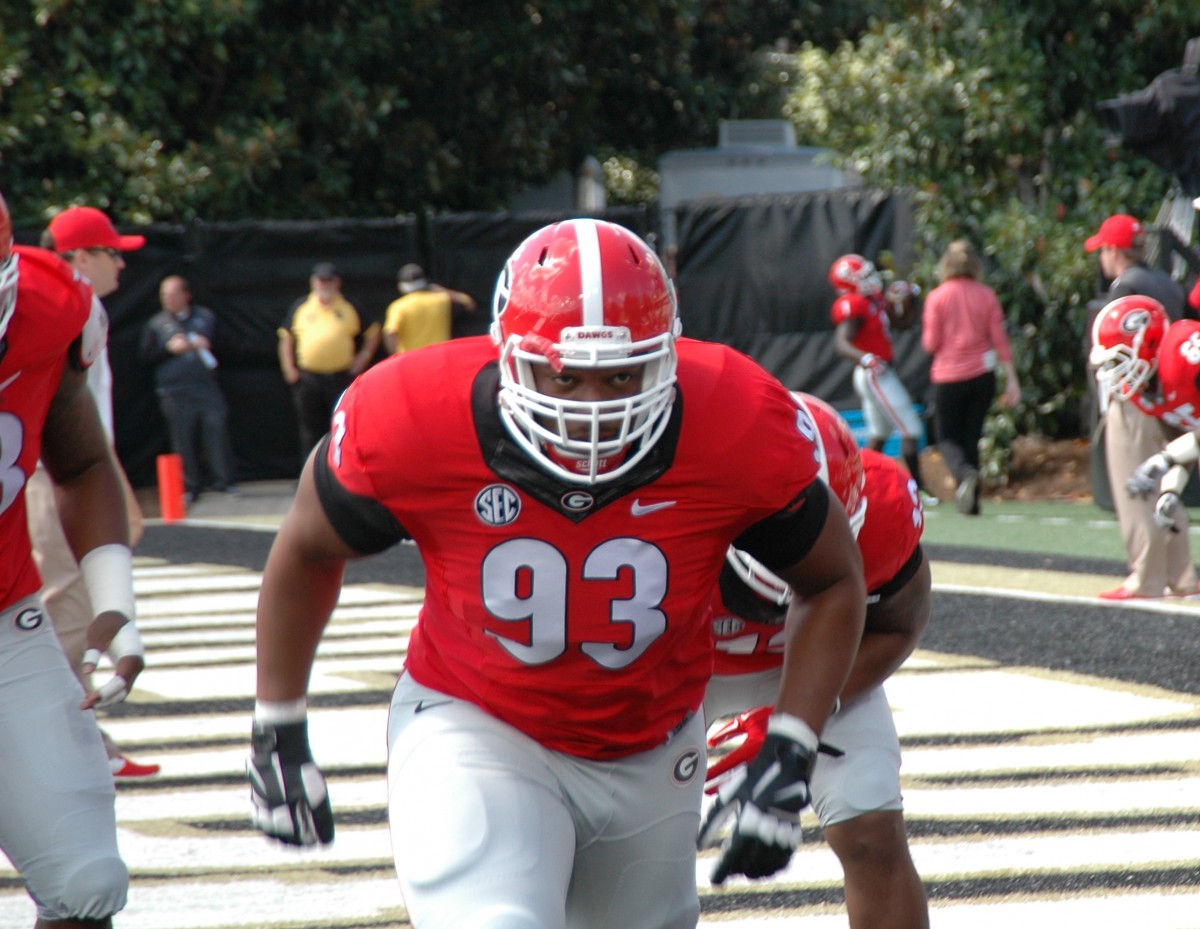 [su_spacer size="20″] Senior defensive lineman for the Bulldawgs, Chris Mayes, and his senior teammates get one last shot at South Carolina on the regular season Schedule. What does he think Georgia needs to do to win on Saturday.
[su_spacer size="20″]
There has been talk that the fact that South Carolina will be playing a new guy at QB because of Mitch being injured could affect how Georgia defense the Gamecock offense and that it might be a disadvantage because of the lack of film on Orth. What does Chris Mayes think of that?
[su_spacer size="40″]
I feel like either way, both guys are capable playing the quarterback position. I feel like it really doesn't make too big a difference, in my opinion. They are both good quarterbacks.
[su_spacer size="40″] Chris Mayes also stated that Georgia has a game plan to defend against Pharoh Cooper if he lines up at quarterback. No. Mayes is not going to be spying Cooper during the game, which we know of. He did hustle and chase down the Louisiana-Monroe quarterback from behind from about 15 to 20 yards out from the line of scrimmage in game one to make a saving tackle. He has some quicks and some hustle.
[su_spacer size="40″] And it show. Mayes is healthy this year and he has been a hammer in the middle of that defensive line for Georgia, especially in the Vanderbilt game. Fans have worried about the size of the front seven and along the d-line when it comes to defending the power running game of opponents up the middle, but Mayes is a "slim 330 lbs." How does the big fell'a feel?
[su_spacer size="40″]
I've slimmed down, but I'm still around 330 . . . Just been watching my diet and changed certain things I eat. Then working hard in the weight room.
[su_spacer size="40″]
It feels great [to be healthy]. Just to be able to know that I can go out there in a game and I'm one hundred percent. And just give all I got.
[su_spacer size="40″] The senior Bulldawg found out he would be one of the captains for the team via text message Monday night. He will join senior defensive teammate and outside linebacker Jordan Jenkins as well as senior offensive tackle John Theus and sophomore tailback Nick Chubb as the 4 team captains for Georgia for Saturday's game.
[su_spacer size="40″] And if fans are worried that the defense or team might be a little down or not taking South Carolina seriously for the contest on Saturday, the big man has something to say about that:
[su_spacer size="40″]
I feel like you actually can't take a loss in the SEC 'cause if you take a loss, you're at risk of like being in third place . . . We want to beat every opponent.
[su_spacer size="40″]
Chris Mays interview: UGA vs. South Carolina
[su_spacer size="80″]