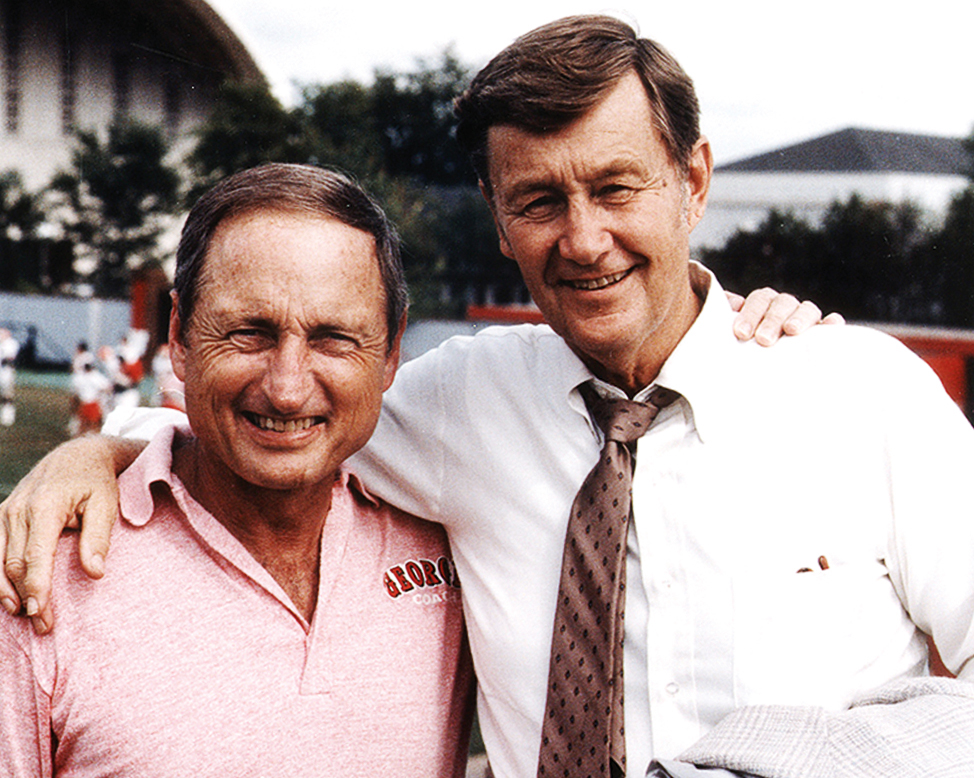 This article was compiled by Jeff Dantzler, Cheri Leavy, Vance Leavy and Murray Poole
With any source one seeks, the definitions of "a Renaissance man" run pretty similar.
One dictionary defines a Renaissance man thusly: A present-day man who has acquired profound knowledge or proficiency in more than one field.
Still another source says simply: A very clever man who is good at many different things.
As the Bulldog Nation looks back on the life of Vincent Joseph Dooley, everyone is very cognizant that these descriptions fit the legendary Georgia head football coach to a perfect "T."
For Vince Dooley was more than just a coach and mentor to thousands of young men on the football field, he was a renowned scholar in the fields of horticulture/gardening, military history and many other of his pursuits. That is evident in the books Coach Dooley authored.
Such as: The Legion's Fighting Bulldog: The Civil War Correspondence of William Gaston Delony, Lieutenant Colonel of Cobb's Georgia Legion Cavalry, and Rosa Delony, 1853-1863; Vince Dooley's Garden: The Horticultural Journey of a Football Coach and, History and Reminiscences of the University of Georgia.
And, oh yes, the football books covering his 25 years pacing the Bulldogs sideline as UGA head coach and some also scanning his years as the Georgia director of athletics … there were 10 or more that included Vince Dooley's byline, along with his fellow co-authors.
Truly amazing were the 90 years of this man's life – a Renaissance Legend indeed!
As the Bulldawg Illustrated team sought comments from former players, associates and friends of Coach Dooley for this special tribute issue, so many of them – as one can read here – talked about Coach being much more than just a great football coach who had a tremendous influence on their own personal careers but, also, his knowledge and expertise in the many other endeavors Vince Dooley undertook. And remember, he was a very proud ex-U.S. Marine as well!
Here are those heartfelt comments about Coach …
He meant the world to me as a coach but also as a man who had to carry the Bulldog Nation, the state of Georgia, the city of Athens, and do it the right way with his family. He certainly taught me a lot about doing that. It meant a lot to my wife in terms of moving to Athens and giving us the comfortable feeling that we belonged. He was just a tremendous man altogether. And having him at practice was always great. I'd bounce ideas off him and just seeing him in the training room, since the years I've been here … just a great source of information!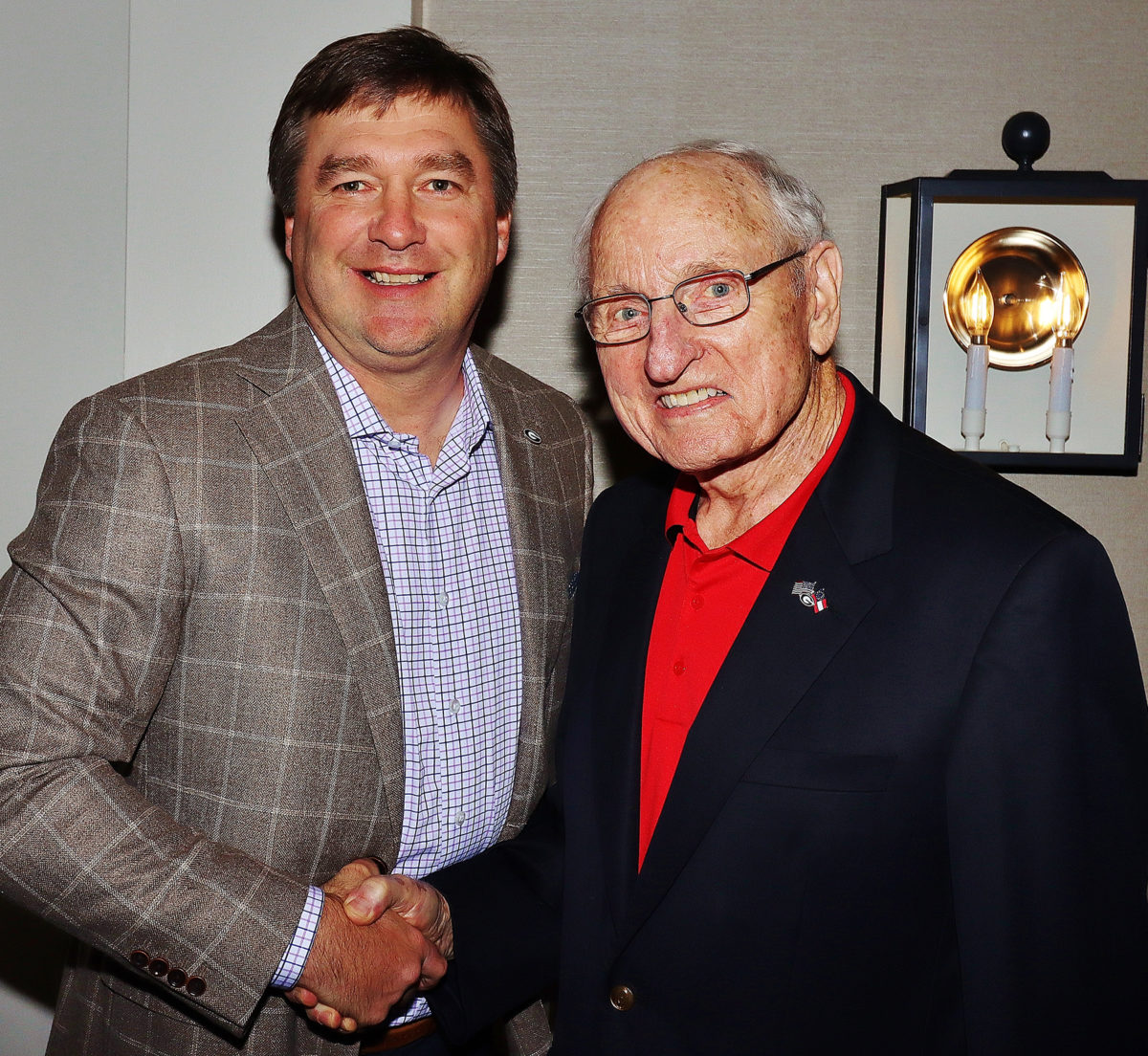 Kirby Smart, UGA Head Coach
I remember going back to my time as a student athlete how engaged and involved coach Dooley was with all of us, even the women, even the smaller sports. He was a mainstay on the front row during my home games at Stegeman. As an adult, coming back to Georgia, Coach and Mrs. Barbara and I shared the big moments together … SEC championship games, bowl games, playoffs and the National Championship. I always valued my time with him and appreciated his wisdom. He had a way of bringing small moments of peace and laughter to me and my children during some seriously stressful, chaotic games. I sure will miss him.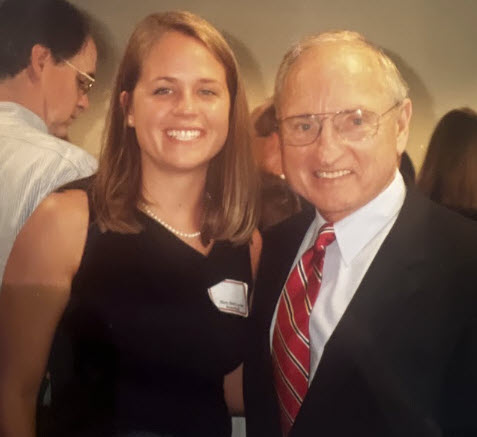 Mary Beth Smart, Lady Dawg stand-out, CEO of Team Smart
Vince Dooley was the type of role model we all need. The kindness he poured into the Athens community, the leadership he provided on and off the field, and the special connection we had with him as a family are just a few of the reasons I cherish his memory. He led the Bulldogs by teaching us all the value of teamwork and sportsmanship. We need more of that in our world today, and thankfully, his memory will continue to inspire those virtues. All I can do is thank him and Mrs. Dooley for the many things they have done for Brian, our girls, and me. The friendship and mentorship they have provided throughout our lives have been a true blessing. We miss him every day, and every time we joyfully shout, 'Go Dawgs!' we will think of him and his lasting impact.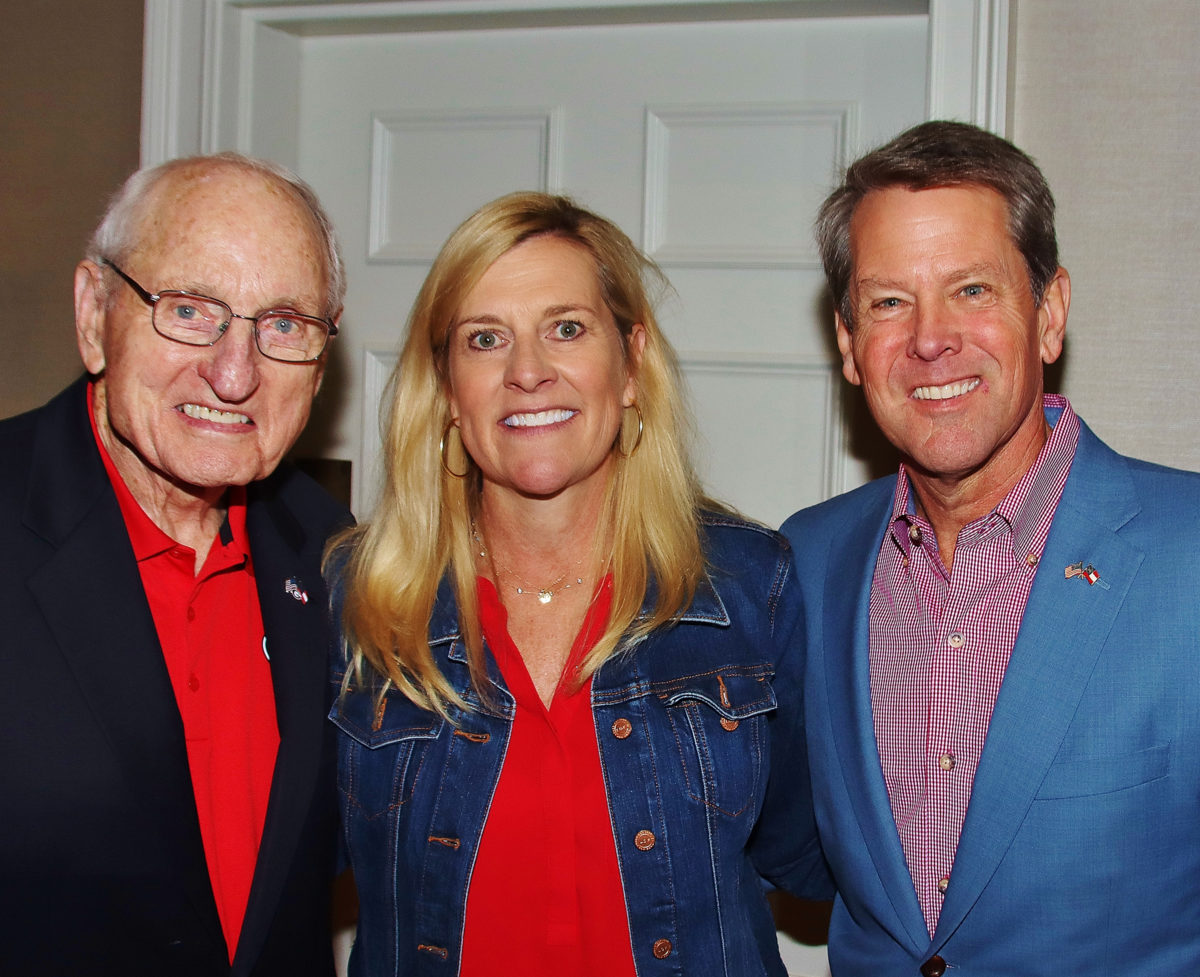 Marty Kemp, Georgia's First Lady
Few individuals have had a greater impact on the State of Georgia, and certainly the University of Georgia, than Coach Vince Dooley. His achievements on the field speak for themselves. As coach, he helped shape the lives of the young men entrusted to him, always working to instill in them the values of hard work, perseverance, and teamwork. Knowing him not just as a coach but as the great man he was is one of the honors of my life. From Friday night lights, to watching my family grow up, and being there when we celebrated my first election as governor, he was always there with us to celebrate life's greatest moments and helped us get through the hard ones. Like so many others, we will remember Vince Dooley not just as a legend, but as a great mentor, father, and friend.
Brian Kemp, Governor of Georgia
I was always inspired by Coach Dooley's unwavering love for the University of Georgia and his tireless efforts to make UGA a better, stronger institution. Whether as an iconic coach or beloved athletic director or through his generous financial support of numerous areas of our University, Coach Dooley impacted countless lives at UGA. His career and legacy transformed UGA, and he will be sorely missed.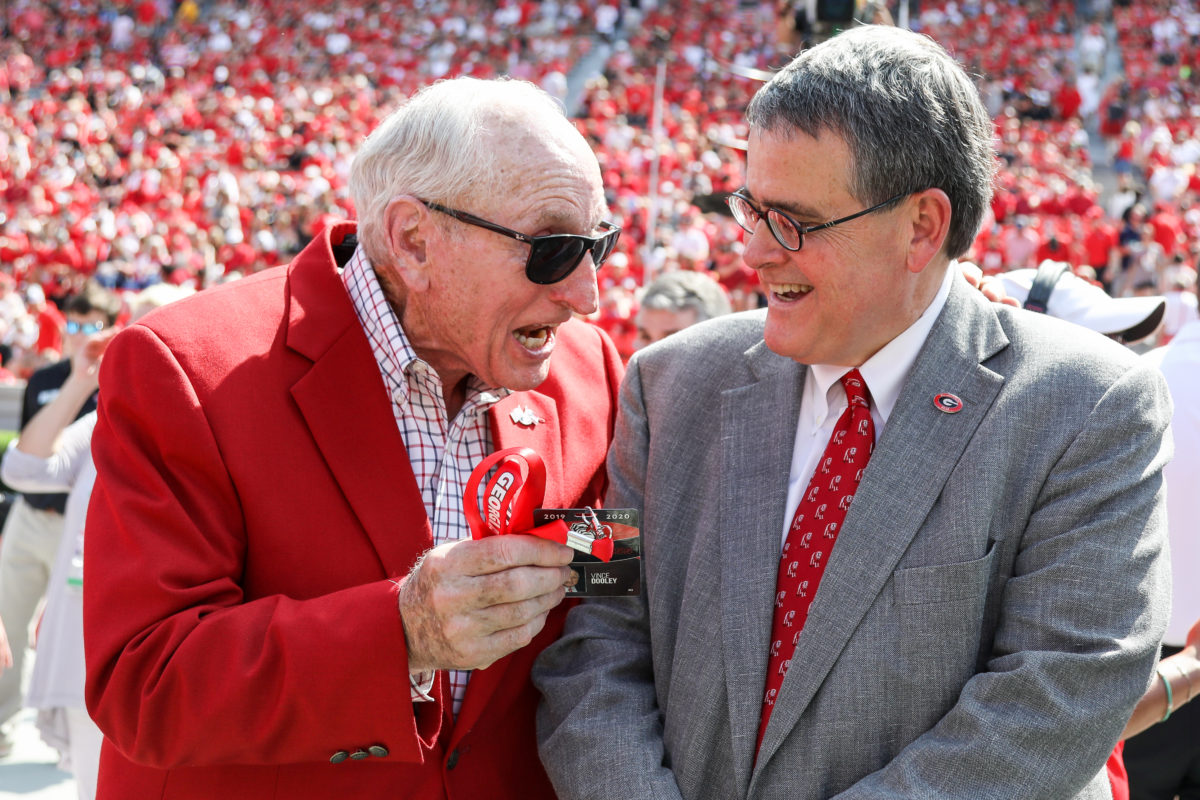 Jere W. Morehead, University of Georgia President
Coach Dooley was a mentor and a friend. It meant the world to me to be able to lean on him for advice and counsel. He made Georgia what it is today and I work every day to honor his legacy.
Josh Brooks, J. Reid Parker Director of uga Athletics
We have lost one of the legendary figures in the history of not only Georgia athletics but also college athletics in this country. He was a true man for all seasons with his many interests, curiosities, and thirst for learning. He enjoyed respect and admiration throughout his life. Coach had an immeasurable impact on thousands of young people and was a standard bearer for teamwork, discipline, integrity, class, work ethic and doing the right thing. It's a huge loss for his family and all those who were fortunate enough to pass his way.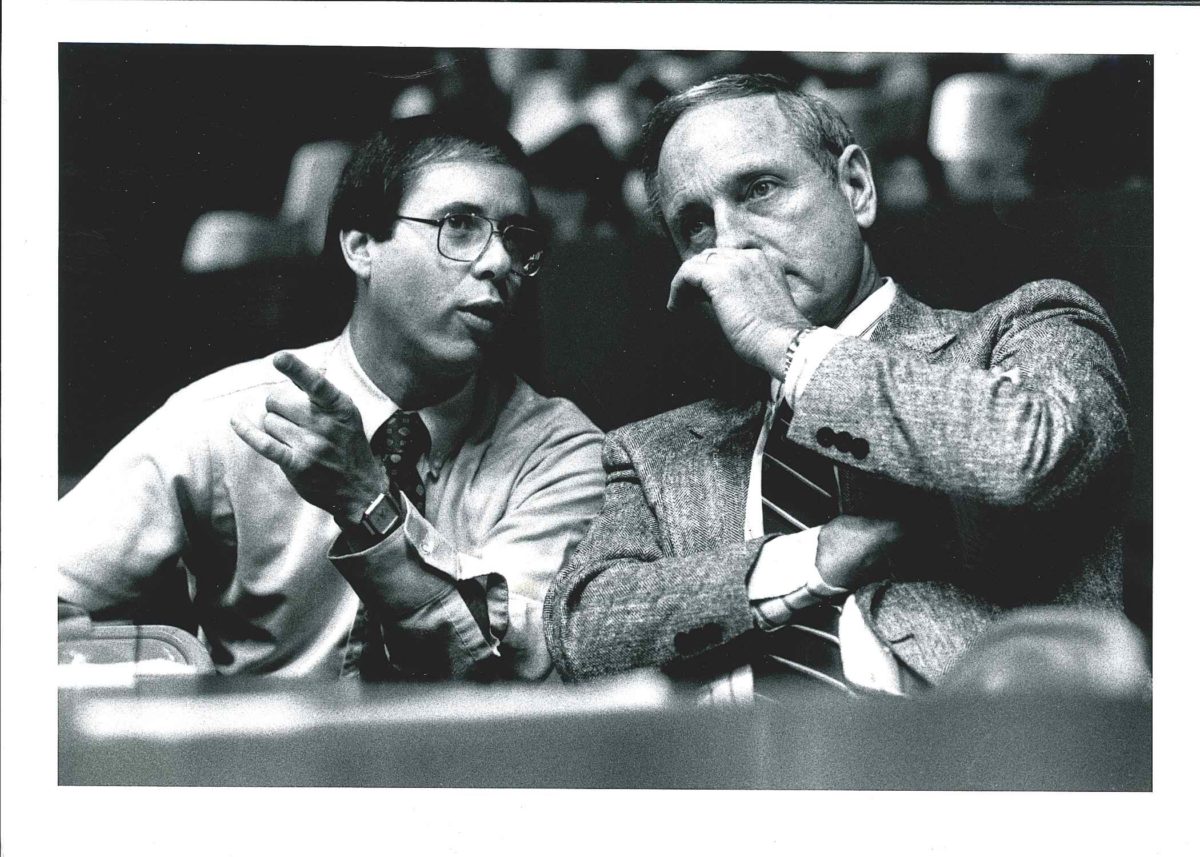 Claude Felton, UGA Senior Associate Athletic Director
Coach, as everyone knows, was unique. He was always the gentleman. Never met a stranger. I told him and others, he was a renaissance man dressed in football coach's clothing. He was a scholar and carried the most important gene for lifelong learning … inquisitiveness. I cherish the time with him in the past 27 years from when he walked into my classroom in 1995-96. We became gardening buddies, bonded by mutual respect. His insatiable appetite for information continued to polish his sharp-edged mind. Barbara told me gardening gave him a new passion and, indeed, he became the most famous gardener in Athens and the State. He loved to work in the garden; planting, pruning, and leading tours. His garden book, The Horticultural Journey of a Football Coach, is a great read. He threaded people, places and plants into the narrative about his horticultural obsession. Left no stone unturned in searching for the next great plant for his garden.
I was unsure about what led him to my classroom. Probably inquisitiveness. I know the students were in awe and not sure what to make of his presence. He attended lectures, the campus tree/shrub walks, and traveled with the class to out of state field trips. Before exams, he always wished the students good fortune, but then went back to work as Athletic Director. His Hydrangea macrophylla was one of the few to survive the cold and flower in 1996. Logically, it was named 'Dooley', propagated, shared with growers, and botanical gardens, and has traveled the world. I asked Coach whether he would be interested in attending The International Hydrangea Conference, Ghent, Belgium, in 2007. This was a few days before the conference. Somehow Barbara found him a ticket. We toured the great Hydrangea collection, Varengeville-sur-mer, France, owned by Robert and Corinne Mallet. Robert noticed Coach's name tag and announced in melodic French-English, "Coach Dooley, your hydrangea is in our collection."
An exemplary life, well lived, rich with experiences, he believed that education was a lifelong journey of the mind. There was always another question that needed answering. I miss Coach and our time together.
Dr. Michael Dirr, Ph.D, professor of horticulture at the University of Georgia and mentor and friend to Dooley
Vince Dooley was a genuine Renaissance man. He was never able to quench his thirst for learning, and he never lost the joy in doing so. We first met about 1967 when I worked in the Athletic Department as Dan Magill's secretary. His passions for family, football and history are legendary. We later shared a mutual passion for horticulture. He became so knowledgeable that he was frequently called upon to speak to groups across the country. His home became a botanical garden – robustly displaying his treasures. He spoke of each almost like that of a parent speaking of a child – this man of steel showing such joy, such tenderness. He was rare among men and a treasure to have known.
Ann Frierson, horticultural enthusiast, former secretary for Dan Magill
Today I am remembering my good friend and neighbor, for oh so many years, Vince Dooley. My family had the pleasure of living across the street from the Dooley's and raising our children together. Vince and I also shared birthdays one week apart and celebrated becoming another year older and wiser many times together. He always teased me about being one year older and wiser and always one step ahead of him.
Vince and I loved politics and so many of our conversations evolved around the elections and our government. Thank goodness we were always on the same page. When he retired from coaching I tried to talk him into running for public office. Can't think of anyone who was more qualified to be Governor or even President.
What a difference Vince made in the lives of so many different people. The strongest men aren't always the loudest ones. They're the ones who quietly do good behind the scenes making a difference through thoughtfulness and kindness. And some people see things as they are and say why … Vince dreamed of things that never were and said "why not." His winning ways were infectious and spread to everyone who had the pleasure of knowing him. The friendships he made were real and his legacy will live on in the hearts of all who knew him. His life will never be forgotten. That was Vince Dooley.
Now there's a road I travel made of memories of Vince and his wonderful family that I will always keep next to my old heart. There's a bridge of special feelings paved with all of the good times we shared as neighbors and friends that I will continue to walk across.
Vince may be gone from my sight but never from my heart. Rest In Peace, dear friend, until we meet again to celebrate our birthdays!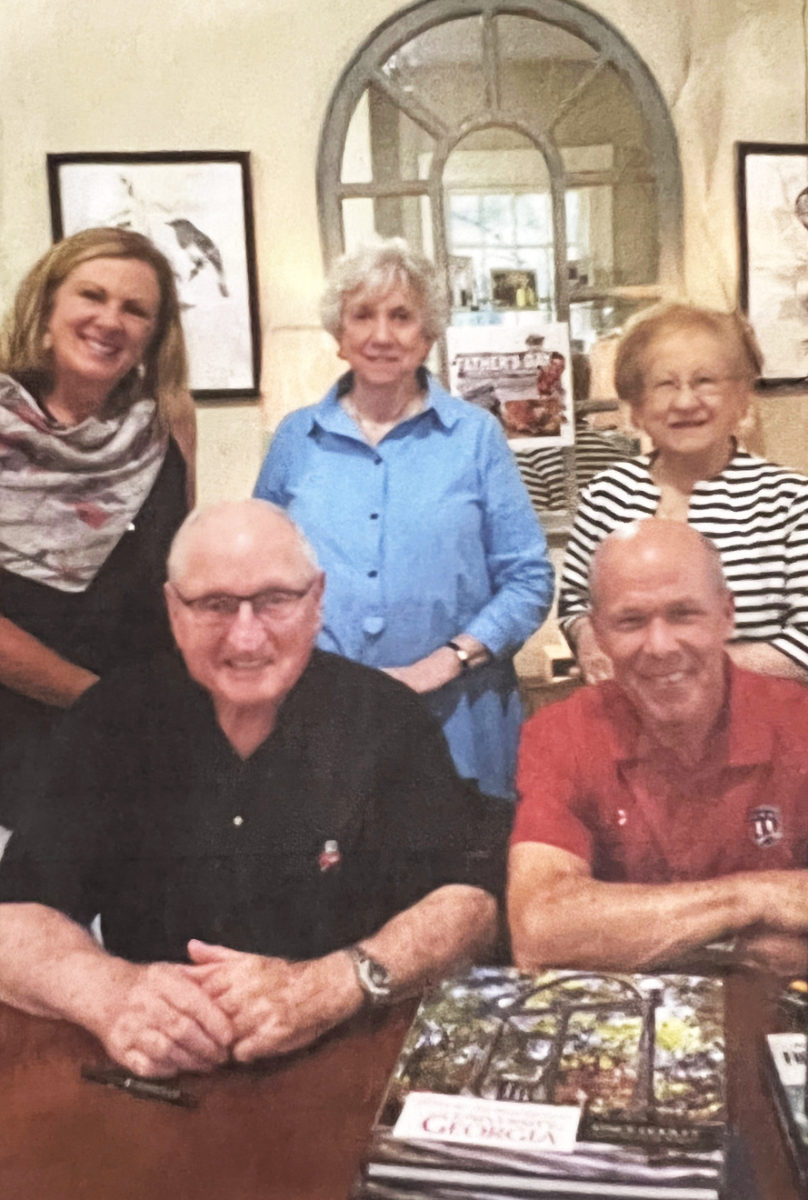 Jenny Sligh, Athens neighbor and friend
I had the honor and privilege to play for Coach Dooley, coach with Coach Dooley and work for him in an administrative role. During this time I learned quite a bit from Coach about organization. He was organized in how he ran his practices, team and the entire athletic program; every part of his life! He always did everything with the highest integrity of any person that I have been around.
Jack Baurle, Hall of Fame UGA and Olympic Swimming (and Diving) Coach
Coach Dooley was an amazing leader, coach and athletic director and friend to so many. I was so honored to be a member of his coaching staff – he hired me in 1985. His trust, belief and mentorship gave me the ability and confidence to be successful at the highest level. Thanks Coach Dooley for being an incredible Bulldog legend! It's just unbelievable Coach is not here with us anymore.
From telling me to quit playing kickball (which was soccer) to voting me in to the College Football Hall of Fame coach Dooley was a man that always had each individual's best interest at heart. He helped me grow into the man I am today and there's nothing tougher for a Coach than the challenge to shape young men's lives while they are age 18 to 23 and his success rate was 100%. I will always miss his smile, love and advice. I am a better man because I was coached and befriended by Vince Dooley.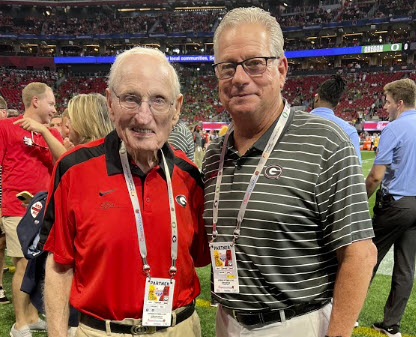 Kevin Butler, CFB Hall of Fame, All-American kicker
I think I will always appreciate the fact Coach took a chance on me, with no coaching experience. He gave me the chance and believed in me and without his guidance and support, I probably never would have had the chance to be as successful as I was. And I'll always appreciate everything he did for me. He was the best, he always supported his coaches and gave them whatever they needed and asked for and allowed them to be successful.
Chris Haack, UGA Men's Golf Coach
It was sort of like a journey with Coach because when I first came in here in 1970, I revered him as a coach first. Then he hired me in 1979 and our relationship just got stronger and stronger. He was the consummate boss, for lack of a better phrase. He hired you, he trusted you and he helped you when you needed him. That's the best way I can put it. You know, in the last 20 years our relationship changed a lot … it became more of a friendship I guess, a strong friendship. And what's important, he and Barbara are God parents to my youngest son Duke. I was just talking to someone who's been a friend of mine and an emeritus on the athletic board and we miss him. In a way, I never thought he'd be gone. He singularly was the toughest individual I've ever been around, physically and mentally, and I loved him like a dad.
Jeff Wallace, UGA Women's Tennis Coach
His remarkable consistency to the University of Georgia, it never wavered. From coaching to the AD and then beyond that he just had the consistent quality of being very classy, which doesn't sound like a lot but that's so hard for people to do and to think he did it for 90 years … it was just an incredible full life he lived. I also thought he had a wonderful sense of humor and sometimes people never got to see it. One of the beauties of playing with him for five years, he was a funny guy. When he wanted to be he had this old dry sense of humor and it used to crack us up. And just little things, when I got benched in 1983, he took the time to call my parents and talk to them, which a lot of head coaches would never do anything like that. And he may never have done that for every player that came to the University of Georgia but he did it for me and later in life I always appreciated it and I know my parents appreciated it.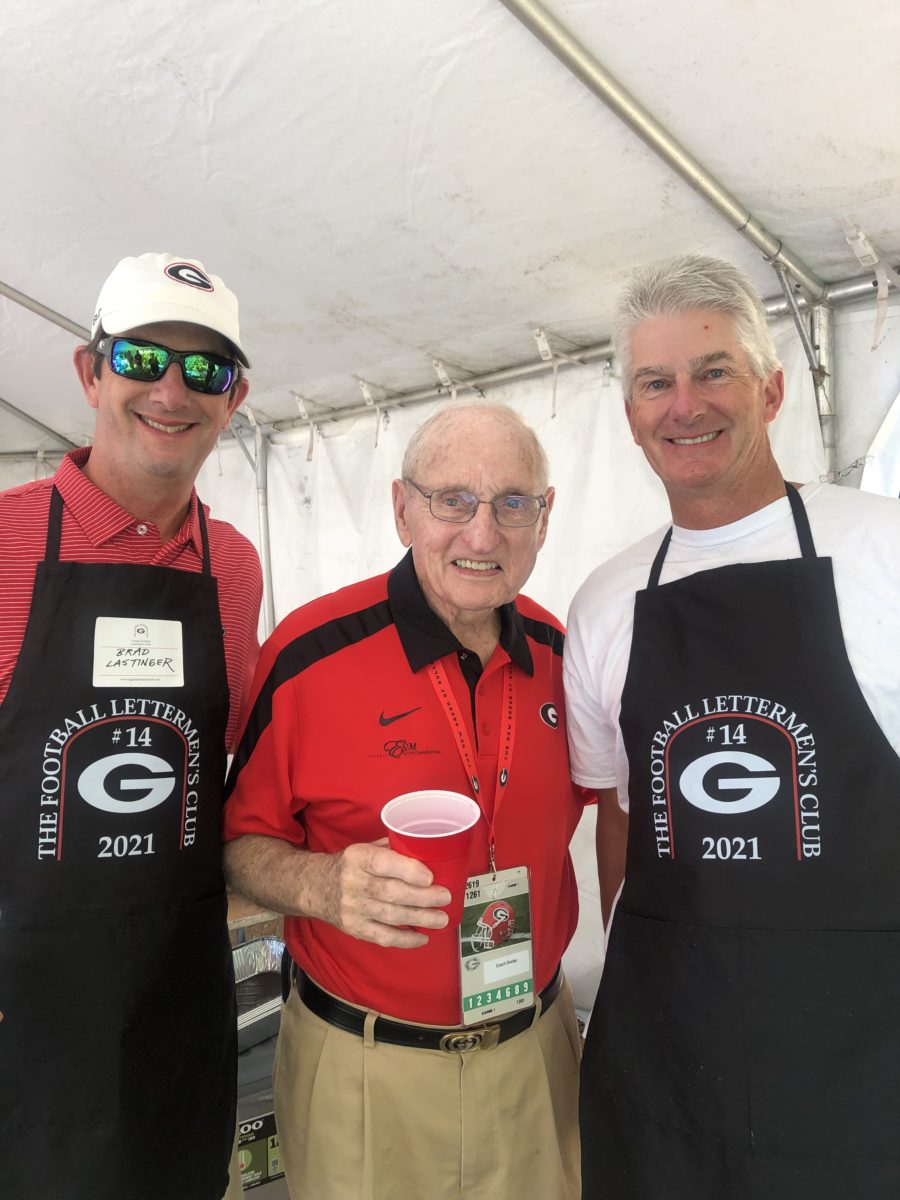 John Lastinger, starting quarterback 1982 and 1983
One of the most transparent aspects about Coach Dooley was his commitment to his players, to grow them as young men, provide them an opportunity to earn an education. And once you earned that education it opened doors for you whether that was moving into professional sports or whether it was moving into your professional business career. So, he took pride in seeing growth at what you were doing as a human being. He gave me an opportunity as a good young athlete. Just like my dad (also UGA standout Leroy Dukes) he gave me a chance to play a lot of different positions. I played as hard as I could as a quarterback for him. It didn't work out for Georgia and myself but he didn't ship me off, he put me in another position where I could help the team. So those are opportunities that he saw—he saw the good in everybody. And it was one of those you learn through a human resources channel in business …you always praise in public and you counsel and coach in private. If there were problems, he would pull you in and talk to you. I'll just say this – the Dukes family loves Coach Dooley and the Dooley family!
David Dukes, four position football letterman, 1984-87
I will always be indebted to Coach Dooley for giving me the opportunity to play football and earn a degree at the University of Georgia. He saw something in me that others didn't and inserted me as a starter my junior year. After my playing career was over, he provided me the opportunity to be a graduate assistant, earn a Master's Degree and, more importantly, continue to learn from him. He was a great mentor who continued to impact my life after my playing/coaching career by always being available and supportive. He not only influenced me, but had a generational impact as I passed on to my children lessons learned from him. I will greatly miss him and his wise counsel.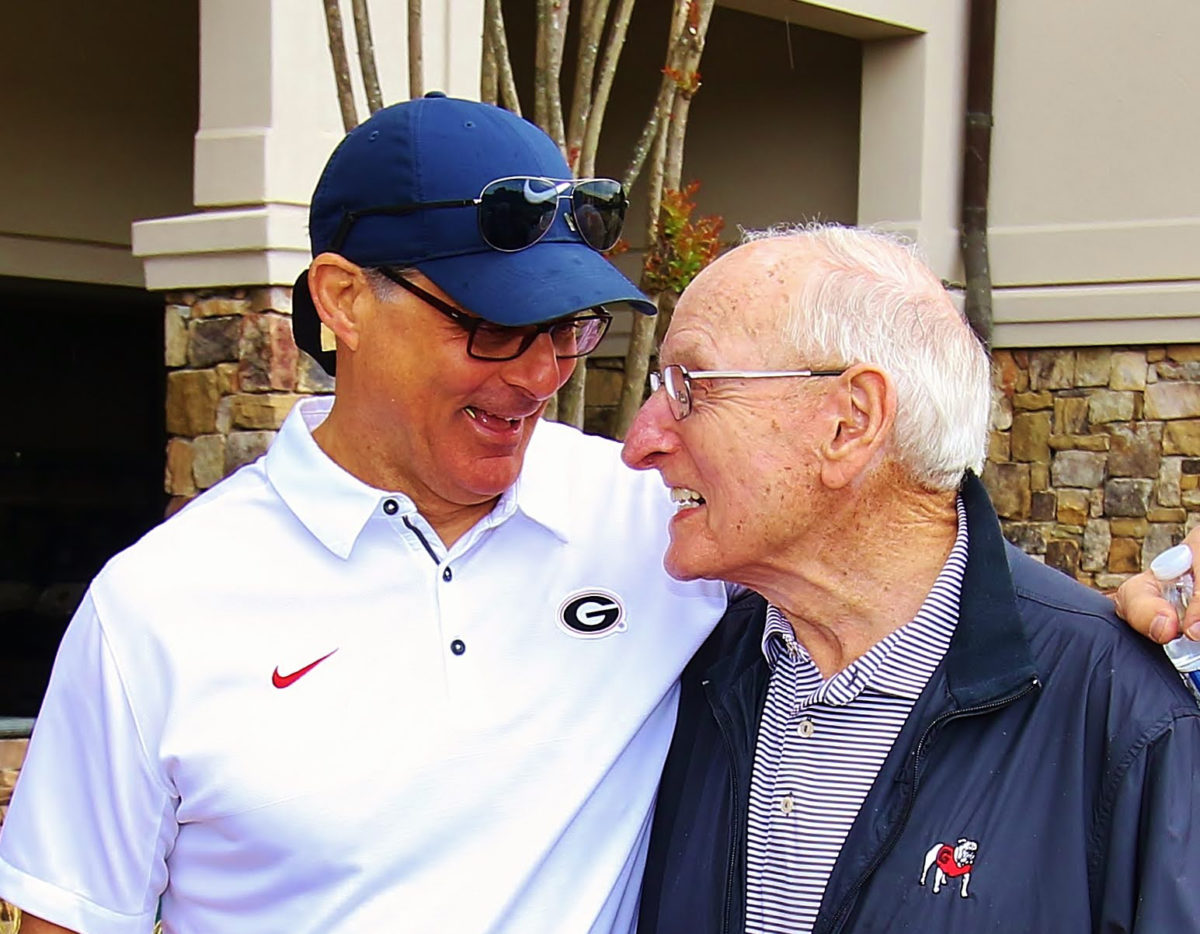 Frank Ros, starting linebacker, captain 1980 National Champions
He had a knack for motivating young me to do the best on and off the field. He knew how to "push your buttons." He truly cared about us individually, not just as football players, but as men. I'm using his phrase … he had a "thirst for knowledge " … that never stopped. Incredible coach, yes but he was always trying to educate us off the field as well. The older I get, the more my respect grows for him.
Knox Culpepper, All-American Linebacker, 1984 team captain
Coach Dooley a definition of dignity, integrity and statesman. A football coach and athletic director who was fair minded and forward thinking. He coached everyone to be the best that they could be. But he really enjoyed seeing athletes mature and grow into productive citizens.
Robert Miles, UGAA- director of life skills, 1980 National Champions team member
The greatest thing Coach Dooley taught us was the importance of winning/success through hard work and discipline.
Early on he made sure all of his players understood that there was a price to pay when you didn't follow those fundamentals for success, whether it was issues off the field or not winning on the field.
I remember in an afternoon drive with Coach Russell one day in Statesboro, he said the older you get the more you will appreciate Coach Dooley, he was right, in both my coaching career and in business I've used the same hard work and discipline principles, learned from Coach Dooley, that we had to live by back then, for holding my players and my employees accountable!
Hugh Nall, Starting center 1980 National Champions
I am so happy that Leigh and I moved back to Athens nine years ago. We were able to spend more time with Coach and Barbara – they became the Mom and Dad for all us orphans who have lost both parents. They loved all his players. We all loved Coach Dooley. DAMN GOOD DAWG!
Tim Morrison, All-SEC, 1980 National Championship team
I reflect on the lessons Coach Dooley taught us almost daily. From a business perspective when you think about you're preparing for your competition to be at their best, he had a way of making sure that you prepared for your competition, no matter what their record was going into a game — don't take your competition lightly because they're going to come out and likely play their best game against you and maybe it's a day you're not performing at your best. So that preparation for life lessons was huge to me. And really watching Coach Dooley as a man and past his coaching career as well and continuing to follow his pursuits that weren't just in football and his passions, whether it was in gardening or his passion for history, I just continue to look up to him as a man who lived a life of purpose and passion. And his family was so important to him. So, all those lessons from coaching and just as a man, Coach Dooley provided an example for me and to thousands of others to hold as a standard.
Peter Anderson, 1985 team captain, All-American center
Coach Dooley meant quite a lot to me. He gave me my first head-coaching job at the University of Georgia and he was there to help mentor me along the way. He gave me the confidence to make tough decisions that were in the best interest of the program and I'll always be indebted to him and Barbara!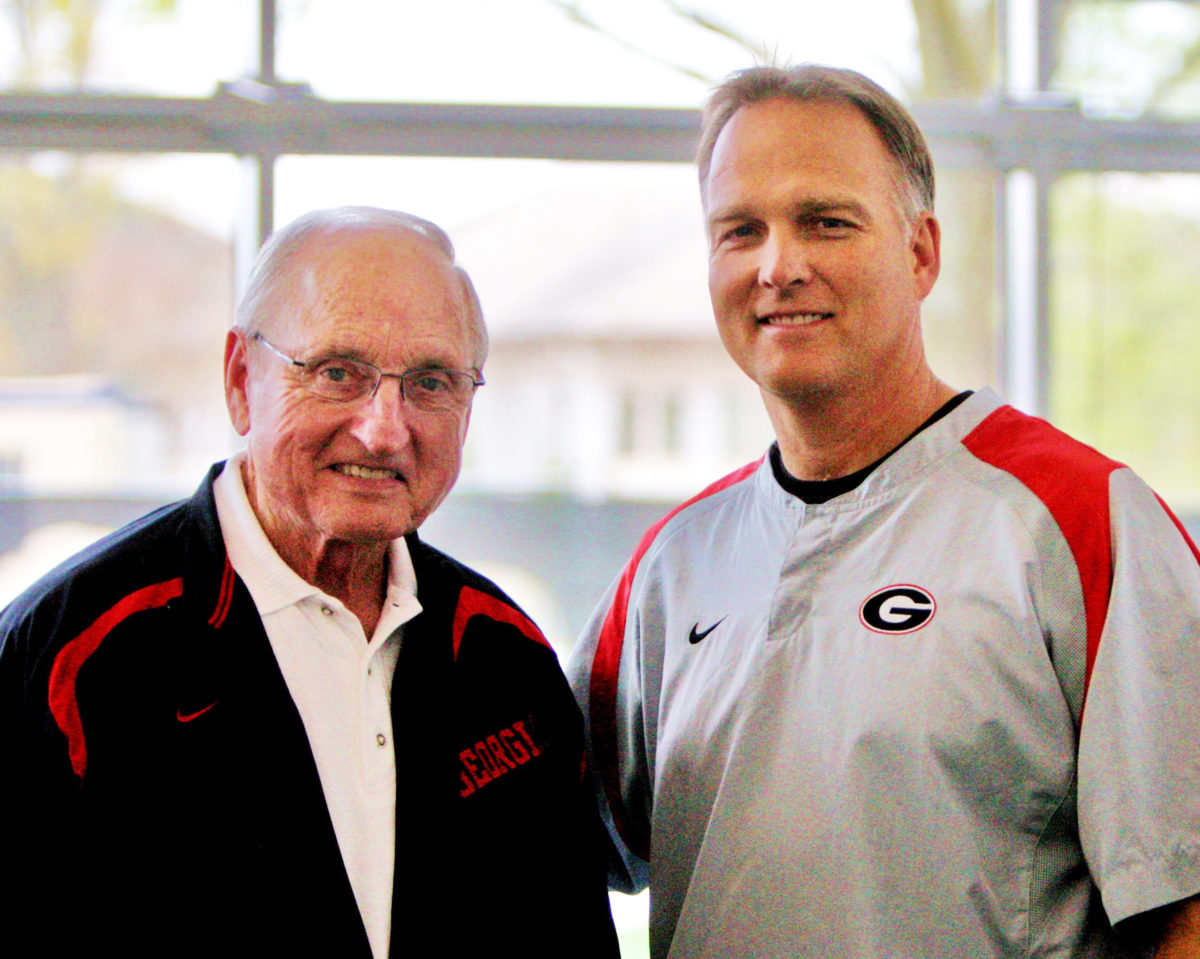 Mark Richt, former UGA head coach
When I think of Coach Dooley – the word opportunity comes to mind. He gave me the opportunity to earn a top notch education and compete in football at the highest collegiate level. The opportunity didn't stop there – he also gave me the opportunity to work at the University of Georgia and ultimately supported me as his successor to the AD role. He was my coach, mentor, boss, advisor and more importantly my friend. He was one of the most influential people in my life. I would not be where I am today without his support and confidence in me. Thank you Coach!
Damon Evans, Former Georgia AD, current Barry P. Gossett Director of Athletics, U of Maryland
Our family was fortunate to have had the Dooley family play such an impactful part of our lives for the past five decades. We will miss his everlasting support, his constant examples of loyalty to UGA and his magnetic personality.
Greg McGarity, Former UGA Director of Athletics
In my personal and professional growth, I'm eternally grateful for the example he set and the support he gave as an admired leader, mentor and friend. His legacy continues by virtue of the effect he made in so many individuals' lives. He got me on the right track and gave me a chance and I'll miss him for a long time. He made such an impact on me. I started out as Coach Dooley's intern so that's how I kind of cut my teeth in athletics back in the late '90s.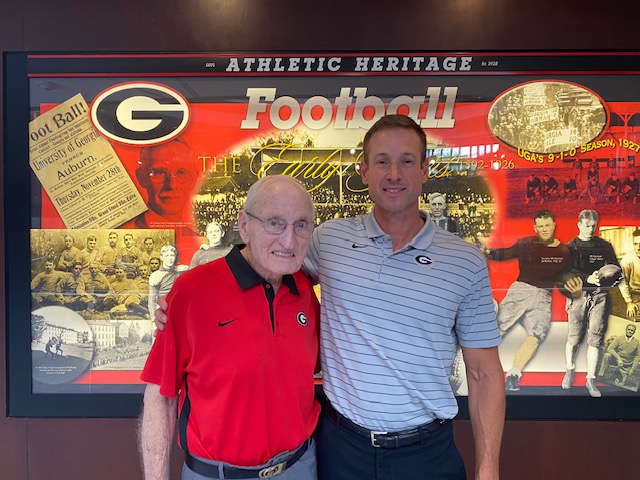 Tim Cearley, former UGA Associate AD for ticket operations
I was the director of marketing for the Utah Jazz when Coach Dooley hired me in 1981 to start the Marketing and Promotions Department for the University of Georgia Athletic Association. I will forever be grateful to Barbara and Coach for bringing me to Athens. Coach Dooley truly was a great boss and friend.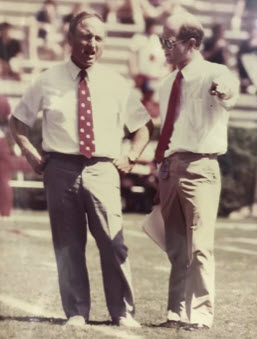 Avery McLean, Former Associate AD for Marketing and Promotions
It is difficult to put down what Coach has meant to me and my family. Our association spans over 30 years as a player, an assistant coach, and as an athletic administrator. I offer the following knowing that it falls short of truly expressing how glad I am that Coach was part of my life: Coach Dooley was a mentor for me as a player, an assistant coach, as an athletic administrator, and most importantly as a loving brother in Christ. He was a man of integrity; if he said he was going to do something, he did it. He was always challenging himself to be the best he could be.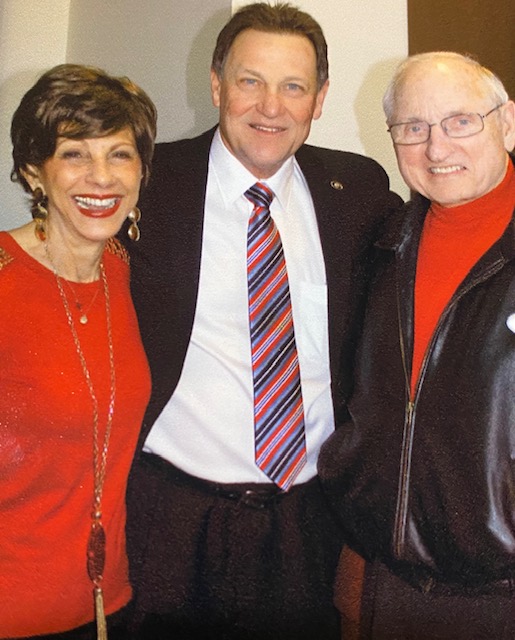 Charley Whittemore, Former UGA wide receiver and Dooley assistant coach
Coach Dooley changed my life. He gave a 21-year-old – I guess they call them kids today but I guess I didn't consider myself a kid at 21 but he gave me an opportunity to coach and when you talk about giving myself a job like that you have to realize I came from a coal mine, steel town (in Pennsylvania). I'm so thankful and when my wife called me and told me he had died, it was difficult for me to contain myself. I've only felt that way two times in my life, once when my father died and once when my mother died. To be so fortunate for him to allow me to coach, I never felt I worked for him. I always felt like I was working for us … that's the feeling he gave you and I was thankful. I don't have the vocabulary to express what my heart wants to say. I don't have the ability to tell you how I feel. One of the things I liked so much about the guy, he wasn't just a football coach. He wasn't one of those guys who talked about football every minute of his life. When he retired, he became an expert in horticulture. When he was in coaching, he always diversified himself by traveling, going places and educating himself. When it came to the Civil War, he probably knew as much about the Civil War as any professor that ever taught. I could talk about him forever because I was here from the minute he got here to the minute he left!
John Kasay, Former UGA Offensive Lineman and Dooley assistant coach
For nearly 20 years, and over 100 signing events, I have had the opportunity to work side by side with Coach Dooley selling more books than I can count. He was a true class act and gentleman that treated every fan with kindness and always had time for a photo. Vince loved to engage fans on where they were from and was always willing to share a bit of history or a score projection for the game later in the day. We appreciate all Vince did for all us at the UGA Bookstore and miss him. RIP Coach and know we will keep selling your books.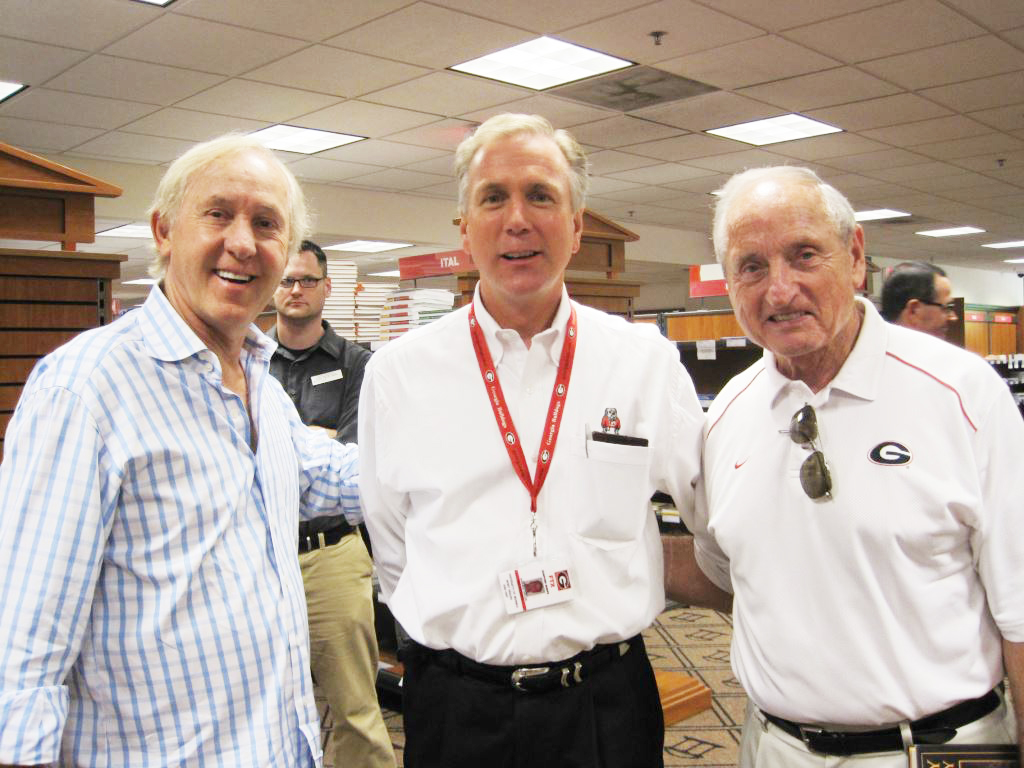 Howard Taylor, former UGA Bookstore – Follet Group VP
Coach Dooley taught many lessons in his wonderful life. He taught me one many years ago. After Ron Polk led UGA to the College World Series he went back to Mississippi State. Dooley had a tough time hiring a replacement. About three or four candidates didn't take the job, including Florida State's Mike Martin. The headline in my story in the AJC was something like, "Martin Snubs Dooley Again." I found out Dooley was interviewing David Perno one night. I staked out Butts-Mehre. Dooley came out around 11 p.m. and told me he would talk to me at 8 a.m. the next morning. When I arrived at his office, he pulled out a dictionary and read me the definition of snubbed, which was to reject someone with sarcasm. He looked me in the eyes and said, "I don't believe anyone rejected me with sarcasm." He was a great man and so missed.
Mark Schlabach, ESPN Golf and College Football Writer
At Coach Dooley's funeral, in my homily, I stated that one of Coach Dooley's favorite sayings was from Michelangelo. At the age of 87, Michelangelo stated: "I'm still learning."
In so many ways that describes Vince Dooley's entire life. He was a man who used his God given talents, not only to grow personally, but especially who made a difference in the lives of so many people. Whether on or off the field, there was always something more to do, some other challenge or opportunity to meet and another friend to be made. He truly was a Renaissance man to the day he died. At the end of my homily, I summed it up in a quote from the Scriptures: "Well done, good and faithful servant."
Father Fred Wendel, former director of Catholic Center at UGA
History was one of Vince Dooley's greatest passions. As Chairman of the Georgia Historical Society's Board of Curators and a longtime supporter and friend, Vince left a lasting mark on our institution. We will always cherish his memory and preserve the story of his remarkable leadership on and off the field. We were fortunate that he shared so much of himself with us. It was an honor and privilege to know him.