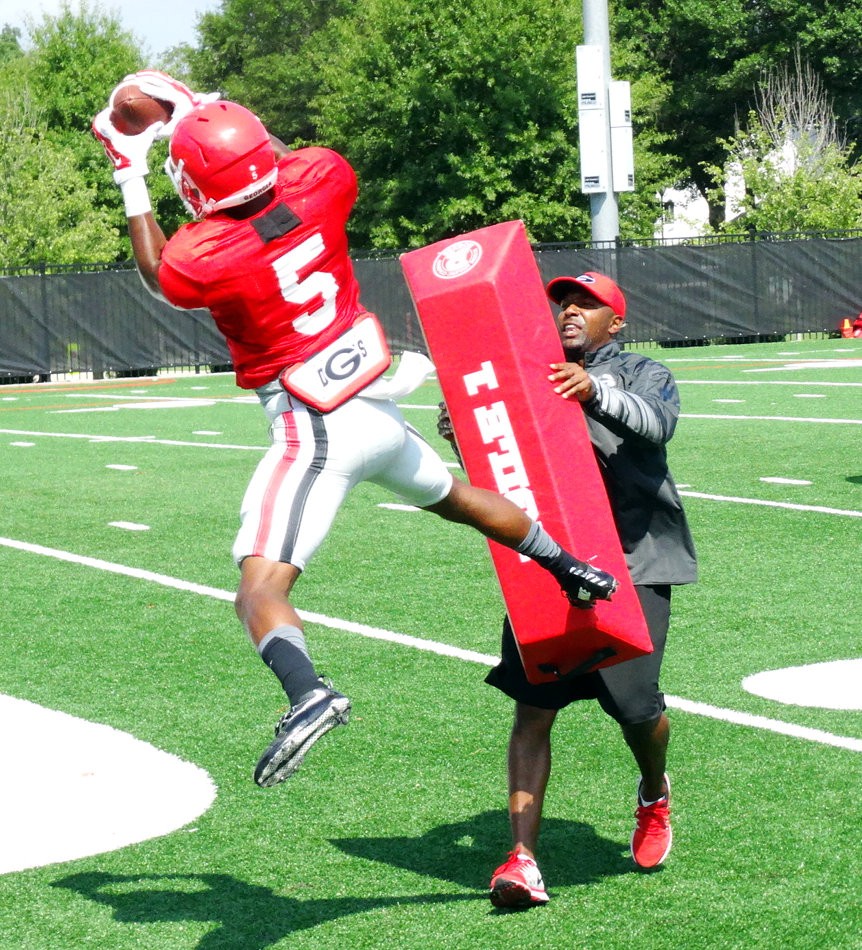 [su_spacer size="20″] Game day is almost here and the Dawgs have been practicing to take on Louisiana-Monroe. Coach Mark Richt talked with the media after practice and discussed how many wide receivers will likely be used in the game on Saturday.
[su_spacer size="20″]
Coach Richt is asked about true freshman wide receiver Terry Godwin and how much the coaching staff is planning on using him against ULM along with the other receivers:
[su_spacer size="20″]
I think we'll see him a good bit. We'll play a minimum of 6 and more than likely we'll probably play eight different receivers in the game. We just can't go up tempo and keep 3 guys in there, four guys in there. We won't be able to do it; so, I'd think that Terry would get a bunch. They'll be six, seven, or eight guys that'll get in there.
[su_spacer size="40″] Richt is asked whether or not they have been able to keep up tempo with the receiving corps they have right now in practice and in scrimmages:
[su_spacer size="20″]
The front line unit, those guys can go with tempo and know what to do and get lined up quickly. They can only go so many in a row before they need somebody else to jump in there. If you go 3 and out all the time, you probably only need three guys, but we are hoping to move the ball down the field and get into the fourth, and fifth, and sixth and seventh play of a drive. When you do that, if you're using tempo, and even if you're not, it's about time to substitute a little bit.
[su_spacer size="40″] Outside of Terry Godwin, what other receivers could we see play on Saturday. There is senior starting wide receiver Malcolm Mitchell of course, and the "Human Joystick," sophomore receiver Isaiah McKenzie as well as junior WR Reggie Davis. Two more receivers we could see play are true freshman WR Michael Chigbu and Jayson Stanley.
[su_spacer size="40″] I also expect the tight ends to be utilized in the passing attack as receivers and all of Georgia's tailbacks are good pass catchers out of the backfield. The question will be: how much passing will we see and how much of the up tempo, no huddle offense?
[su_spacer size="40″]
Mark Richt on the wide receivers and tempo
[su_spacer size="80″]