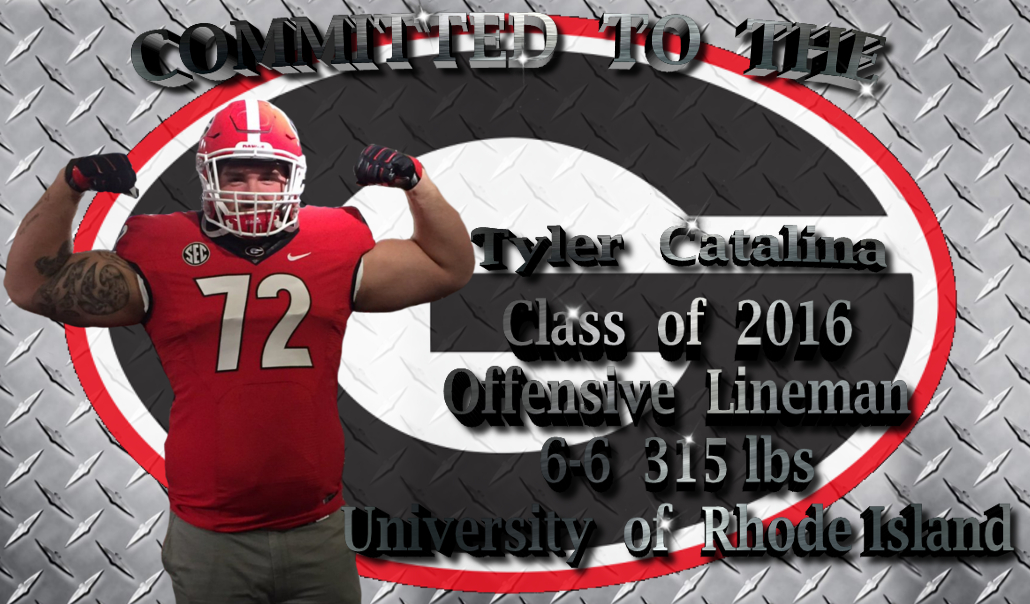 On Monday afternoon, the University of Georgia picked up one more commitment for the Class of 2016 and his name was not Demetris Robertson. Right around 5:46 PM ET, Tyler Catalina announced he would be committing to the Dawgs. Catalina is a 2016 graduate transfer offensive lineman from the University of Rhode Island. A number of UGA players and coaches reacted to Catalina's commitment.


Of course UGA's Offensive Line Coach, Sam Pittman, is pumped at getting another big body he can work with; especially so since Georgia only had 3 o-line commitments for the class of 2016.

Just when you thought there is no way the day could get better….. It did!!!#GODAWGS

— Coach Sam Pittman (@CoachSamPittman) February 15, 2016

2016 running back and UGA signee Elijah Holyfield is excited to have the opportunity to run behind an experienced big man for the upcoming season:


Another Georgia 2016 signee, athlete Mecole Hardman Jr., on Tyler Catalina's announcement:


Catalina was not Georgia's only commitment on Monday. Earlier in the day at 12 Noon ET, class of 2017 Justin Shaffer committed to the Bulldogs, and what was his response to Catalina's announcement?


Catalina's commitment now gives Georgia 21 for the class of 2016. He will join the team in Athens and enroll at UGA over the summer after graduating from Rhode Island in May.

---
CLICK HERE TO READ MORE ABOUT GEORGIA'S MOST RECENT 2016 COMMITMENT – TYLER CATALINA
---