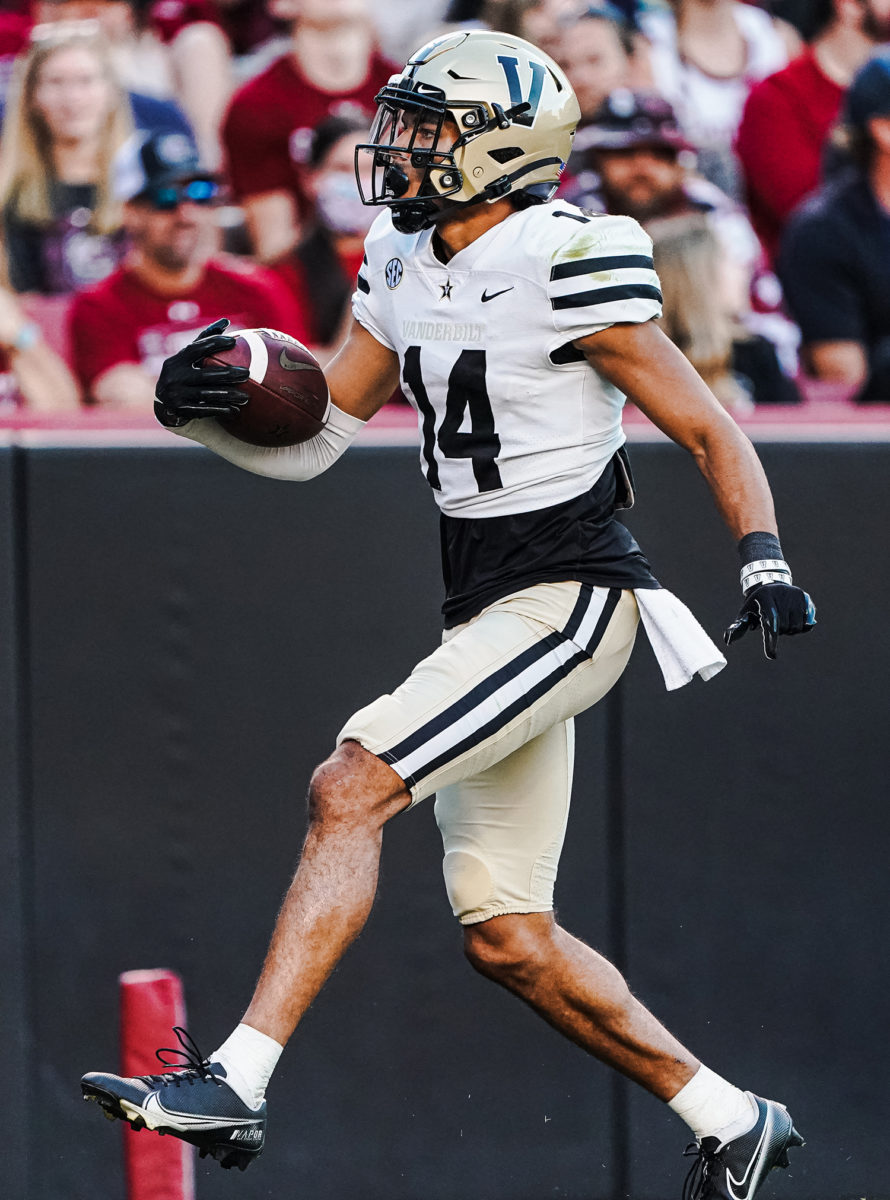 Clark Lea (HC) – Lea is in his second season at Vanderbilt having replaced Derek Mason. Vanderbilt, which historically has been considered a bottom-tier SEC football school, is no easy task. Lea has publicly stated how much he believes in the potential of the Commodore program. Lea has already shown great improvement from year one to year two, and he'll be doing everything in his power to find a signature win.
Will Sheppard (WR #14) – Sheppard leads the Commodores in receiving yards and touchdowns with a remarkable eight touchdown catches. The next closest Vandy receiver has just two touchdown receptions. Sheppard has amassed 35 receptions during the 2022 campaign and does a fantastic job using his big frame to make difficult catches look easy. Sheppard is proving to be not only Vanderbilt's best receiver, but one of the better receivers in the SEC.
Ray Davis (RB #2) – Davis is the Commodores leading rusher on the season. He has eclipsed over 500 yards on the ground while also adding four rushing touchdowns. Davis is an excellent receiving back as well and has put up 17 receptions for 100 yards and two touchdowns through just five games. While Davis is only 5-9, he is certainly is not one to shy away from contact. The senior from San Francisco, California as a freshman carried the ball a remarkable 193 times. As a senior, he is already over 100 carries on the season. The Dawgs will certainly need to be aware of Vandy's do-it-all back.
Anfernee Orgi (LB #0) – The 6-2 linebacker is the centerpiece of Vanderbilt's defense. After only five games, Orgi has already racked up 61 tackles on the season. In fact, this past Saturday was his first game this season with under 10 tackles. Orgi game into the season as a preseason All-SEC third-team player but is showing that he deserves first-team honors. Expect to see his name continue to appear on the Butkus Award watch list as well.
Maxwell Worship (S #21) – Worship is the next leading tackler on this Commodore defensive unit with 33. The safety from Coral Springs, Florida is a very solid tackler. He likes to come down to the line of scrimmage and make plays on the ball. Worship has already forced a fumble on the season. He also has shown his ability to cover receivers and tight-ends effectively, as he has totaled 3 pass deflections this season.
Tyson Russell (CB #8) – Just a sophomore from Plantation, Florida, Tyson Russell is emerging as one of Vandy's best cornerbacks. Another player who is an efficient tackler with 21 total tackles heading into the Georgia game. The sophomore will have a tough task defending Georgia's soon-to-be healthy receivers, but he is certainly talented enough to give the Dawgs some trouble.