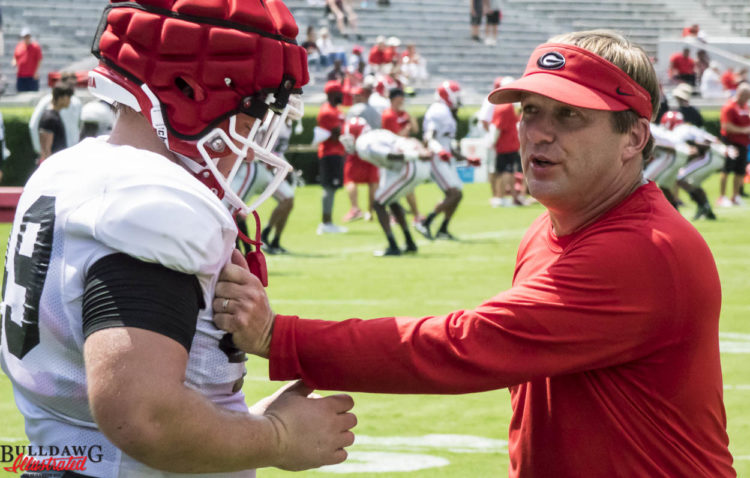 As fans, we want championships in Athens.  Not being great enough often enough is the reason Mark Richt is in Miami and Kirby Smart is in Athens.
With higher aspirations come great expectations.  Winning 10 games per season and being talked about favorably in August and September, and sometimes October and November, isn't going to cut it anymore.
Renting private jets and helicopters for recruiting, remodeling the locker rooms at the Sanford Stadium, having more support staff, etc. are all things that are necessary for winning at the level we as fans want.  Or so we've been told.
Our Athletic Association is notoriously tight with the dollar. Someone has to pay for the added cost of what it seemingly takes to win.
That someone is us fans.
Our tailgating location is a very convenient situation for us.  Near the Georgia Center where there are abundant and clean restrooms (for someone reason, the women like that), our spot and the adjacent parking lots made set up and take down of the tailgate reasonably easy.  Something that slipped past our radar earlier this spring is the parking lot next to our tailgating spot has now been annexed by the Athletic Association as a pay lot.  Where we were was next to one of the last remaining free parking lots on campus.  It was only a matter of time before the Athletic Association got their paws on it for an extra dollar.  Or extra thousands of dollars, if we want to be exact.
We won't even be able to pull in the lot to drop stuff off.  Over a group text yesterday, it was discussed at now looking at alternative spots to set up our tailgate.
I'm not complaining about it.  It is what it is. It's the cost of doing business.
If the cost of doing business is going to be passed down to the fans, then winning big and meeting the higher expectations must be met.   Patience is not a virtue anymore.
For what it's worth, I think Coach Smart will deliver.  He better, and he better do it quickly.