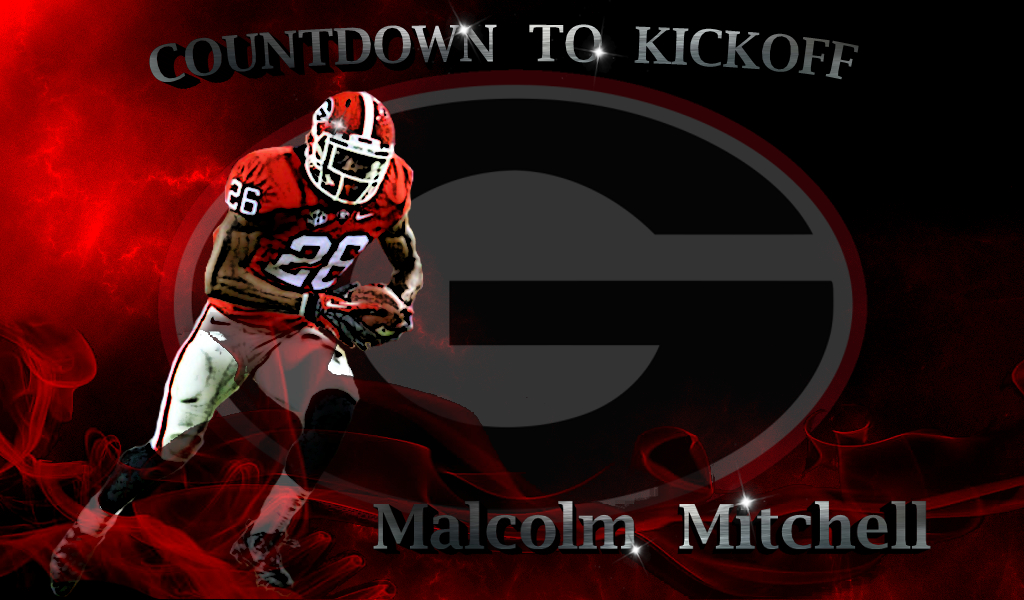 Bulldawg Illustrated is counting down the days till Georgia kicks off their 2016 college football season, and former Bulldawg WR Malcolm Mitchell reels us in at 26 days to go.



Malcolm Mitchell was a member of UGA's 2011 recruiting class. The heralded four-star athlete from Valdosta high school out of South Georgia didn't take long to make his mark on the football field for the Dawgs as a freshman wide receiver finishing second on the team in both receptions and receiving yards behind Tavarress King with 45 for 665 yards and 4 touchdowns, which earned him a spot on the SEC Coaches All-SEC Freshman team.


At the start of the 2012 season, the sophomore receiver was asked to switch positions from offense to CB to help the team out on defense due to attrition in the secondary as a result of injuries and suspensions that left the coaching staff concerned about depth to start the season. It wouldn't take him too long to find his way back on offense at WR though. By the fourth game of the 2012 season, "Tampa" was giving opposing defensive backs fits, reeling in 40 catches for 572 yards and 4 touchdowns by season's end.


Headed into his junior year in 2013, Malcolm Mitchell was poised for a huge season, and No.26 was expected to be a big weapon as one of the starting WRs for senior QB Aaron Murray. However, it was not meant to be as the junior would tear his ACL in the first game of the season versus Clemson in the first quarter celebrating with teammate Todd Gurley after a Georgia score. Mitchel would take a redshirt and look on healing and rehabbing to get back on the field for next season.


He did just that, and although Mitchell only played in 8 games as a redshirt junior in 2014, he would finish with 31 receptions for 248 yards and 3 touchdowns. At the end of the season, the question was, would he stay or would he go as he was eligible for the NFL Draft. Mitchell would decide to return to Georgia for his fifth year and senior season. And he would not disappoint.


Mitchell turned in a solid performance in his last season at Georgia, leading the team in receiving with 58 catches for 865 yards and 5 touchdowns. Those 58 catches put him 4th all-time UGA in school history for pass receptions in a season with Mohamed Massaquoi. His 865 receiving yards in a season is 8th best in school history with Andre Hastings and Reggie Brown. Over his five-year college career at Georgia, Malcolm Mitchell amassed 174 catches (third best all-time in school history behind Terrence Edwards and Brice Hunter) for 2,350 yards (6th best all-time in school history) and 16 touchdowns (8th all-time in school history with Juan Daniels, Hason Graham, and Mohamed Massaquoi). He also had four games with 100-yards or more receiving.


But as much as Malcolm Mitchell accomplished on the field, he perhaps accomplished even more off the field.


Off the field, Mitchell has penned a children's book, The Magician's Hat, and has received numerous honors for his efforts in encouraging children as well as adults to read and become better "readers." He also received the prestigious 2015-16 Haier Ultimate Achievement Award, which is presented to a student-athlete for their accomplishments beyond sports, and he was named the team captain of the 2015 AllState AFCA Good Works Team. In addition to those accomplishments, he was named to the 2016 SEC Community Service Team and was presented with the Georgia Power 2016 Community Spirit Award, along with other numerous accolades for his community service work.




So what is next for the man who finishes as one of the all-time great receivers in Georgia Bulldawg's history with the likes of Reggie Brown, Juan Daniels, Terrence Edwards, Fred Gibson, Hason Graham, A.J. Green, Andre Hastings, Brice Hunter, Mohamed Massaquoi, Lindsay Scott, and Hines Ward?


Why test his mettle with the best of the best in the NFL. Malcolm Mitchell was drafted by the New England Patriots in round 4 with the 112th overall pick in the NFL Draft back in April. As fall looms near, he looks to again give opposing defensive backs fits. We wish you well and much success "Tampa" both on and off the field. You are a DGD.