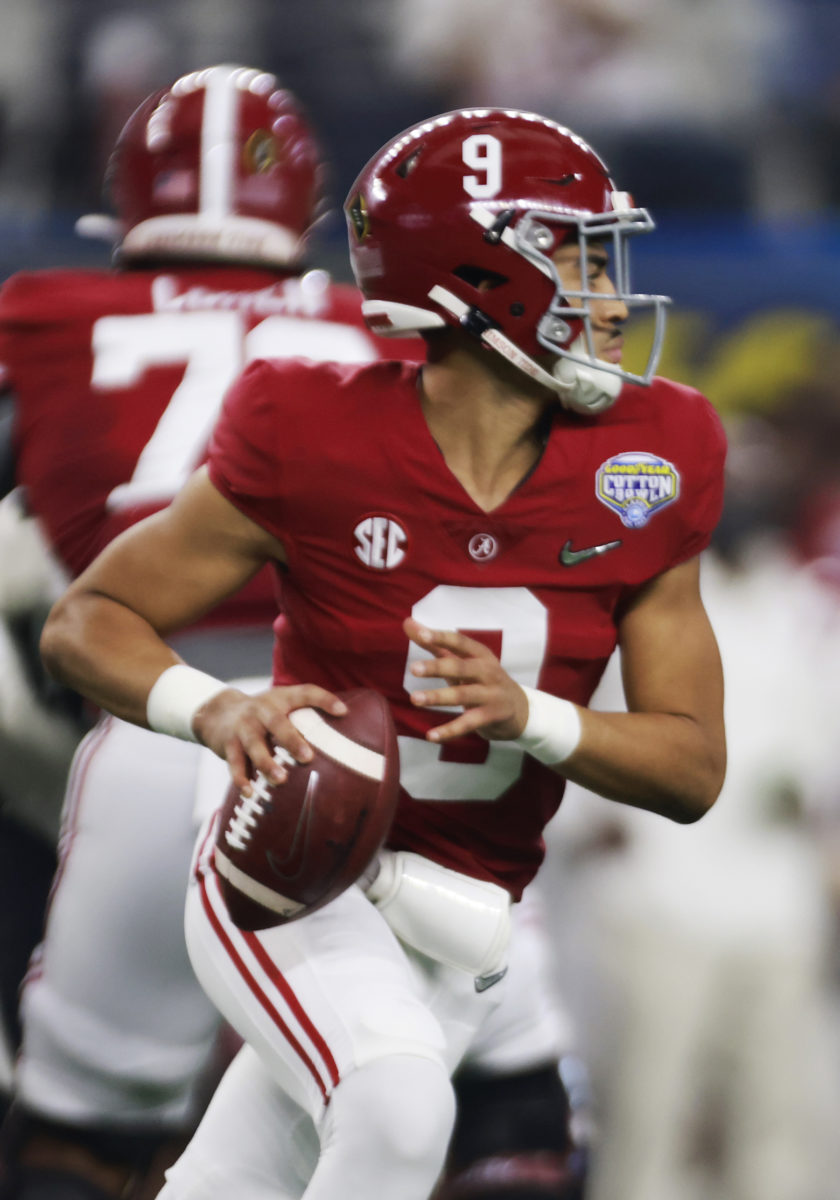 BILL O'BRIEN (OFFENSIVE COORDINATOR ) – O'Brien might not have been the best head coach in the NFL but he certainly knows how to dial up an offense. In the first matchup, O'Brien outschemed Georgia defensive coordinator Dan Lanning and Kirby Smart. Most shockingly, he found a way to neutralize Georgia's pass rush, which will not be easy to do twice in one season. We will see if he incorporates the run more with a healthy Brian Robinson.
BRYCE YOUNG (QB #9) – Young has been stellar in his first season as Alabama's starting quarterback and has the potential to be the best quarterback under Nick Saban in Tuscaloosa. He certainly deserved the Heisman Trophy throwing for over 4,500 yards and 46 touchdowns. In the first matchup, he picked apart the Bulldogs defense, seemingly making every throw on the field. Pressure has been the best way to throw Young off of his game this season, so Georgia's defense will need to be more aggressive than they were in the first matchup.
BRIAN ROBINSON JR. (RB #4) – Robinson was dealing with an injury the first time these two teams met, so the Bulldogs were able to keep him in check. However, Alabama used him as their power weapon in the Cotton Bowl against Cincinnati. Robinson finished that game with 204 rushing yards on 24 carries. Georgia has had one of the best run defenses in the country, showing that against Michigan. The Bulldogs will need to stop Robinson and make the Crimson Tide as one-dimensional as possible.
JAMESON WILLIAMS (WR #1) – Williams might still be giving Georgia fans nightmares for what he did in the SEC Championship game. With John Metchie out with a knee injury, Williams will be Young's top weapon. He has speed that can burn defenses over the top, and that is exactly what he did to Georgia's corners in the first game. With Derion Kendrick's play in the Orange Bowl, Georgia could stick him on Williams if needed.
WILL ANDERSON JR. (LB #31) – Georgia just faced Michigan's Aiden Hutchinson, one of the best pass rushers in the country. It doesn't get easier now facing Will Anderson, who leads the nation in sacks with 17.5 this season. He has also shown the ability to set the edge on the run with 34.5 tackles for loss. If Stetson Bennett waits too long in the pocket, Anderson will be there. Bennett will need to make quick decisions with the ball, like he did against the Wolverines.
JORDAN BATTLE (DB #9) – Battle left his impact in the SEC Championship game with a pick-six to ice the game for Alabama. He followed that performance up with seven tackles in the Cotton Bowl. Battle is a versatile safety that can fly all over the field. If he plays well in the National Championship, he could be a first round pick in the NFL Draft.