[su_spacer size="20″]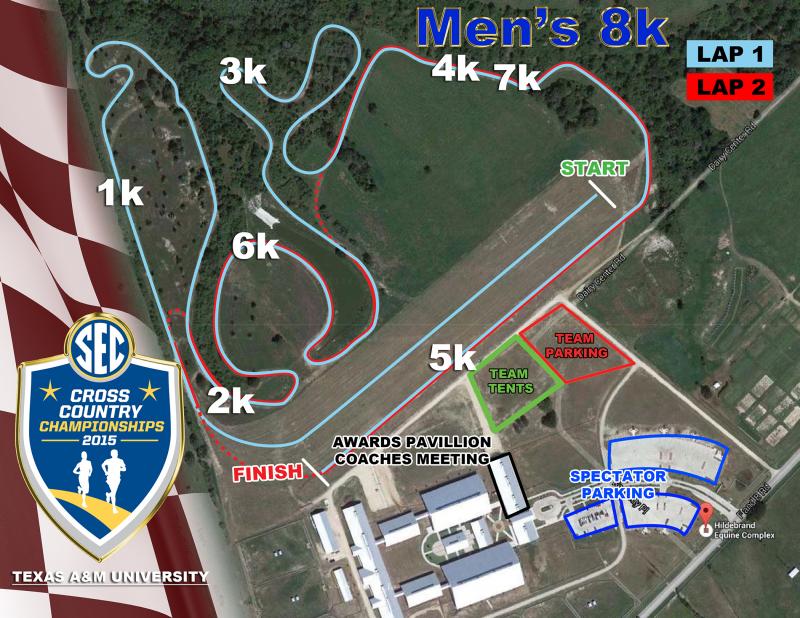 [su_spacer size="20″]
The Bulldogs have run in four regular season meets, and now the time for the postseason has arrived, starting with the SEC Championships.
[su_spacer size="40″]
Where & When
: Georgia will join the league's other teams on Texas A&M's Dale Watts Cross Country Course in College Station, Texas, today. The men's 8k race is scheduled to begin at 11 a.m. ET while the gun for the women's 6k is expected to be fired at 12 p.m.
[su_spacer size="40″]
Live Results
: Live results from Friday's meet can be found here:
gado.gs/4um
.
[su_spacer size="40″]
Where To See Highlights
: The SEC Cross Country Championship will air on the SEC Network as a 30-minute highlight show on Nov. 8 from 12:30-1 p.m. The broadcast talent includes Tyler Denning (play-by-play) and Larry Rawson (color analyst).
[su_spacer size="40″]
What Coach Cunniff Has To Say
: "I am excited to see what we can do and where we are at as we march towards Regionals and NCAAs," said Bulldog distance coach Patrick Cunniff. "It's always fun yet challenging to be in an SEC competition where you are familiar with everyone and have so much respect for every team, but want to beat anyone you can and know it will be a battle to beat anyone at all. We have two teams made up of awesome kids, who have worked so hard, take a ton of pride in representing Georgia and are really close to each other.  I know they will give their all and we will be proud when they are done."
[su_spacer size="40″]
Rankings
: The Bulldog men, who were picked to finish seventh at the conference meet during the preseason, are fourth in the latest
U.S. Track & Field and Cross Country Coaches Association (USTFCCCA)
South Region poll with No. 2 Ole Miss and No. 3 Florida just ahead of them. Arkansas is the only men's team in the most recent national poll, holding down the eighth spot.
[su_spacer size="40″]
On the women's side, the Lady Bulldogs were ranked 12th in the preseason SEC poll and are currently 14th in the South Region poll. No. 4 Arkansas, No. 13 Mississippi State and No. 26 Vanderbilt are currently ranked in the national poll.
[su_spacer size="40″]
What's Next
: Following SECs, Georgia will travel to Tuscaloosa, Ala., for the NCAA South Regionals on Nov. 13 as the Bulldog men attempt to advance to their first trip to the NCAA Championships (Louisville, Ky.; Nov. 21) since 2013. The UGA men and women both qualified for 2012 NCAAs.
[su_spacer size="40″]
"With the exception of guarding against injury, the best thing you can do is run this one hard, with your whole heart," Cunniff said. "So when you get to Regionals you will have felt that pain and passion and can be ready to dig even deeper, or at least a little longer, for the men. I also want our teams to commit to and practice their race plan so they have the confidence to execute at Regionals too."
[su_spacer size="40″]
Who Traveled For Georgia
: The Bulldogs traveled 10 men and 11 women on Wednesday for Friday's meet. For the men, seniors
Zack Sims, Michael Giuliano, Steven Spevacek,
juniors
Sid Vaughn, Jimmy Hicks, Morgan Malanoski
, sophomores
Bryan Kamau, Daniel Navarro, Eric Westog
and freshman
Stephen Martinez
will be representing Georgia.
[su_spacer size="40″]
The Lady Bulldogs included on the team's first postseason trip are senior
Brooke Koblitz
, juniors
Victoria Coppage, Lauren Kelly
, sophomores
Allie Castro, Morgan Ainslie, Morgan Green, Sara Dort, Kate Northrop, Lauren Hovis
and freshmen
Hailey Branch
and
Kingsley Green
.
[su_spacer size="40″]
Twelve who traveled are either freshmen or sophomores, including two true freshmen, and only one of the Bulldog men (
Martinez
) and six of the Georgia women (
Ainslie, Branch, Dort, Kingsley Green, Northrop, Hovis
) out of the 21 have not run at the SEC Championships.
Victoria Coppage
, who was UGA's third finisher (59th overall) at the 2014 SEC meet, will make her season debut at SECs.
[su_spacer size="40″]
"Zack and Steven are fifth-year seniors and have given their hearts and souls to the program and I hope they have success," said Cunniff. "Kamua is an emerging elite runner and I have been very happy with his rapid development. If he can take another big step this championship season, it will be fun to watch and a tremendous help to our team's aspirations.
[su_spacer size="40″]
"On the women's side, we have a tight group of student-athletes and anyone could be our first runner on the right day. Having Brooke and Victoria battle back from injury to help this team at championship time is huge. This gives us two more team leaders and two more runners who can legitimately improve our top five.
[su_spacer size="40″]
"Hailey, Lauren, Brooke, and Morgan Green have all run number one or right near the front of our crowd and I am eager to see who will step up on Friday. We are deep and excited for the challenge."
[su_spacer size="40″]
2014 Flashback
: In 2014, a pair of Georgia runners earned All-SEC Freshman honors to highlight the SEC Championships in Tuscaloosa, Ala.
Kamau
took 41st in the 105-man field while freshman Tayler Tuttle led the Lady Bulldogs for the fifth consecutive time to give Georgia two All-SEC Freshman finishers.
[su_spacer size="40″]
The Georgia women improved their 2013 finish by one spot to take 10th with 222 points. With three team leaders redshirting last season, the Bulldog men slipped to 11th with 255 points after taking third in 2013.
[su_spacer size="40″]
Kelly
was next across for the Georgia women after Tuttle with a 21:02.88 for 35th.
Coppage
competed in her first conference action and took 59th (21:37.74). Junior Ann Centner and freshman
Addy Lippitt
rounded out Georgia's five scorers and finished within three spots of each other. Centner clocked a 21:39.57 for 61st place while Lippitt finished 64th after completing the course in 21:40.56.
[su_spacer size="40″]
The only two Bulldogs on the roster who had run at the SEC Championships before the 2014 meet were the first and third scorers on the men's side.
Spevacek
paced Georgia for the fifth meet in a row and managed a 34th-place finish with a 25:25.66 in the 8K race.
[su_spacer size="40″]
Slipping in between Spevacek and
Malanoski
was Kamau. He was the sixth freshman to finish, giving him All-SEC Freshman honors, and took 41st overall with a 25:35.11. Malanoski shaved 30 spots off his 2013 finish with a 25:51.74 for 52nd place.
Giuliano
finished 65th (26:07.03) at his first SEC Championships while
Navarro
had a 73rd-place finish thanks to a 26:16.61.
[su_spacer size="40″]
Where To Final Final Results/Recap
: Full results and a recap from Friday's SEC Championships will be located at
georgiadogs.com
. Updates from Georgia's track and field and cross country program can always be found on
Twitter/Instagram
(
@UGATrack
).
[su_spacer size="60″]