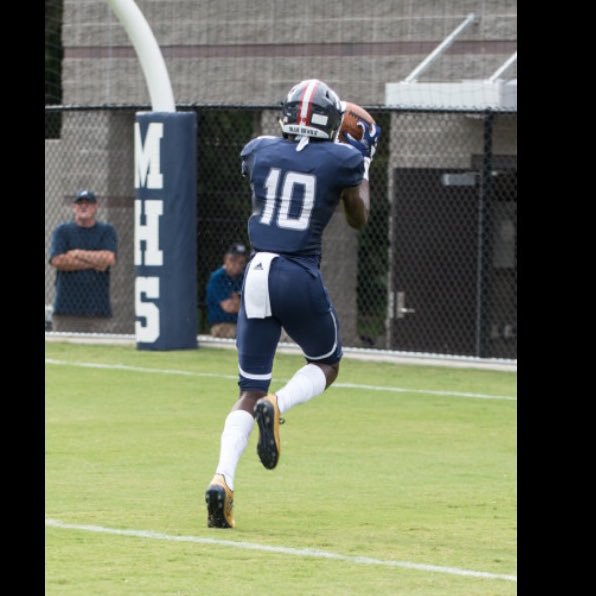 Daily Dawg Thread
TODAY'S FEATURED PROSPECTS
George Pickens
CLASS: 2019 
POSITION:  WR 
HT, WT: 6-5, 190 
SCHOOL: Hoover 
CITY, STATE: Hoover, AL 
STATUS: HARD COMMIT AUBURN: 7/21/17
# OF OFFERS: 15 offers  
UGA OFFER: Yes 
NEWS:
George Pickens is a four-star wide receiver from Hoover, Alabama. He's 6'3.5 190 pounds. According to the latest 247Sports Composite rankings, he ranks as the No. 37 overall player, the No. 7 WR, and the No.3 prospect in AL. Pickens currently has 15 offers with the latest coming Tennessee on October 4.  Oregon offered on May 17. Alabama offered on May 14,  Florida offered on April 11, FSU on April 10, and Michigan on April 5. He visited Florida on April 8. Then Pickens went to FSU on April 14 and back for camp on July 28. He visited Auburn on April 28 and again on June 1. His latest visit was to Alabama on Sept. 22. Pickens went to FSU for an unofficial visit on Oct. 27. Georgia and Alabama pose a big threat to Auburn in terms of flipping this one. With the recent Jadon Haselwood de-commitment, this one is at the top of the list.
Highlights – 
Ramel Keyton
CLASS: 2019
POSITION: WR
HT, WT: 6-3 182
SCHOOL: Marietta 
CITY, STATE: Marietta, GA 
STATUS: HARD COMMIT: TENNESSEE 5/16/18
# OF OFFERS: 26 offers 
UGA OFFER: Yes
NEWS:
Ramel Keyton is a four-star receiver from Marietta, Georgia. He's 6-3 182 pounds. According to the latest 247Sports composite rankings, he ranks as the No. 113 overall recruit, the No. 21 WR and the No. 13 prospect in GA. Keyton currently holds 26 offers with the latest coming from Kentucky on March 21. Keyton committed to Tennessee over Georgia, Auburn and others on May 16. Since then, the prospect visited other places including Georgia. Keyton visited Auburn on April 5 and May 5. He traveled to Tennesse on April 21 and June 23. His latest visit…Georgia on Sept. 29 for the Vanderbilt game. The Bulldogs look to replace Haselwood and he is likely in the top five of guys that will be pursued. He is committed to the Volunteers right now, but for how long?
Highlights –