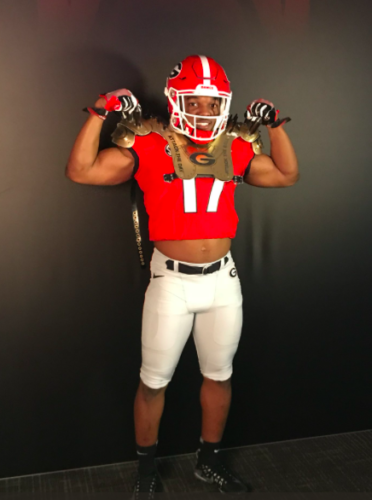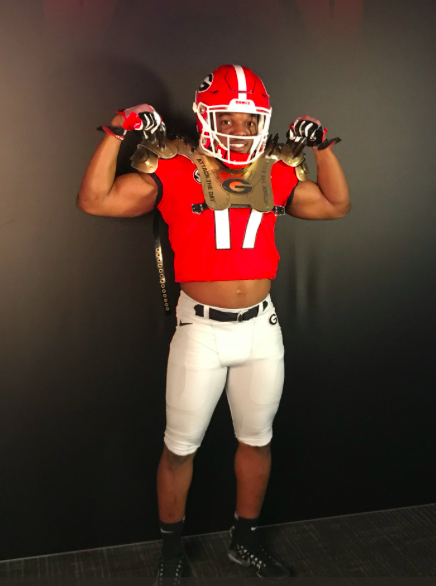 Daily Dawg Thread
TODAY'S FEATURED PROSPECTS
*All rankings are according to the latest 247Sports Composite Rankings*
There are 60 days until the  2019 Early Signing period begins on December 19. Georgia currently has 17 commitments and on 247Sports rank as the No. 3 recruiting class in the country. The Bulldogs have a 93.92 average rating per commitment, which ranks higher than the two teams in front of them. Out of those 17 commits, four of them are 5-stars, ten 4-stars, and three 3-stars.  The latest pledge came on Oct. 10 from Lewis Cine, a four-star safety from Cedar Hill, Texas.
Georgia has about eight spots left for the 2019 class. Below are the guys who I think are the top-ten prospects left on the board for Georgia. The list includes undecided prospects and current commits to other schools. Again this list is fluid and doesn't mean that Georgia will get these prospects.
Georgia's Top-Ten Most Wanted Prospects as of October 19, 2018
1: Nakobe Dean: ILB, 6-0 216lbs, Horn Lake High School, Horn Lake, MS
Dean is the top priority for the Bulldogs. He is the No. 16 overall player and the No. 1 ILB in the 2019 class. I spoke with him on Oct. 4 and Georgia is in contact daily. Dean has an excellent opportunity to come in and compete for a spot as a freshman. He already said he likes to compete and should fit in just right for Georgia's scheme. Dean will be at the Auburn game for his official visit and make his decision in December and enroll early at his school of choice. LSU has an official visit set with him on Dec. 7. The other schools trying to get an official from him are FSU, Ole Miss, and Auburn. Dean hasn't publicly announced a top six list, but these are the schools he will decide from in December.
2: Tyrique Stevenson: CB 6-0.5 188lbs, Miami Southridge High School, Homestead, FL
Stevenson ranks as the No. 5 CB in the country, the No. 6 prospect in Florida, and the No. 39 overall player. The secondary is another place that Georgia could use to add depth and Stevenson can do that and then some. Some consider him a safety, but Georgia wants him because of his ability to play cornerback. He appears to have a great relationship with Mel Tucker and James Coley. Stevenson also has a strong bond with Divaad Wilson. Stevenson made the bold move and visited Georgia on July 28 when everyone expected him to go to Miami. That visit marked the fifth time Stevenson visited Athens. Miami and Georgia are two schools getting official visits as of now. The Bulldogs appeared to have made a huge push for him then and seem to have the lead for now. Look for him to return to Georgia multiple times before making his commitment, which will likely come after the football season. I expect him to make a decision and announce in the early signing period.
3: Clay Webb: OC 6-3 295lbs, Oxford High School, Oxford, AL
According to the rankings, he ranks as the No. 20 overall player, the No. 1 OC, and the No. 1 prospect in Alabama. He visited for G-Day, the sole open weekend in July and visited for the Tennessee game. Webb will also likely be in Athens for the Auburn game too. He has yet to announce any official visits yet, but I expect Georgia would get one as well as Clemson, Auburn, and Alabama. The Georgia OV could happen in early December, as he will announce on December 19. At this moment, I like where Georgia stands with him and think he will be a part of this class. A few months back, Trent Smallwood told me my prediction was bold, but as the early signing period approaches, the prediction doesn't seem nearly as bold.
4: Jadon Haselwood: WR 6-2.5 196lbs, Cedar Grove High School, Ellenwood, GA
Haselwood was one of Georgia's ringleaders for the 2019 class. So when he de-committed from the Bulldogs on Oct. 2, it was a shock to most. After he de-committed, he took an official visit to Miami on Oct. 5. Georgia, Auburn, Miami, and Oklahoma are the ones after him. Haselwood visited Georiga for the Vanderbilt game.  I expect him to come back for the Auburn game for another visit as he is close with Auburn commit Owen Pappoe. He and Justin Fields are close with each other and if the quarterback gets some more playing time, this could provide another element to pull him back to Georgia.
5: Kaiir Elam: CB  6-0.5 190lbs, The Benjamin School, North Palm Beach, FL
Georgia sits in a great spot to land Elam, and the buzz surrounding him is real. He ranks as the No. 67 overall player, the No. 8 CB and the No. 8 prospect in FL. Elam plans on taking unofficial visits to Georgia, Florida, Ohio State and LSU. If Georgia signed its class today, Elam would be a part of it in my opinion. He and Stevenson are two Georgia continue to push hard for and need. Elam will likely turn those unofficial visits into official ones sooner than later. I expect him to be on the visitor list for one of the last three home games for Georgia. It's a battle between Georgia and Florida, and this Saturday could provide another element for him to consider.
6: Trevor Keegan: OT 6-6 310lbs, Crystal Lake South High School, Crystal Lake, IL
Keegan is a new face to the top-ten most wanted.  The Bulldogs look to sign 3-4 OL for the 2019 class, and after writing him off a few weeks ago, I am here eating crow. Keegan plans on taking an official visit to Georgia on Oct. 10 for the Auburn game. That visit will be the third time in Athens for Keegan. He took an OV to Ohio State on Oct. 6 and Michigan on Oct. 13. Keegan's next OV will be to Penn State on Oct. 27, and his last OV will be to Clemson on Nov. 24. Sam Pittman and Keegan have a good relationship, and the OL coach sits in a great spot to let out another "yes, sir" if this OT chooses Georgia.
7: Nick Cross: S 6-1 207lbs, DeMatha Catholic, Hyattsville, MD *FSU COMMIT*
Another new face to the top-ten is Cross. Despite being a Florida State commit, he is one of the main priorities for Georgia. He ranks as the No. 66 overall player, the No. 5 S and the No. 1 prospect in Maryland. Cross has already taken official visits to FSU, Alabama, Auburn, and Florida this summer. The Bulldog staff remain in constant contact with him, and he will likely make it to campus for one of the last home games. Mel Tucker visited him Oct. 19 to watch a game of his in person, where I know that he returned a fumble for a touchdown. Keep a close eye on Cross as I would say he is on flip watch.
8: DJ Daniel: CB 6-0 180lbs, GA Military College (JUCO), Milledgeville, GA *USCe COMMIT*
Daniel surprised a lot of people when he committed to South Carolina in August. He is right up the road in Milledgeville, and the staff could stay on him until he signs his letter of intent. He ranks as the No. 10 overall JUCO player, the No. 3 CB and the No. 1 JUCO player in the state of Georgia. The Bulldogs need depth in the secondary, and Daniel can add that. Not to mention it would give Georgia another skilled corner. He'll have two years of eligibility giving Georgia time to prime other corners once JR Reed and Deandre Baker leave. Georgia's taking just 3-4 secondary players, and Daniel could flip, but there are other prospects more likely to flip or commit to Georgia.
9: Javonne Shepherd: OT 6-6 346lbs, North Forest High School, Houston, TX * TEXAS COMMIT*
Shepherd is another new name to the list. In fact, his name on this list could shock some. A trusted source told me to look into his recruitment as a possible flip for the Bulldogs. After watching his film, I wanted to put him in this list. He ranks as the No. 27 OT and the No. 35 prospect in Texas. Shepherd has the size that coach Pittman likes, and his weight fits his size. I love his footwork and what he brings to the table as a player. Despite being a Texas commit, Shepherd could look elsewhere and already took an unofficial visit to Texas A&M on Oct. 8. When he made his commitment, it was between the Longhorns and the Aggies. He is one the Bulldogs need to have on campus for an official visit. If what my source says is true, he could end up on campus for one of the final home games on OV. Shepherd is another name that fans should get to know.
10: Chris Hinton: SDE 6-4 280lbs Greater Atlanta Christian School, Norcross, GA *MICHIGAN COMMIT*
Hinton ranks as the No. 24 overall player, the No. 2 SDE, and the No. 5 prospect in Georgia. The Bulldogs are in constant contact with him, especially Kirby Smart himself. Hinton and his family visited Georgia for the Vanderbilt game. Despite him stating he is still 100 percent committed to Michigan, the Bulldogs won't lay off him. Flashback to last season during the bye week, Smart visited Justin Fields. Guess where the head coach visited on Friday? Smart went to watch Hinton and his younger brother, who is a 2020 prospect play in Gainesville. With the early signing period 60 days away, Smart wouldn't waste his time visiting with a prospect that he had a zero percent chance of getting. This recruitment could get interesting, but for now, I have added him to the list, and he will stay there until he signs his LOI to Michigan.
---