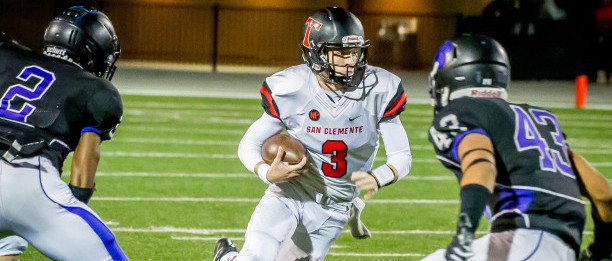 Daily Dawg Thread
TODAY'S FEATURED PROSPECTS
Brendan Costello
CLASS: 2019 
POSITION: DUAL QB 
HT, WT: 6-0 183
SCHOOL: San Clemente
CITY, STATE: San Clemente, CA 
STATUS: HARD COMMIT: Oklahoma State 6/13/18
# OF OFFERS: 7 offers 
UGA OFFER: Yes 
NEWS:
Brendan Costello is a three-star dual-threat quarterback from San Clemente, California. He's 6-0 183 pounds. According to the latest 2019 247Sports Composite rankings, he ranks as the No. 22 DUAL and the No. 104 prospect in California.  Costello currently has seven offers. Georgia and Oklahoma State are among the two notable offers. He committed to the Cowboys on June 13 shortly after they offered him on June 5. Costello does hold an offer from the Bulldogs, but it isn't dated on his Twitter or 247Sports Profile. There are some rumors that Georgia could add another QB to the 2019 class and I think he is one of the ones on the short list.
Highlights – 
Joey Yellen
CLASS: 2019 
POSITION: PRO QB 
HT, WT: 6-2.5 211 
SCHOOL: Mission Viejo 
CITY, STATE: Mission Viejo, CA 
STATUS: HARD COMMIT: Arizona State 6/10/18
# OF OFFERS: 6 offers 
UGA OFFER: Yes 
NEWS:
Joey Yellen is a four-star quarterback from Mission Viejo, California. He's 6-2.5 and 211 pounds.  According to the latest 247Sports composite rankings, he ranks as the No. 13 PRO QB and the No. 43 prospect in California. Yellen currently holds six offers with the latest coming from Oregon State on May 14.  Other notable offers are Georgia, Arizona State, and Washington State. He visited Georgia on April 21 for the G-day game. Yellen committed to Arizona State on June 10. He is another one to keep an eye out for that could flip and join the 2019 class for Georgia.
Highlights –
---