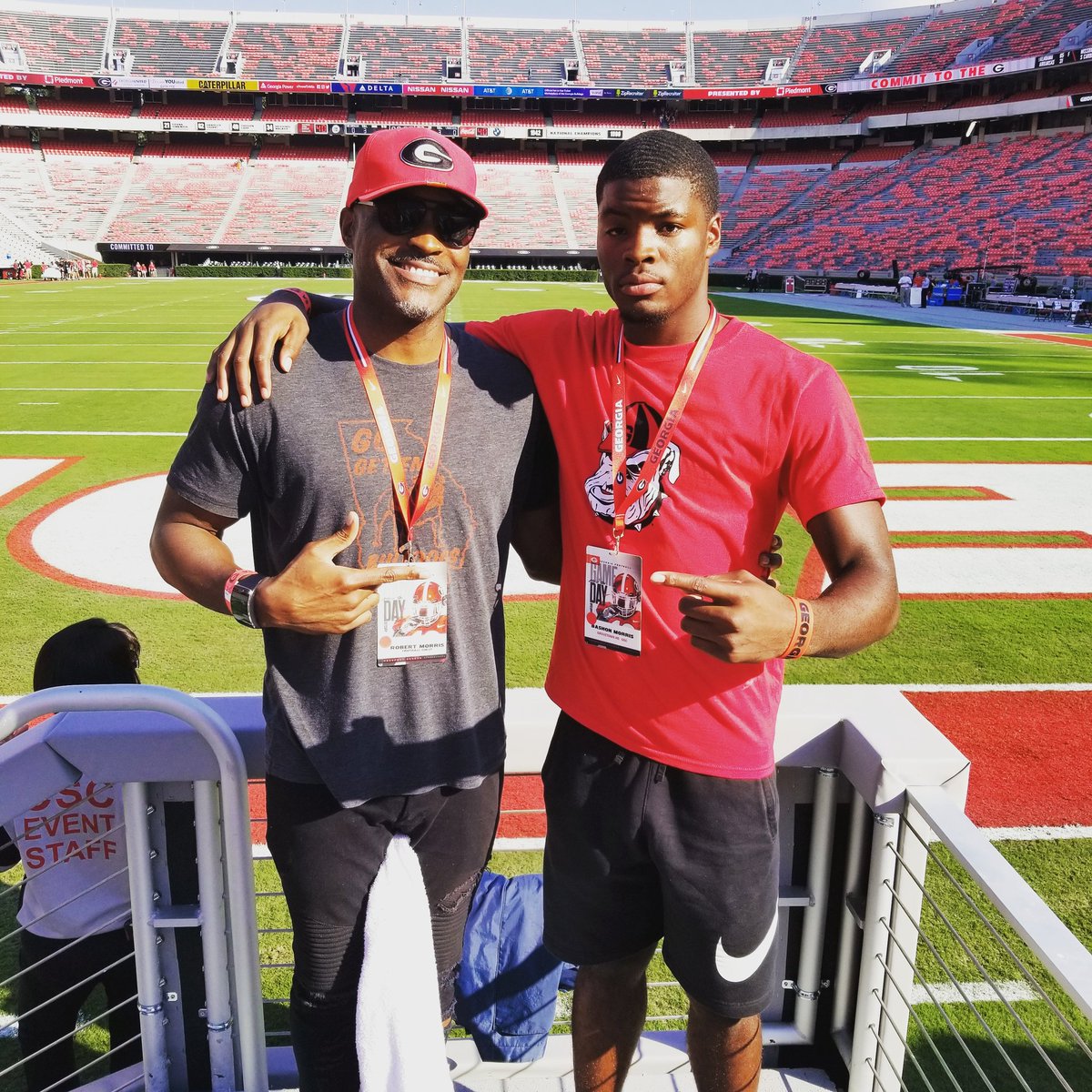 Daily Dawg Thread
TODAY'S FEATURED PROSPECTS
Bashon Morris
CLASS: 2019 
POSITION: WR/ S 
HT, WT: 6-2 200 
SCHOOL: Grovetown 
CITY, STATE: Grovetown, GA 
STATUS: Undeclared 
NEWS:
Bashon Morris isn't your typical recruit that usually gets highlighted on here. He's unranked and holds just two scholarships from tiny Christian schools. However, he's 6-2 200 pounds and is one physical wideout. Despite the lack of publicity, this kid has some serious talent. Morris worked out for Georgia back in June and they had him back for the Vanderbilt game. There was no offer, but this could end up being a PWO type situation or just a walk-on situation. He is trying to get back for the Auburn game or one of the other home games, but that isn't set in stone. There seems to be some interest there, but with scholarship numbers being as tight as they are I don't know that there is a spot for him.
At his school, they're not usually a pass-heavy school, but I want to know his ability to block and stay physical. Morris also plays SS but doesn't have any film available of that. I don't do this often, but when I watch this film, he is what wide receiver coach Cortez Hankton seems to want in a wideout, but Morris started his process late. Either way, this one could be one to watch for sure because he wants to get his degree from Georgia, and he may just have to earn his way up the rankings. Check his film out, despite being unranked, it may surprise a few people.
Highlights –
Jadon Haselwood
CLASS: 2019 
POSITION: WR 
HT, WT: 6-2.5 196 
SCHOOL: Cedar Grove 
CITY, STATE: Ellenwood, GA 
STATUS: Undecided 
# OF OFFERS: 17 offers 
UGA OFFER:  Yes 
NEWS:
Jadon Haselwood is a five-star wide receiver from Ellenwood, Georgia. He's 6-2.5 and 196 pounds. According to the latest 247Sports Composite rankings, he ranks as the No. 3 overall prospect, the No. 1 WR and the No. 1 player in GA. A once long-time commit to Georgia, he decided to de-commit from the Bulldogs on Oct. 2. After that, he visited Miami for an official visit. Haselwood was in attendance for the Vanderbilt game and seemed to have a great time. He's been to Auburn quite a few times and to Miami, a few times and really didn't pay much attention to Georgia this summer and fall.
Haselwood continues to say he wants to play at a school that will get him a lot of throws. However, after how the seasons going so far Georgia still seems to be the option for him in that sense, but Oklahoma still creeps in the background too. Haselwood will likely make his decision in December.
Highlights – 
---