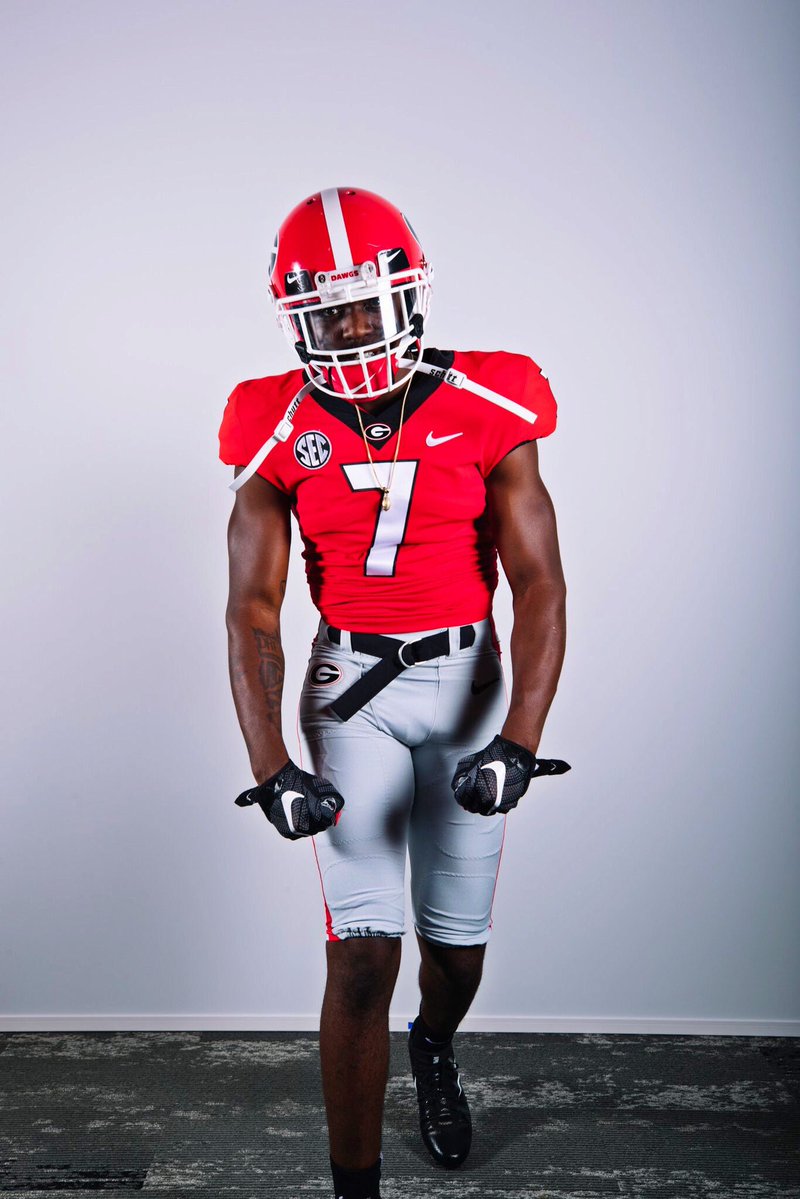 Daily Dawg Thread
TODAY'S FEATURED PROSPECTS
*All rankings are according to the latest 247Sports Composite Rankings*
There are 23 days until the  2019 Early Signing period begins on December 19. Georgia currently has 18 commitments and on 247Sports rank as the No. 3 recruiting class in the country. The Bulldogs have a 93.34 average rating per commitment, which ranks higher than the two teams in front of them. Out of those 18 commits, three of them are 5-stars, 12 4-stars, and three 3-stars.  The latest pledge came on Oct. 10 from Lewis Cine, a four-star safety from Cedar Hill, Texas.
Georgia has about seven spots left for the 2019 class. Below are the guys who I think are the top-ten prospects left on the board for Georgia. The list includes undecided prospects and current commits to other schools. Again this list is fluid and doesn't mean that Georgia will get these prospects.
Georgia's Top-Ten Most Wanted Prospects as of November 27, 2018
1: Nakobe Dean: ILB, 6-0 216lbs, Horn Lake High School, Horn Lake, MS
Dean is the top priority for the Bulldogs. He is the No. 15 overall player and the No. 1 ILB in the 2019 class. I spoke with him on Oct. 4 and Georgia is in contact daily. Dean has an excellent opportunity to come in and compete for a spot as a freshman. He already said he likes to compete and should fit in just right for Georgia's scheme. Dean attended the Auburn game for his official visit and seemed to have a good time. He will make his decision on Dec. 19 and enroll early at his school of choice. LSU has an official visit set with him on Dec. 7.
2: Tyrique Stevenson: CB 6-0.5 188lbs, Miami Southridge High School, Homestead, FL
Stevenson ranks as the No. 4 CB in the country, the No. 6 prospect in Florida, and the No. 37 overall player. The secondary is another place that Georgia could use to add depth and Stevenson can do that and then some. Some consider him a safety, but Georgia wants him because of his ability to play cornerback. He appears to have a great relationship with Mel Tucker. Stevenson also has a strong bond with Divaad Wilson. Stevenson visited Georgia for his official visit on Oct. 10 for the Auburn game. That visit marked the sixth time Stevenson visited Athens. Miami and Georgia are two schools getting official visits as of now. The Bulldogs appeared to have made a massive push for him then and seem to have the lead for now. He plans on announcing his decision Jan. 5.
3: Clay Webb: OC 6-3 295lbs, Oxford High School, Oxford, AL
According to the rankings, he ranks as the No. 19 overall player, the No. 1 OC, and the No. 1 prospect in Alabama. He visited for G-Day, the sole open weekend in July, the Tennessee game, and again for the Auburn game. He has yet to announce any official visits yet, but I expect Georgia would get one as well as Clemson, and Alabama. The Georgia OV could happen in early December, as he will announce on December 19. At this moment, I like where Georgia stands with him and think he will be a part of this class. A few months back, Trent Smallwood told me my prediction was bold, but as the early signing period approaches, the prediction doesn't seem nearly as bold.
4: Noah Cain: RB 5-10 212lbs, IMG Academy, Bradenton, FL 
The Bulldogs appear to want to take another running back for the 2019 class after picking up McIntosh. Cain is the No. 7 running back and No. 14 player in Florida. He visited Georgia for an unofficial visit on Nov. 17 and then came back for the Georgia Tech game on Nov. 23 for his official visit. As of right now, it is between Georgia, Penn State, LSU,  Texas, Auburn, and Clemson. He plans on deciding on Dec. 19.
5: Kaiir Elam: CB  6-0.5 190lbs, The Benjamin School, North Palm Beach, FL
Georgia sits in a great spot to land Elam, and the buzz surrounding him is real. He ranks as the No. 70 overall player, the No. 8 CB and the No. 8 prospect in FL. Elam plans on taking unofficial visits to Georgia, Florida, Ohio State, and LSU. If Georgia signed its class today, Elam would be a part of it in my opinion. He and Stevenson are two Georgia continue to push hard for and need. Elam will likely turn those unofficial visits into official ones sooner than later. It's a battle between Georgia, Florida, and Texas.
6: Trevor Keegan: OT 6-6 310lbs, Crystal Lake South High School, Crystal Lake, IL
The Bulldogs look to sign 3-4 OL for the 2019 class, and after writing him off a few weeks ago, I am here eating crow. Keegan took an official visit to the Auburn game on Oct. 10. That visit was the third time in Athens for Keegan. He took an OV to Ohio State on Oct. 6 and Michigan on Oct. 13. Keegan's next OV will be to Penn State on Oct. 27, and his last OV will be to Clemson on Nov. 24. Sam Pittman and Keegan have a good relationship, and the OL coach sits in a great spot to let out another "yes, sir" if this OT chooses Georgia.
7: Nick Cross: S 6-1 207lbs, DeMatha Catholic, Hyattsville, MD *FSU COMMIT*
Despite being a Florida State commit, he is one of the main priorities for Georgia. He ranks as the No. 69 overall player, the No. 5 S and the No. 2 prospect in Maryland. Cross has already taken official visits to FSU, Alabama, Auburn, and Florida this summer. The Bulldog staff remain in constant contact with him, and Mel Tucker visited him Oct. 19. He came to campus the Thursday before Auburn.   Keep a close eye on Cross as I would say he is on flip watch.
8: Trey Sanders: RB 6-0 214lbs, IMG Academy, Bradenton, FL
Sanders is a five-star running back from the IMG Academy. He and Cain are the two backs Georgia seems to be the most interested in with filling the last running back slot. Sanders is the No. 6 overall prospect, the No. 1 RB, and the No. 2 player in Florida. He is an early enrollee, and look for him to show up on campus sometime in December before he makes his decision on Dec. 19. Georgia isn't out of it, but it seems like there is a better shot at landing Cain than Sanders. It'll likely be between Alabama, Georgia and Florida.
9: Joey Yellen: PRO QB 6-2.5 211lbs, Mission Viejo, Mission Viejo, CA *ASU COMMIT*
Yellen is another guy that I would put on flip alert for the 2019 class. Georgia needs to take two quarterbacks this class to add depth to the position. Yellen is a four-star west-coast kid who has a strong arm. He's currently committed to Arizona State but was on campus for the Auburn game. He ranks as the No. 13 PRO QB and the No. 43 player in California. If the Bulldogs choose to take one more quarterback it'll likely be Yellen.
10: Jadon Haselwood: WR 6-2.5 196lbs, Cedar Grove High School, Ellenwood, GA
Haselwood was one of Georgia's ringleaders for the 2019 class. So when he de-committed from the Bulldogs on Oct. 2, it was a shock to most. After he de-committed, he took an official visit to Miami on Oct. 5. Georgia, Auburn, Miami, and Oklahoma are the ones after him. Haselwood visited Georiga for the Vanderbilt game. It seems to be between Georgia, Miami, and FSU right now for the five-star who plans on making his decision Jan. 5. The Bulldogs have a good shot, but we shall see how the next month goes.
---