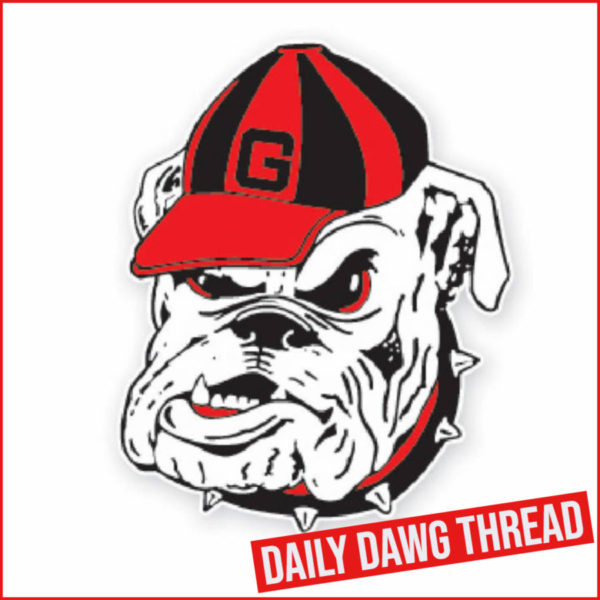 ---
WGOLF Jenny Bae Moves Up at Augusta National Women's Amateur
Following a six-and-a-half weather delay, Georgia's Jenny Bae covered 12 holes at 2-over in the second round of the Augusta National Women's Amateur on Thursday. When play was suspended at 7:52 p.m., Bae was at 6-over through 30 holes at Champions Retreat Golf Club and tied for 37th on the leaderboard.
The 72 golfers will return to Champions Retreat at 7:30 a.m. on Friday to complete the second round of stroke play qualifying. The field will then be cut to 30 for Saturday's final round at Augusta National Golf Club.
Bae, who began the day tied for 39th, is currently one shot off what would qualify for a playoff for a spot in the final round.
Bae teed off from No. 10 at 4:00 p.m. on Thursday after the lengthy weather delay. She was 2-over following bogeys at No. 14 and No. 16 but turned a 1-over after a birdie at No. 18. Bae gave that stroke back with the bogey at No. 1 and posted back-to-back pars before play was suspended due to darkness.
When the second round is completed on Friday, the golfers will proceed to Augusta National for a practice round.
Live scoring is available throughout the tournament at anwagolf.com. Golf Channel will deliver on-site highlights, live reports and news coverage throughout the ANWA. Additionally, Golf Channel's "Live From the Masters" will commence on Friday, April 1 at Augusta National to provide coverage of the Augusta National Women's Amateur, the Drive, Chip and Putt National Finals and the Masters Tournament. NBC Sports will produce and broadcast three hours (Noon-3:00 PM ET) of live final-round coverage of the event at Augusta National.
---
MTENNIS: Bulldogs Begin Weekend of Top-50 Action
MATCH 1 INFORMATION
MATCH vs. NO.43 OLE MISS
Date: Friday, April 1
Time: 4 p.m. ET
Location: Oxford, MS.
Site: Palmer/Salloum Tennis Center
MEDIA INFORMATION
Season Stats: https://link.edgepilot.com/s/cf314e20/3HFXBPITy0u1v33ooGjnRA?u=https://gado.gs/8bg
Live Stats/Video: https://link.edgepilot.com/s/c6710f37/TRqsM7tkSkC0HVnCJawA_g?u=https://gado.gs/91k
Media Guide: https://link.edgepilot.com/s/c382fe16/FW5S4qk_PE6ITPU0Zmdyjg?u=https://gado.gs/8bi
SEC RedZone Live Stream: https://link.edgepilot.com/s/c48fad6e/OMjhcR4uPk6xQymhZQhweg?u=https://gado.gs/8ux
MATCH vs. NO. 38 LSU
Date: Sunday, April 3
Time: 1 p.m. ET
Location: Athens, GA
Site: Dan Magill Tennis Complex
MEDIA INFORMATION
Season Stats: https://link.edgepilot.com/s/cf314e20/3HFXBPITy0u1v33ooGjnRA?u=https://gado.gs/8bg
Live Stream:https://link.edgepilot.com/s/3026467c/qHLrT41Wyk_MJE8_CTuUfQ?u=https://gado.gs/91i
Live Stats: https://link.edgepilot.com/s/ba3812cd/3gm9X7f7_EW-JPp76gqavw?u=https://gado.gs/8mk
Media Guide: https://link.edgepilot.com/s/c382fe16/FW5S4qk_PE6ITPU0Zmdyjg?u=https://gado.gs/8bi
QUICK HITS
The Bulldogs
Trent Bryde, Blake Croyder, Mathis Debru, Erik Grevelius, Philip Henning, Britton Johnston, Tristan McCormick, Thomas Paulsell, Miguel Perez Peña, Hamish Stewart and Ethan Quinn make up the roster for the Georgia Bulldogs for the 2021-22 season.
Georgia appeared at the No.9 spot in the team rankings in the latest Intercollegiate Tennis Association (ITA) National Team Ranking released Wednesday, March 30.
Several Georgia men's tennis players were featured in the latest ITA National Rankings for singles and doubles that were released Wednesday, March 23.
Four Bulldogs appear in the singles rankings and three pairs in the doubles rankings. Graduate transfer Stewart leads the pack with a new career-high ranking at No.17 and fellow grad transfer Tristan McCormick rings in at No.32. 2020 ITA All-American senior Philip Henning takes the No.76 spot and four-time ITA All-American senior Trent Bryde rounds out the pack at No.104.
For doubles, Bryde and Henning are ranked No.26, junior Erik Grevelius and Croyder are the No.53 doubles pair and McCormick and Stewart take the No.65 ranking.
Magnificent Mish
Graduate transfer Hamish Stewart posts the leading overall and dual records in singles for the Bulldogs. The Glasgow native is 21-11 overall and 13-5 in dual matches. He has won seven of his last ten matches and is 12-7 against nationally-ranked opponents which includes a win over his previous contender. Stewart defeated No.56-ranked Noah Schachter from Texas A&M in straight sets 6-3, 6-3. His highest-ranked victory was over No.17 Pierre-Yves Bailly of Texas in a 3-6, 6-4, 6-2 decision that ultimately clinched the match for Georgia and helped him earn SEC Weekly Honors.
Dominating Duo
Senior Blake Croyder and junior Erik Grevelius combine to form the best doubles pair on the Georgia roster. The dynamic duo is 18-7 overall, 13-4 in dual competition and 6-1 against conference opponents, the highest marks for any Bulldog doubles pair. The No.53-ranked tandem is a constant in the doubles competition for Georgia, they're currently on a five-match win streak and have won eight out of their last ten matches.
THE FIELD
MATCH 1: No. 43 Ole Miss
The Ole Miss Rebels are represented by two singles players, and one doubles team in the ITA National Rankings. Nikola Slavic is ranked No.36 and Finn Reynolds is ranked No.110. Lukas Engelhardt and Reynolds are the No.12-ranked doubles pair. The Bulldogs own a 43-12 all-time series record against the Rebels. The last time Georgia and Ole Miss faced off was on February 26, 2021, in Athens, GA where Ole Miss defeated Georgia 3-4.
MATCH 2: No.38 LSU
The LSU Tigers are represented in the ITA National Rankings by one singles player. Ronner Hohmann is the No.23-ranked singles player. The Bulldogs own a 52-14 all-time series record against the Tigers. The last matchup between Georgia and LSU came on April 11, 2021, in Baton Rouge, LA, where the Bulldogs blanked the Tigers 4-0.
NEXT UP
The Georgia men's tennis program will have its last road match on Sunday, April 10 against No.12-ranked Kentucky at 1 p.m. ET. The Bulldogs will finally return home for their last two matches of the regular season facing No.29 Auburn on Friday, April 15 at 5 p.m. ET and Alabama on Sunday, April 17 at 1 p.m. ET.
---
WTENNIS: Georgia Heads West for the Weekend
#7 GEORGIA vs MISSOURI
Date: April 1, 2022
Time: Noon
Location: Columbia, Missouri
Site: Missouri Tennis Complex
#7 GEORGIA vs #32 ARKANSAS
Date: April 3, 2022
Time: 1 p.m.
Location: Fayetteville, Arkansas
Site: Billingsley Tennis Center
MEDIA INFORMATION
Media Guide: https://link.edgepilot.com/s/132a6916/4V46xPZvYU6kZT1oCvSUyA?u=https://gado.gs/8b6
Season Stats: https://link.edgepilot.com/s/e822849e/3-jSC1GyAUits1bDbWvmHA?u=https://gado.gs/7mv
Missouri Live Video: https://link.edgepilot.com/s/fef0e03b/2OjXDGzF502frIxQlTMDyg?u=https://gado.gs/91a
Arkansas Live Stats: https://link.edgepilot.com/s/58c01c77/t7VpAlG1E0Cvj5mxk5J4vQ?u=https://gado.gs/91c
Arkansas Live Video: https://link.edgepilot.com/s/bbd55703/vdxRuwVvCE6u5QiPZlD6pw?u=https://gado.gs/91e
QUICK HITS
784 Wins, 19 SEC Titles, 6 National Championships
Georgia head coach Jeff Wallace is now in his 37th year at the helm of the Bulldogs' tennis program. As the nation's winningest active women's tennis coach, Wallace is one of only two coaches to record 750 wins in women's tennis history. Wallace entered the 2022 dual season with 773 career victories.
Fantastic Freshmen
Freshman Mell Reasco has posted a team-high 20-7 mark this season. Reasco, a native of Quito, Ecuador, is 8-4 this dual season and is tied for a team-high seven wins versus ranked opponents.
Since arriving this January, freshman Dasha Vidmanova is 12-2 – team-best dual record. Vidmanova, a native of Prague, Czech Republic, is 8-2 in her previous 11-matches and has amassed a 6-2 record versus ranked opponents. She is 11-1 in straight set matches this season.
Road Dawgs
Seventh-ranked Georgia is a perfect 4-0 on the road this season, picking up wins over No. 15 Florida, No. 27 Tennessee, No. 28 Georgia Tech and No. 59 South Carolina.
Dawgs in the Rankings
No. 10 Georgia boasts eight rankings: A quintet of individuals, No. 21 Reasco, No. 27 Ma, No. 40 Vidmanova, No. 71 Kowalski and No. 117 Hertel; a pair of doubles teams in No. 12 Coppoc and Hertel, No. 47 Reasco and Vidmanova, and No. 71 Grant and Reasco.
In the fall, the ITA also ranks the Top-10 Freshman/Newcomer, Reasco came in at No. 4.
Scouting the Tigers
Missouri is coming off a pair of 6-1 road losses to the 38th-ranked Alabama Crimson Tide and the eighth-ranked Auburn Tigers. The Tigers are 6-14, 1-6 in SEC play on the season.
Scouting the Razorbacks
No. 32 Arkansas will host No. 29 Tennessee on Friday, April 1 before taking on the Bulldogs. The Razorbacks split matches last weekend, defeating No. 38 Alabama 4-1 before falling to No. 8 Auburn on the road. Arkansas is 12-5, 5-2 in SEC on the season.
The Razorbacks own one ranking in No. 53 Morgan Cross & Tatum Rice.
On the Road Again
Georgia will return to Athens for its final home stand of the season against the Kentucky Wildcats on Friday, April 8 at 4 p.m. and the Vanderbilt Commodores on Sunday, April 10 at 1 p.m.
---
Jonathan Cannon Named SEC Pitcher of the Week
University of Georgia junior right-hander Jonathan Cannon has been named the Southeastern Conference Pitcher of the Week, the league announced Monday.

A 6-6, 213-pound native of Alpharetta, Ga., Cannon pitched eight scoreless innings in an 11-0 win over defending national champion No. 24 Mississippi State this past Friday at Foley Field. He carried a perfect game to the fifth and finished with a three-hitter, no walks and nine strikeouts.
A 2022 preseason All-America and All-SEC selection, Cannon improved to 4-1, 1.83 ERA on the season with 37 strikeouts and just one walk (that was intentional) in an SEC-leading 34.1 innings. He ranks third nationally in Strikeout/Walk ratio, Walks Allowed and eighth in WHIP at .61.
He has earned SEC Pitcher of the Week honors now three times in his career including twice this season. An Academic All-SEC student, Cannon is majoring in real estate. In his Bulldog career, Cannon is 11-3 with a 2.89 ERA in 17 starts.

The 17th-ranked Bulldogs (16-4) return to action Tuesday in Lawrenceville when they face Georgia State (14-6) at Coolray Field, home of the Gwinnett Stripers (Triple-A affiliate of the Atlanta Braves). First pitch will be at 6:05 p.m., and the game only will be available on the Georgia Bulldog Sports Network.
---
SOFTBALL: Tony Baldwin Named to USA Softball WNT Coaching Staff
University of Georgia head softball coach Tony Baldwin has been selected as an assistant coach for the USA Softball Women's National Team (WNT) at the 2022 World Games held in Birmingham, Alabama.
"I am humbled and incredibly thankful to be selected to represent the Red, White, and Blue," said Baldwin. "There is no greater honor than being able to represent your country. On top of that, to be able to once again work alongside Coach Tarr, Coach Walton, and Coach Ball-Malone is so exciting. I can't wait to meet the team and go get after it this summer! Let's go!"
Baldwin joins Head Coach Heather Tarr (Head Coach at Washington), Cindy Ball-Malone (Head Coach at UCF), and Tim Walton (Head Coach at Florida) to complete the World Games coaching staff after coaching alongside each other en route to a gold medal finish at the 2019 U-19 World Baseball Softball Confederation (WBSC) Women's World Cup in Lima, Peru.
The 2019 U-19 WNT brought home the bronze medal at the USA Softball International Cup. Team USA concluded its summer by walking off Japan to win the 2019 WBSC U-19 Women's Softball World Cup. With the win, Team USA became the first team in history to win three consecutive U-19 World Cup Titles and has seven titles overall.
Baldwin is in his 10th season in Athens and first as the head coach of the Bulldogs.
---
Jump To Comments