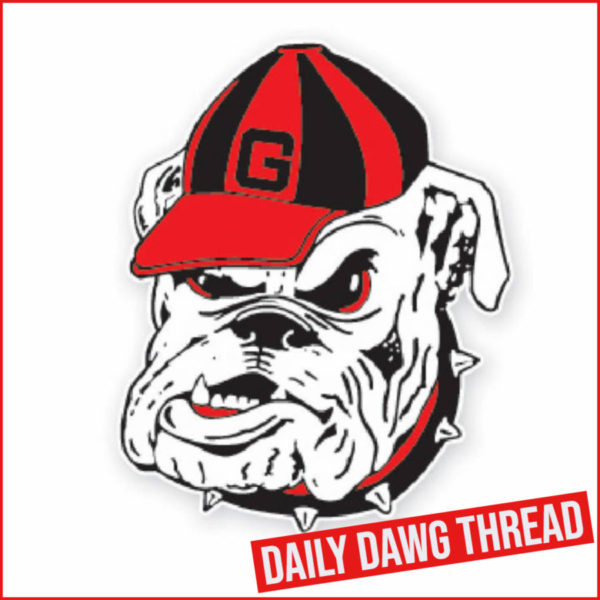 ---
Nakobe Dean Named 2022 Arthur Ashe Jr. Male Sports Scholar
Georgia's Nakobe Dean has been selected as the 2022 Arthur Ashe Jr. Male Sports Scholar following a nationwide selection process out of nearly 1,000 nominees by Diverse: Issues in Higher Education.
Dean, a native of Horn Lake, Miss., most recently follows in the footsteps of former Bulldog All-American place-kicker Rodrigo Blankenship, who was awarded the 2020 national award. Ohio State University ice hockey player Sophie Jaques is this year's Female Sports Scholar.
In addition to their athletic ability, Dean and Jaques are students of color who have maintained a cumulative grade-point average of at least 3.5, are at least sophomores academically and have been active on their campuses or in their communities. Of the nearly 1,000 scholar-athletes nominated, one male and one female athlete are annually selected as Sports Scholar of the Year.
Watch a fullscreen slideshow
HERE.
Dean enjoyed a standout season on the field, earning the Butkus Award as the nation's top linebacker while leading the Bulldogs to the 2021 national championship. A consensus All-America selection, Dean recorded 72 tackles, including a team-high 10.5 tackles for loss. He also had 6.0 sacks, six pass break ups, 31 quarterback pressures and two interceptions, including a 50-yard "pick six" against Florida. Dean is a mechanical engineering major who sports at 3.53 GPA and was named to the CoSIDA Academic All-District team. The 2021 permanent captain earned the team's Scholar-Athlete Award, which is given to the student-athlete who had the highest GPA at the conclusion of the last academic year, as well as the Academic Achievement Award, which is given to those who have exhibited intense focus and/or displayed a marked improvement in the classroom over the past academic year.
Within the community, Dean was named the overall captain of the 2021 American Football Coaches Association's (AFCA) Good Works Team. He took a leading role with "Dawgs for Pups," which is the Georgia football program's multi-faceted effort to directly affect the lives of local youth in the Athens/Clarke County area; visited Camp Sunshine, which provides recreational, educational and support programs for children with cancer and their families; participated in Bulldogs Battling Breast Cancer Golf Tournament, which is designed to raise awareness and money for research for a cure to breast cancer; helped with Read Across America, which is a program for local school children as part of the national program where civic groups and community leaders volunteer their time to read a story to students at Barrow Elementary.
On April 28, 2022, Diverse: Issues In Higher Education will publish its annual Arthur Ashe Jr. Sports Scholars special report edition. As the name denotes, this edition is a part of our decades-long tradition of recognizing outstanding minority young men and women who have distinguished themselves in their academic and athletic pursuits.
Georgia student-athletes have now been recognized as the overall Arthur Ashe National Sports Scholar honoree four times. Blankenship was chosen in 2020, basketball guard Haley Clark was selected in 2018 and gymnast Marcia Newby was tabbed in 2010. Additional past Ashe scholars include Baylor's Robert Griffin III in 2011, Tennessee's Kara Lawson in 2003; San Diego State's Marshall Faulk in 1993 and Stanford's Simone Manuel in 2017. Published since 1984, Diverse: Issues In Higher Education is the nation's only biweekly newsmagazine dedicated exclusively to diversity issues in higher education.
---
SOFTBALL: Dawgs Held Hitless, Bama Takes Series
The 15th-ranked Georgia Bulldogs dropped the series finale at No. 4 Alabama Monday night at Rhoads Stadium, 9-0 in six innings.
Georgia falls to 31-7 on the season and 5-4 in SEC play. This is Georgia's first conference series loss of the season.
Sophomore Madison Kerpics (12-3) suffered the loss in the circle. Kerpics held a two-hit shutout through four innings until a six-run fifth broke open the game for the Tide (31-5, 8-4). Kerpics registered four strikeouts and allowed three earned runs. Senior Lauren Mathis and freshman Kylie Macy saw time out of the pen Monday.
Alabama's Lexi Kilfoyl threw a perfect game Monday night, not allowing any Bulldogs aboard. It is the first time Georgia has been held hitless by an opponent since April 14, 2012 (at Kentucky).
It was a pitcher's duel in Tuscaloosa through four and a half innings until Alabama plated six runs in the home half of the fifth. The Tide loaded the bases and a two-RBI single through the left side sparked the big inning. A two-out error extended the inning and three unearned runs scored after that.
A three-run home run from Ally Shipman to left ended the game in six innings, 9-0.
Georgia returns to Athens to host Tennessee in a three-game series beginning Friday evening. First pitch of the series is set for 6 p.m. The first 500 fans will take home an Alex Hugo bobblehead.
---
BASEBALL: Week Long Road Trip Begins At Clemson Tonight
The Georgia Bulldogs open a four-game road trip tonight at Clemson. First pitch is set for 7 p.m., and the game will be available on the ACC Network as well as the Georgia Bulldog Sports Network.
The Bulldogs are 22-6 (6-3 SEC) after sweeping No. 16 Florida this past weekend in Athens. Georgia is ranked in all the top 25 polls this week including as high as No. 10 (USA Today Sports Top 25 Coaches Poll). Georgia is No. 13 according to Collegiate Baseball, No. 14 by D1Baseball.com, and No. 17 by Baseball America and Perfect Game.
During its 4-0 run last week, Georgia batted an SEC-best .314 with seven home runs while posting a 3.25 ERA. The Bulldogs posted their third walk-off of the year in game one of the UF series. Georgia led 4-2 going to the seventh when the Gators tied it and then went up 6-4 in the ninth. Georgia responded with three runs in the bottom of the ninth. Bulldog ace Jonathan Cannon improved to 6-1 with six scoreless innings in game two, a 6-1 victory as senior Jack Gowen notched his third save by taking care of the final three frames. In game three of the series, the Gators led 6-3 after five innings when the Bulldogs erupted for a season-high eight runs in the seventh plus three more in the eighth for an eventual 14-8 victory. Meanwhile, the Tigers dropped an ACC home series to No. 22 N.C. State. Clemson began the year by winning 14 in a row, but the Tigers are just 4-9 since March 13. The Tigers are batting .286 with 39 home runs, a 4.17 ERA, and a .976 Fielding Percentage.
Watch a fullscreen slideshow
HERE.
For the Clemson game, the probable Georgia starter is sophomore RHP Hank Bearden (1-0, 1.17 ERA) in a likely staff night. Last Tuesday, Bearden beat Ga. Southern (3.2 IP, 5H, 1R, 1BB, 4K) as the Bulldogs posted a 7-2 win. The Tigers will counter with freshman RHP Billy Barlow (0-2, 5.16 ERA). Georgia leads the all-time series with Clemson 124-107-2 in records dating back to 1900. Georgia has won six in a row in the series. Last year, Georgia blanked the Tigers 2-0 in Clemson and then won 8-7 in Athens. The Tigers will visit Foley Field on April 19 for a single game with first pitch at 6 p.m. (SECN+).
Georgia is batting .296 with 31 home runs on the year while posting a 4.63 ERA and a .974 Fielding Percentage. Graduate CF Ben Anderson (.371-5-19) leads the Bulldog offense and has reached base in 26 straight games. He set the tone in the SEC opener against No. 16 Florida and ace Hunter Barco last Thursday by smashing a leadoff home run. It marked the second time this season he has done that, the first coming on Opening Day against Albany.
Graduate OF Connor Tate (.370-4-26) enjoyed a big week for the Bulldogs, batting .571 (8-for-14) with two doubles, a home run and six RBI plus three walks. In SEC action this season, he leads the conference with a .483 average and .828 slugging percentage. He is 14-for-29 with four doubles, two home runs and nine RBI plus nine walks. Tate has a nine-game hitting streak. His twin brother, Cole, ranks third on the team in batting at .350.
Probable Pitching Matchups: UGA @ Clemson
Hank Bearden (1-0, 1.17 ERA, RHP, So.) vs. Billy Barlow (0-2, 5.16, RHP, Fr.)
---
MTENNIS: UGA Hosting SEC Men's Tournament – Tickets On Sale Now
The University of Georgia will host the 2022 Southeastern Conference Men's Tennis Tournament on April 20-24 at the Dan Magill Tennis Complex. All-session tickets went on sale Monday and can be purchased online at GeorgiaDogs.com.
Fans can follow this direct link to purchase their all-session tickets today (CLICK HERE). All-session tickets are $15 for adults and $10 for youth and seniors.
Single session tickets will go on sale April 18 and are $5 for adults and $2 for youth and seniors. Seating for both all-session and single-session tickets is general admission.
Gates open one hour prior to the first match each day. Below is a schedule for this year's event.
Wednesday, April 20
11 a.m. — (12 vs. 13 contest)
Thursday, April 21
11 a.m. – second-round match at HF Stadium
11 a.m. – second-round match at McWhorter
3 p.m. – second-round match at HF Stadium
3 p.m. — second-round match at McWhorter
Friday, April 22
11 a.m. —quarterfinals match at HF Stadium
11 a.m.— quarterfinals match at McWhorter
3 p.m. — quarterfinals match at HF Stadium
3 p.m. — quarterfinals match at McWhorter
Saturday, April 23
11 a.m. — semifinals match at HF Stadium
2 p.m. — semifinals match at HF Stadium
Sunday, April 24
2 p.m. — Championship match at HF Stadium
---
MGOLF: Play Suspended After Delays at Calusa Cup
Two weather delays hampered the second round of the Calusa Cup for the No. 8 Georgia men's golf team and the rest of the squads in the field on Monday.
Playing Calusa Pines Golf Club's par-72, 7,320-yard layout, the five Bulldogs managed between 10 and 13 holes around the lightning and rain delays before play was suspended due to darkness. Georgia fired a 14-over to move to 13-over and sixth for the tournament. Wake Forest and Georgia Tech sit atop the leaderboard at 7-under as their players have logged between Nos. 7 and 9.
Senior Trent Phillips was even through 10 holes for Georgia, while freshmen Maxwell Ford and Buck Brumlow were 4-over through 11 and 12 holes, respectively, and juniors Ben van Wyk and Nicolas Cassidy stood 6-over after 10 and 13 holes, respectively.
Phillips is pacing the Bulldogs in fifth at 3-under. Michael Brennan of Wake Forest and Bartley Forrester from Georgia Tech were each 6-under through seven holes. Van Wyk is 20th at 2-over, followed by Ford at 4-over, Brumlow at 10-over, and Cassidy at 13-over.
The second round of the Calusa Cup will resume on Tuesday at 8 a.m. as the Bulldogs will continue to be paired with Oklahoma and Purdue. The final round will follow with continuous play for all teams.
---
Jump To Comments