Jump To Top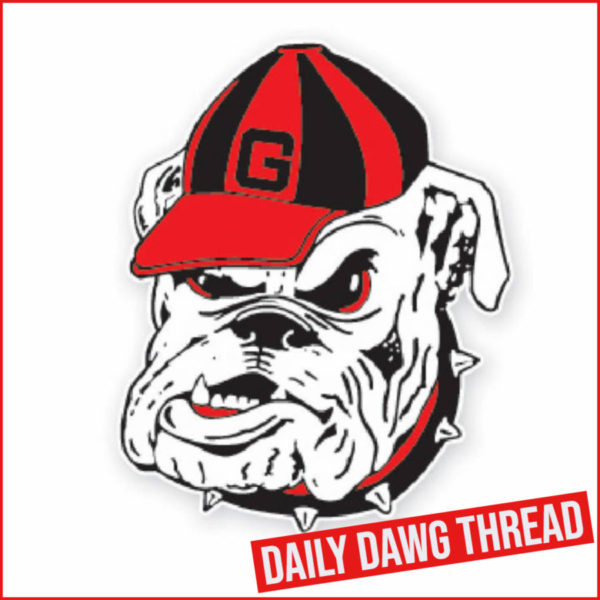 Video/Transcript: Kirby Smart Presser – April 08, 2023
Opening Statement
"We've had several practices since I saw you guys last. They guys are pushing each other, challenging each other to get better. I think we have two segments of our team. We have a segment of our team that is within its first year of being here. That includes this year's midyears and last year's midyears and summer enrollees. That is almost 50 percent of our team and then we have another 50 percent that has been here for two or greater years. They are in two distinctly two different spots. Our job is to try to accelerate the learning process for the first. Younger group and continue the learning process and to push, to create depth out of our older half. I'm pleased with the work we've done this Spring, but I'm not pleased with where we are. We need to continue to grow and get better. We we're forced to change our scrimmage to Thursday last week due to inclement weather projected for today, which that was a good decision for us. We were able to get almost the entirety of our scrimmage in and we probably would not have been able to do that today. We we're able to go inside today and have a really highly organized, detailed, energetic practice that I was really excited about. You typically get your best practices a day after a scrimmage on a Saturday. I thought we had a really good practice today. I give a lot of credit number one to our players, number two to our coaches, for being very organized and detailed, and the enthusiasm of everybody that helped make it happen. I was pleased with how hard they worked."
On general takeaways from Thursday's scrimmage…
"We had more mistakes than I would have liked on both sides of the ball. Offensively, administratively we had a lot of false start penalties, alignment issues, two people moving… One of the youngest spots on our team outside of the outside linebackers is probably the wide outs when you include two portal arrivals and three midyear receivers. That's five people that are basically trying to learn a new language and it is a new language. They didn't speak that language prior to coming here. That is a little bit of a frustration there. Probably didn't attempt to run the ball. We didn't run the ball as well as the first scrimmage. Why? Maybe a little intentional because we want to evaluate the quarterbacks. We want to throw the ball a little more with them, but all around it was not as good of a scrimmage as the first scrimmage which is probably disappointing. When you change schedules sometime young kids don't adjust to them well."
On Lawson Luckie…
"Lawson has grown up a lot. I think nobody benefited more from bowl practice than Lawson Luckie. He just said, 'You know what, I want to go to bowl practice'. He didn't miss one bowl practice. He was there every day. He was everywhere with us. He traveled with the team, blocked people on scout team, scout special teams. He jumped on seniors and followed them. He has grown up a lot, and he's getting very mature quickly. He's not where he needs to be. I think he'd be the first to tell you he likes to consider himself a tough guy. He's got a ways to go to be tough enough to be a physical blocker. He does have some savvy route running. He's got really good hands. He continues to improve, but he can't think that he's all the way there.
On Tykee Smith…
"Tykee has been good. He's a leader. He does a really good job punching balls out. There are things that he has to continue to work on in order to be an every down player for us, but he's tough. He's physical. He embodies what we want in a football player. He's been down a tough road. Let's be honest, before he ever got here you guys had already labeled this guy to be an unbelievable All-American first team because he started as a freshman at West Virginia He had to come here and compete and really earn it, and he's been through some injuries. Without the injuries this is the most competitive environment there is to go out and play. He's taking that head on and I think he's put himself in position to have a really good season, the way he is practicing lately."
On the boneheadedness of the quarterbacks…
"Less bone headedness today than previous. I don't think the second scrimmage was… There were moments like at this point, conceded the down and live for another down. If that happens to be third down, that is okay. You can punt. You can kick a field goal. You can go for it on fourth down, but you can't if you have bone headedness. We need to grasp that better, but they all need to play. They all need to play football. Go out and play football, not have a drill. Not routes on air. Not seven-on-seven. They need to play. That is what we are trying to do in our practices. Make sure we get enough playing. Playing in third down. There is no greater pressure on a quarterback than third down. First and second down are play action and hand off not a lot there. It's either there or it's not. Third down is where you make the separation. We are trying to put our guys in that situation so we can improve."
On Damon Wilson II…
"Damon is growing up. I think all of those midyear's kind of fit in the same bucket. They sit in a meeting, and I don't know what they are actually hearing. Sometimes I think they think they are hearing, but they don't, and they go out on the field and are oblivious to what was said in the meeting. He's not except from that, but he's not the only one. All of them. When they walk on the field, the level of intensity and awareness that is required to play winning football, they don't even understand it. They don't even come close to understanding it. He fits in that bucket, but he does have ability. He has some pass rush ability. He's going to be a really good football player if he decides he is going to work at it. It's not going to come as easy as it did in high school. You are rushing against Amarius Mims. You are rushing against Earnest Greene III and (Austin) Blaske, some really good tackles. He hasn't faced people like that. He's going to continue to improve. I love the way he works and he is not sensitive to coaching, which I have a lot of respect for."
On switching the practice schedule up and preparing for G-Day…
"It really just flip flopped. What we would have done on Thursday, we did today. What we did on Saturday, we would have done on Thursday. We just switched them. The worst part about that is that we probably did not have enough time to clean everything up from the last scrimmage that I would have liked. We have an installation process that some things would have gone in Thursday that we did not get to put in that we had to go scrimmage without. We got the scrimmage in. That is what is the most important thing. I told our staff, everybody in the Southeastern Conference, the Southeastern area was probably battling a little bit of weather. Who managed it best? We tried to manage it best by beating the weather. I know we got a lot out of today, and that was my goal."
On Branson Robinson…
"You see more things he needs to improve on because you get to see more things period. You also see flashes of explosiveness, of bursts, of improvement. He has had a couple runs where he has showed flexibility to drop the pass to take on contact, keep doing. Knock on wood, his ball security has been good. His pass flow could use some improvement. He has really worked hard on that. He had a couple really good pick ups today. I think the opportunities for growth for him have been really good. He got lots of opportunities last year to run the ball where maybe you guys didn't see it, but we saw it because he did it in practice. He didn't get as much pass protection and routes out of the back field as he is getting now. It is giving him a chance to put himself in the position to have a really great fall."
On the offensive tackle competition between Austin Blaske and Earnest Greene III…
"They are both doing a good job competing hard. They are rotating in there. They both are exceptional kids. They are great kids to be around. They both practice really hard. They are both extremely physical. They both have had dinged up injuries, and neither one has flinched. They won't come out. Earnest waves somebody off because he wants to go out there and get his reps when his ankle is dinged up one time. Blaske is the same thing, whether it is his shoulder or his knee. I see the guy limping, and he wants his reps. I respect, more than anything, a guy's mental and physical toughness. They both have that, and they both have done a great job. We have not made it through a season in I think four years that we did not have a starting tackle miss a game. That tells me that you better have three tackles. We are trying really hard to develop three to four tackles."
On the havoc rate on defense…
"Just as high as it has ever been. We emphasize it just the same. I think it was talked about more in the media by me that is was our emphasis. It is still an emphasis in our positioning. We talked about it this morning. We talked about it today. We talked about it in the scrimmage. First scrimmage we had about 13 or 14 percent. It was nowhere near where we needed. We didn't do well in the scrimmage. In the next scrimmage, it was 25 percent or 28 percent, which is over our goal. We did well in the scrimmage. It is a great indicator of success or failure on defense. It kind of reflects offense too. We go against them. Havoc hasn't gone anywhere. Havoc is still there. It is a matter of can you do it without giving up explosives. At the expense of explosives, it is not worth it."
On Xavian Sorey, Jr. …
"He has rotated in with the ones. He has shown some exceptional acceleration flashes. Consistency is the biggest thing with him. There might be a mental lapse every now and then. He will be the first to admit it. When he gets it right, he can be really good. He is a kid that everybody else that you recruit at that position can come in and played that position in high school. Smael (Mondon) played, Pop (Jamon Dumas Johnson) played. This kid played at a really small school until he went to IMG. Then at IMG, he had a foot injury. He lined up at the end of the line. He had never stepped back and keyed. I have enough football awareness and football experience that kids that do that, it takes them a little while. Channing (Tindall) went through it a little bit where you don't play at the second level a lot. You have to key and diagnose. He has tools that some guys on our team don't have. We have tried to utilize those and will continue to. He is developing. He is rolling in with those guys and playing well."
On the offensive identity with Coach Bobo…
"Offensive personality is what you have. Whatever you have, you use what you have and right now it's not like we're saying 'Let's cater our offense to Brock (Bowers), Ladd (McConkey), and Kendall Milton' – who's not out there; we're not doing that. We're evaluating players not plays. We're trying to figure out what players can help us, then we'll worry about the plays. So, I don't put a lot of pressure on offensive identity in the spring. We got to figure out who the quarterback is, who the guys that get the ball are, who the guys that without the ball in their hand are valuable. Those are harder to find. We have about ten guys that if you put the ball in their hand they're going to make plays, but who's blocking for them? I'm a lot more interested in who that is and figuring out who that is, so that's kind of where we are on that."
On the defensive line…
"I think that we lost a really good player at that position but we gained depth because the players that were twos and threes last year are more ready to play. Christen Miller has come along, Tyrion Dawkins has come along – well he's not really interior – Bear (Alexander) is playing better. Naz (Nazir Stackhouse) and ZLo (Zion Logue) have to be careful not to be punching the clock, so we challenge them each day. Warren Brinson has done a good job and then the young freshmen are going to be good players but they're not where they need to be right now. Jonathan Jefferson has given us depth and is playing well inside, so I feel good about the depth. Do we have havoc makers and train wreckers? I don't know that we got that. We got to try to manufacture that."
On Marvin Jones Jr. and Jalon Walker growing despite being out this Spring…
"They're in every meeting. They're at every rehab. They're at every walkthrough; they get walkthrough reps. They stand behind. They have a script.​​They coach the position. They run during special teams but you know both of those kids I can pull the tape and be like 'Man, who is that back there doing the play like 50 yards behind? Oh that's Jalon. Oh that's Marvin.' They're standing by me with the script 'Hey coach, why didn't he do this on that play?' so they're engaged and the strength staff has them to condition as well. I'm very pleased with where both of those guys are and I'm pleased with how they're handling practice."
On special teams…
"I think Thorson is punting the ball well consistently. Zirk (Jared Zirkel) has actually had two of the better days I've ever seen any field goal kicker have outside in the wind, against the wind, I mean he's been really consistent in terms of hitting kicks. He's going to be in competition – obviously – this Fall but I've been really pleased with how hard he's worked at it. We got a big battle coming up at kickoff returner and punt returner with Kearis (Jackson) being gone. So, who is that going to be? Dom (Dominik Lovett) has worked there, Ladd (McConkey) has worked there, Dillon Bell has worked there. Daijun (Edwards) has been out and in. We got a lot of guys battling for those spots. I'm pleased with our units. Like, usually we have three deep, we've got four deep units on most of those now because of all of this influx of mid-years."
---
Softball: Arkansas avoids the sweep with a 4-3 win
The 14th-ranked Georgia softball team was narrowly edged by eighth-ranked Arkansas 4-3 in Saturday's series finale at Bogle Park.
The Razorbacks (28-11, 9-6) came back from a three-run deficit to avoid the series sweep, completing the comeback with a walk-off home run by Cylie Halvorson in the seventh.
Georgia sits at 31-8 on the season and 11-3 in SEC play.
The Bulldogs out-hit the Razorbacks 9-7 in the game, led by three hits from Dallis Goodnight and two from Jayda Kearney and Lyndi Rae Davis each.
Graduate Shelby Walters worked an inning and a third in her start, allowing two runs on five hits. She struck out one and walked three Arkansas hitters. Kylie Macy (3-2) suffered the loss, allowing the tying and go-ahead runs in three innings in relief. Macy struck out five batters and walked none.
Goodnight led off the game with a triple to right center. A fly out to left off the bat of Sara Mosley was plenty deep for the speedy Goodnight to tag and score, putting Georgia ahead 1-0 in the first.
A hit batsman and a walk put two on with two out in the second. Goodnight sent a bounding ball back up the middle to drive Sydney Kuma in and widen the lead to 2-0 for Georgia.
The Dogs added another in the third. Kearney led off with a single to left center, was bunted to second by Jaiden Fields and took third on a wild pitch, then scored on a single to left by Davis, 3-0.
Arkansas loaded the bases with one out in the home half of the fourth. Reagan Johnson singled to left center, driving in two and cutting Georgia's lead to one, 3-2. Macy entered in relief of Walters and struck out the next two Razorbacks to preserve the lead for Georgia.
Hannah Gammill knocked a one-out solo home run in the sixth to knot the game at 3-all.
Halvorson sent a solo home run to left to walk off the Bulldogs, 4-3.
Georgia returns to action this Wednesday in Athens, hosting Georgia Southern at Jack Turner Stadium. First pitch is set for 6:30 p.m., streaming live on SEC Network+.
Box Score
---
Jump To Comments